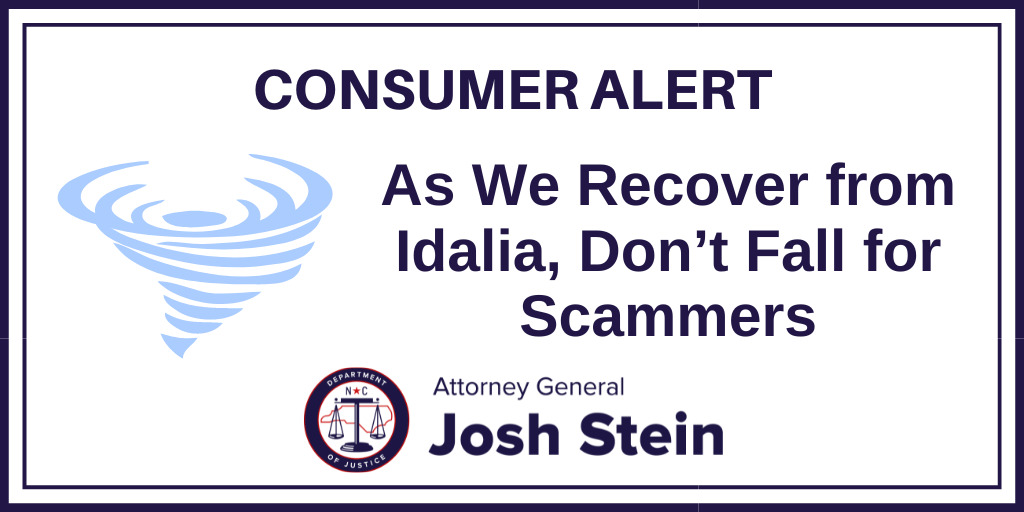 Friday, September 1, 2023
After Tropical Storm Idalia passed through North Carolina this week, several areas of coastal and eastern North Carolina were flooded and suffered storm damage. As North Carolinians begin to recover from the effects of the storm, scammers are out in full force trying to take advantage. And we're still in the middle of hurricane season, so here are some good tips to remember during natural disasters:
Be skeptical of anyone who comes knocking at your door. They might offer work at a cheap price and seem like a convenient solution, but any offer that is only good now is probably a scam.
Vet a business before you hire them. Ask friends and neighbors for their recommendations. Look for reputable companies online through the Better Business Bureau and check if a contractor has complaints against them by calling our office at 1-877-5-NO-SCAM.
Compare estimates. Before you hire a repair company or contractor, get at least three estimates from different companies and compare them. Once you've selected the company you want to hire, make sure you agree upon a contract in writing. And don't pay upfront for work – make sure you are satisfied before you pay.
Report price gouging. The state's price gouging law is in effect, but unscrupulous businesses and sellers still might hike up prices just to take advantage of customers. If a business is excessively raising prices beyond what the storm added to its costs, that's illegal. Report it to our office so we can investigate at www.ncdoj.gov/gouging.
Staying prepared during hurricane season and cleaning up after a storm hits is hard enough. Don't let scammers make it harder. If you or someone you know has been the victim of a scam, please report it to our office at 1-877-5-NO-SCAM or online at www.ncdoj.gov/complaint.