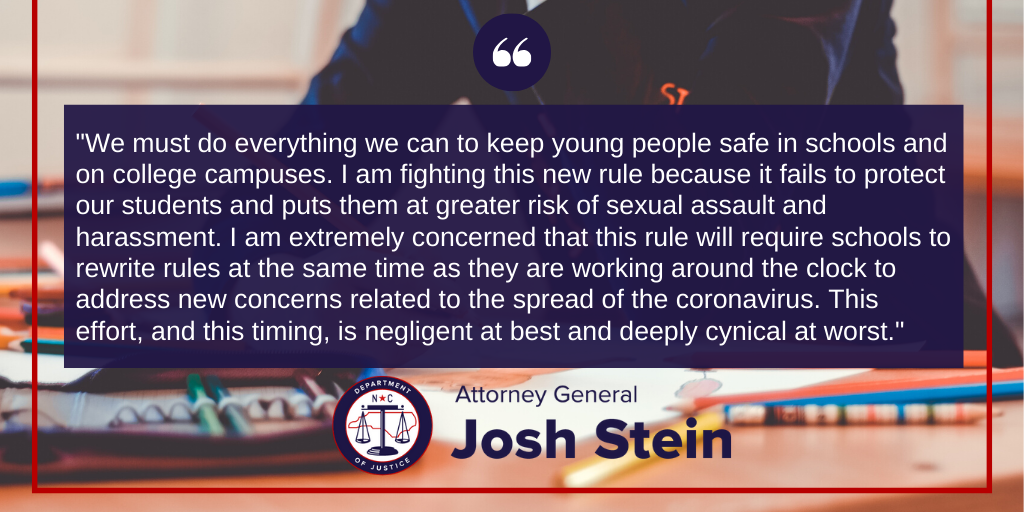 For Immediate Release:
Friday, June 5, 2020
Contact:
Laura Brewer (919) 716-6484
(RALEIGH) Attorney General Josh Stein filed a complaint against the Trump administration's new restrictions on Title IX regulations, which weaken protections for sexual assault and harassment victims in schools and colleges.
"We must do everything we can to keep young people safe in schools and on college campuses," said Attorney General Josh Stein. "I am fighting this new rule because it fails to protect our students and puts them at greater risk of sexual assault and harassment. I am extremely concerned that this rule will require schools to rewrite rules at the same time as they are working around the clock to address new concerns related to the spread of the coronavirus. This effort, and this timing, is negligent at best and deeply cynical at worst."
In the complaint, a coalition of 18 attorneys general assert that the Department of Education's new rule strips students of longstanding protections against sexual harassment in violation of Title IX's mandate to prevent and remedy sex discrimination and will cause irreparable harm to students. The new rule also conflicts with federal and state statutes and Supreme Court precedent. Attorney General Stein previously opposed the rule when it was proposed by Secretary of Education Betsy DeVos.
The attorneys general argue that the new rule will:
Narrow the protections for students and others by redefining "sexual harassment" to exclude a broad spectrum of discriminatory conduct.
Require extensive and unnecessary new procedural requirements that will chill reporting of sexual harassment and violence and make it harder for schools to provide a fair investigative process and reach fair outcomes for all students.
Force schools to dismiss any reports of sexual harassment that fall outside the new guidelines, which will require schools to adopt parallel code of conduct provisions to keep their campuses safe, causing additional confusion and also chilling reporting.
Demand that schools make significant changes by mid-August in the midst of the COVID-19 pandemic. This will require schools to bypass the mechanisms that allow students, parents, faculty, staff, and community members to help shape important school policies.
Force schools to use scarce resources for unnecessary hiring and implementation — distracting them from critical needs like remote learning and reopening plans for the fall.
Attorney General Stein is joined in filing today's complaint by the Attorneys General of Pennsylvania, New Jersey, California, Colorado, Delaware, the District of Columbia, Illinois, Massachusetts, Michigan, Minnesota, New Mexico, Oregon, Rhode Island, Vermont, Virginia, Washington, and Wisconsin.
A copy of the complaint is available here.
###