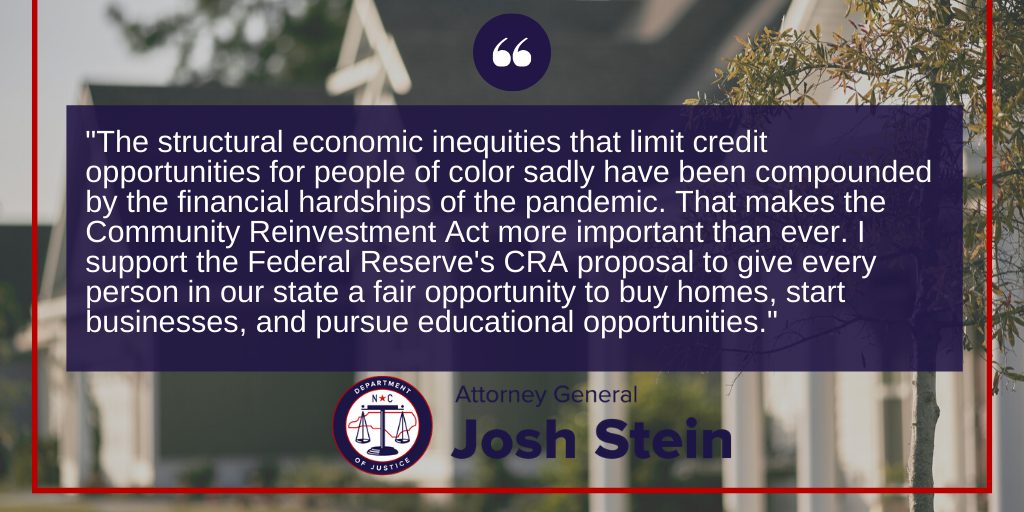 For Immediate Release:
Tuesday, February 16, 2021
Contact:
Laura Brewer (919) 716-6484
(RALEIGH) Attorney General Josh Stein today supported the Federal Reserve's proposed rule under the Community Reinvestment Act (CRA) to prevent racially discriminatory housing practices and encourage financial institutions to help underserved communities.
"The structural economic inequities that limit credit opportunities for people of color sadly have been compounded by the financial hardships of the pandemic," said Attorney General Josh Stein. "That makes the Community Reinvestment Act more important than ever. I support the Federal Reserve's CRA proposal to give every person in our state a fair opportunity to buy homes, start businesses, and pursue educational opportunities."
The CRA was enacted in 1977 to prevent racially discriminatory redlining in housing and encourage banks and savings associations to help meet the credit needs of all segments of their communities. It has helped direct trillions of dollars in investments back to the communities that need them most and increased access to financial services and loans that incentivize the availability of affordable housing and support small businesses across the country. During the current economic and public health crisis, safeguarding and strengthening the law's mechanisms to tackle persistent, structural inequality remains as important as ever.
In a comment letter, Attorney General Stein and 22 other attorneys general applaud the Federal Reserve's efforts and re-emphasize how the CRA can benefit communities by:
Increasing affordable housing opportunities and preventing homelessness.
Serving the financial needs of lower-income and moderate-income communities.
Potentially increasing access to credit and deposit services for small businesses hit hard by the pandemic.
In April, Attorney General Stein urged the federal government to withdraw a proposed rule that would have undermined the CRA and left communities financially vulnerable. The Federal Reserve then asked for comments on this separate, independent proposal to strengthen, clarify, and tailor CRA regulations to reflect the current banking landscape and better meet the core purpose of the law.
Attorney General Stein is joined in sending this letter by the Attorneys General of California, Connecticut, Delaware, Hawaii, Illinois, Iowa, Maine, Maryland, Massachusetts, Michigan, Minnesota, Nevada, New Jersey, New Mexico, New York, Oregon, Pennsylvania, Rhode Island, Vermont, Virginia, Washington, and the District of Columbia.
A copy of the comment letter is available here.
###