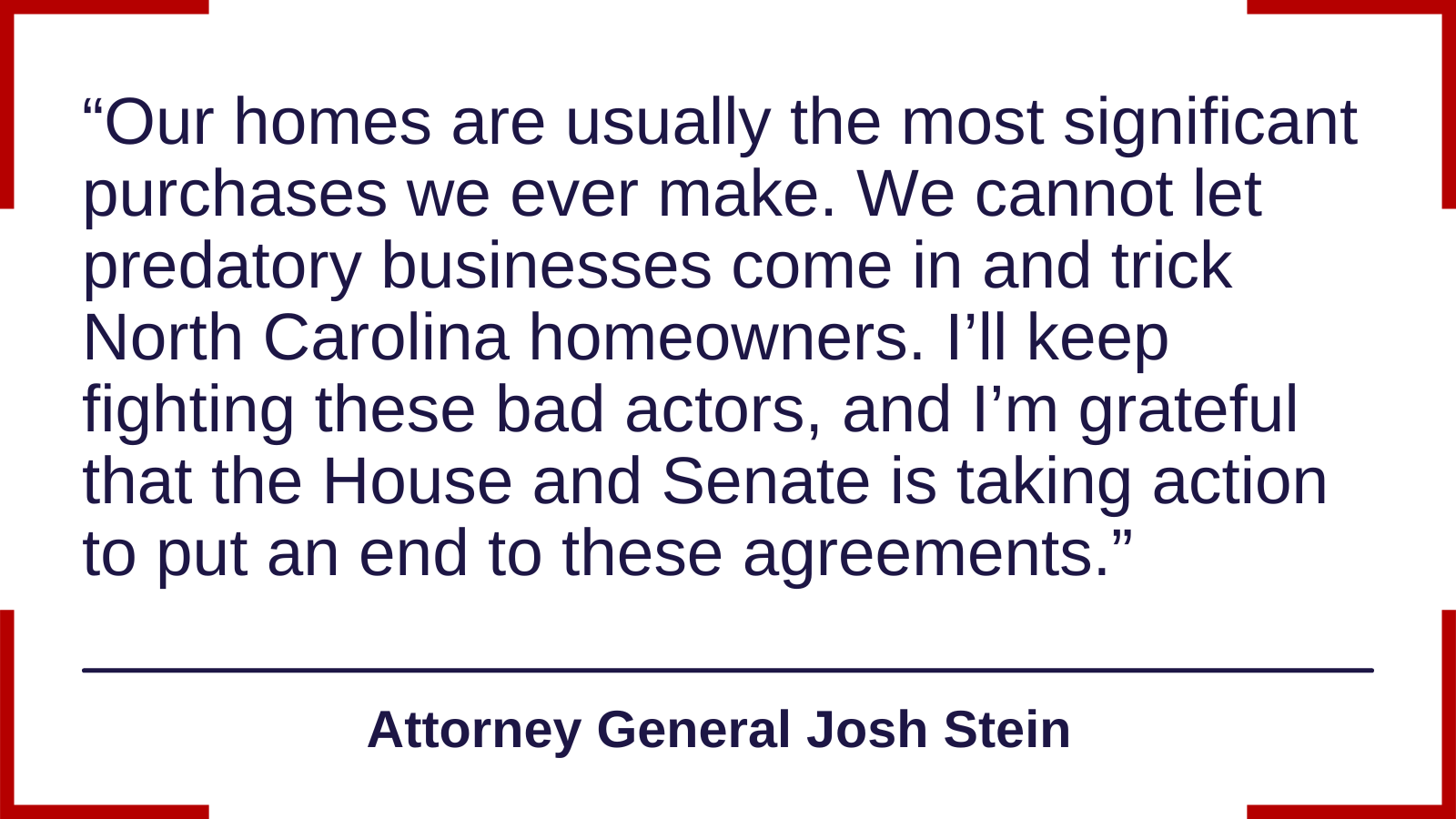 For Immediate Release:
Wednesday, May 17, 2023
Contact: Nazneen Ahmed
919-716-0060
(RALEIGH) Attorney General Josh Stein was in Charlotte today highlighting the need for legislation that protects North Carolinians from predatory, long-term real estate agreements. Attorney General Stein recently sued real estate company MV Realty for allegedly duping North Carolinians with such contracts, and he's supporting the Unfair Real Estate Agreements Act to put an end to these contracts in North Carolina. More on the legislation is available here.
"Our homes are usually the most significant purchases we ever make," said Attorney General Josh Stein. "We cannot let predatory businesses come in and trick North Carolina homeowners. I'll keep fighting these bad actors, and I'm grateful that the House and Senate is taking action to put an end to these agreements."
In March, Attorney General sued MV Realty for allegedly breaking North Carolina's consumer protection laws by tricking homeowners into signing oppressive, 40-year real estate agreements through their "Homeowner Benefit Program." Several of those homeowners live in the Charlotte-Mecklenburg region. Also in March, legislators in the House and Senate introduced the Unfair Real Estate Agreements Act. The bill prohibits oppressive, long-term "Right to List" service agreements that purport to run with the land, create a lien or security interest on a homeowner's property, or are otherwise assigned without the homeowner's clear consent.
"Having legislation in place to prevent these unfair practices would mean a great deal because it would make companies take a closer look at their policies and think twice about taking advantage of people during their most vulnerable time," said homeowner and MV Realty customer Tammie Ervin. "Full disclosure must be provided!"
"I fell victim by means of a phone call after my house closing," said homeowner and MV Realty customer Yolanda Frasier. "I didn't know that the contract was for 40 years and three percent of whatever I sell my house for, as well as the exclusive rights for them to sell. I would've never signed up for this if I had known."
The bill passed the House unanimously in April. It is sponsored in the House by Reps. Kyle Hall, Charles Miller, Hugh Blackwell, and Vernetta Alston, and in the Senate by Sens. Joyce Krawiec, Brad Overcash, and Paul Lowe. The legislation, which the North Carolina Department of Justice helped draft, is supported by AARP, the NC Land Title Association, The NC REALTORS, the NC Department of Justice, the NC Bar Association, the NC Real Estate Commission, and Zillow.
"As a professional Realtor, I understand that real estate transactions can sometimes be complicated, expensive, and expansive," said Rep. Kyle Hall. "North Carolina property owners deserve peace of mind that our laws prevent bad actors from taking advantage of them with unfair, confusing, and misleading sales contracts. That's why I'm proud to introduce this legislation to protect consumers with straightforward and clear contracts."
"NC REALTORS applauds the Attorney General's office, North Carolina Real Estate Commission, and our other stakeholders for advocating for legislation to put an end to the practice of real estate service agreements that are unfair to owners of residential real estate and others who may become owners of real estate in the future," said Mark Zimmerman, Senior Vice President of External Affairs, NC REALTORS.
"Unfair real estate service agreements are one of those issues that we have seen evolve in the residential real estate market," said Fred Moreno, Chief Deputy Legal Counsel, Regulatory Affairs, North Carolina Real Estate Commission. "These agreements seek to bind unsuspecting property owners and their families to future obligations which limit their ability to freely use or dispose of their real property assets as they see fit. The Real Estate Commission applauds the efforts of the NC General Assembly in passing legislation to combat this type of predatory practice."
"Deceptive, unfair, or predatory practices have no place in real estate," said Ryan Patmintra, Zillow's government relations lead for the southern region. "Saddling homeowners with unnecessarily long, costly, and unfair agreements ultimately keeps them and their families from tapping into the full value of their homes. Homeownership can be a gateway to economic independence and generational wealth creation — and this pro-consumer legislation helps protect that opportunity for all North Carolinian families. Thank you to Attorney General Stein, Senator Krawiec, Representative Hall, and the other bill sponsors for their leadership on this issue."
###