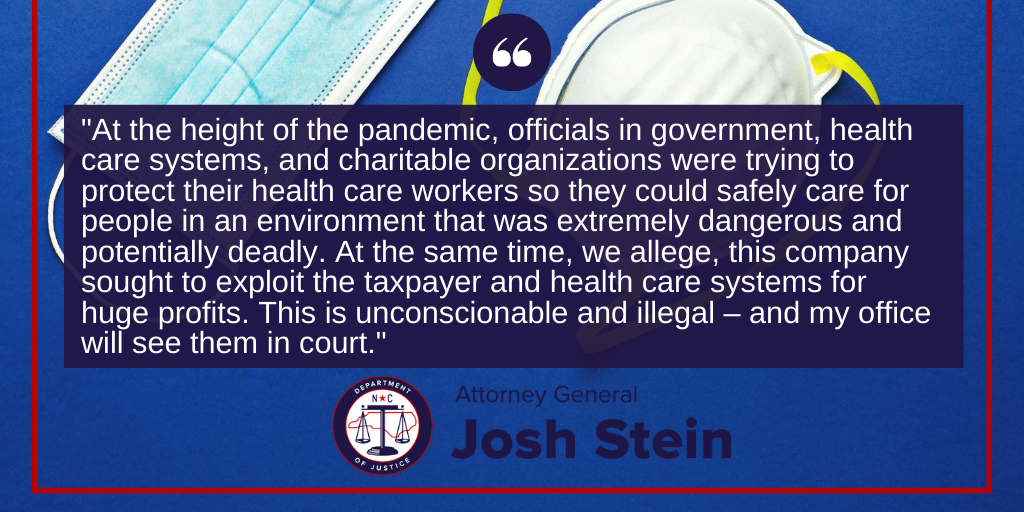 For Immediate Release:
Tuesday, August 25, 2020
Contact:
Laura Brewer (919) 716-6484
(RALEIGH) Attorney General Josh Stein today announced that he is filing a lawsuit against Stephen Gould Corporation to enforce North Carolina's laws against price gouging during a state of emergency and against unfair and deceptive trade practices in connection with the COVID-19 pandemic. The lawsuit alleges that Stephen Gould Corporation pitched extremely high-priced N95 or similar face masks to the North Carolina Emergency Management Unit of the North Carolina Department of Public Safety, Duke Health, UNC Health, and the Charlotte Chapter of the American Red Cross. The lawsuit also alleges that Stephen Gould Corporation told these potential clients that the markup on these masks was "slim" or only 3 percent, when the actual markup would have been more than 100 percent.
"At the height of the pandemic, officials in government, health care systems, and charitable organizations were trying to protect their health care workers so they could safely care for people in an environment that was extremely dangerous and potentially deadly," said Attorney General Josh Stein. "At the same time, we allege, this company sought to exploit the taxpayer and health care systems for huge profits. This is unconscionable and illegal – and my office will see them in court."
According to the complaint, Stephen Gould Corporation pitched a sale of 7 million masks each to UNC Health, Duke Health, and the Charlotte Chapter of the American Red Cross. Stephen Gould Corporation's cost to purchase each of those masks was $4.15, but it offered them for sale at $8.45 each. That amounts to an attempted profit of $30,100,000 for each transaction during a global pandemic. The company also misled its potential customers about how drastically it was marking up its prices, falsely claiming the markup was minimal.
Throughout its investigation, the Department of Justice discovered that the Stephen Gould Corporation used fear about the coronavirus as an opportunity to attempt to sell masks at unreasonable high prices. The Stephen Gould Corporation's sales pitches and misrepresentations violate the price-gouging law, which exists to protect the public, even though it price gouging efforts were ultimately unsuccessful.
The lawsuit asks the court to stop this company from offering or selling goods or services in North Carolina at unreasonably excessive prices during the emergency, and seeks $5,000 in civil penalties for each violation of North Carolina's laws against price gouging and unfair and deceptive trade practices, among other relief. Stephen Gould Company is based in New Jersey and has a branch in Morrisville.
After Hurricanes Michael and Florence devastated North Carolina in 2018, Attorney General Stein brought seven lawsuits against 22 defendants under North Carolina's price gouging statute. He has obtained eight judgments against 17 defendants, including a $274,000 settlement that was the largest price gouging settlement in the department's history. The Attorney General's Office has won more than $825,000 in these judgments and settlements.
A copy of the complaint is available here.
More on Attorney General Stein's work to fight price gouging during COVID-19:
###