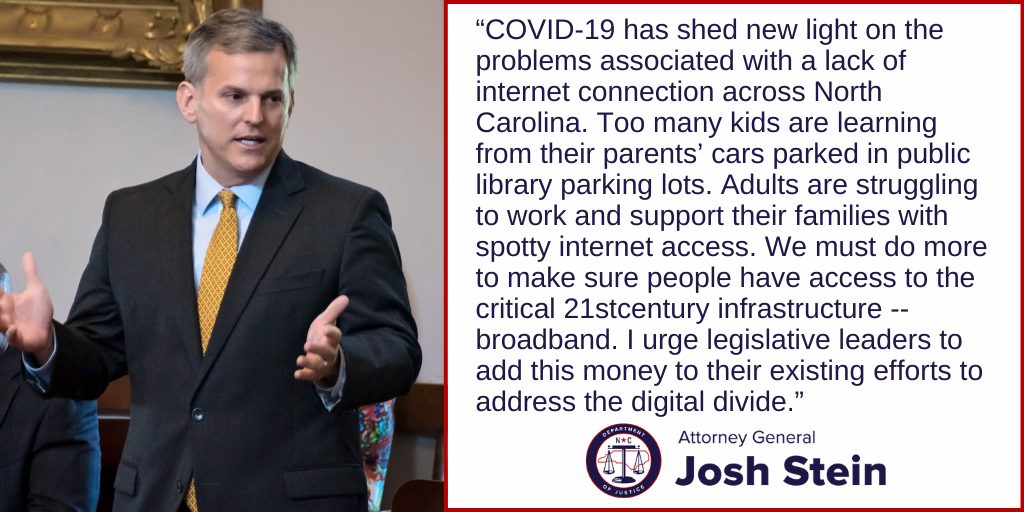 For Immediate Release:
Friday, January 15, 2021
Contact:
Laura Brewer (919) 716-6484
(RALEIGH) Attorney General Josh Stein today urged leaders in the North Carolina Senate and House of Representatives to address our state's digital divide – especially during the ongoing COVID-19 pandemic – when they appropriate the $13,426,560 he won in a settlement from Dish Network. These funds come to North Carolina as a result of a case the North Carolina Department of Justice litigated for over ten years against Dish related to allegations that the company made large numbers of illegal telemarketing calls to North Carolina residents.
"COVID-19 has shed new light on the problems associated with a lack of internet connection across North Carolina," said Attorney General Josh Stein. "Too many kids are learning from their parents' cars parked in public library parking lots. Adults are struggling to work and support their families with spotty internet access. We must do more to make sure people have access to the critical 21stcentury infrastructure — broadband. I urge legislative leaders to add this money to their existing efforts to address the digital divide."
From the letter:
Pursuant to N.C. Gen. Stat. 114-2.4A(d) and 115C-457.3, I strongly recommend that the General Assembly appropriate these funds for public school broadband purposes to augment existing efforts. During the COVID-19 pandemic, many students and teachers throughout the state have had to transition to remote learning and virtual classrooms. This situation has underscored the vital need for access to sufficient broadband. It has also highlighted some of the disparities that exist in our state, particularly in more rural areas, between broadband haves and have-nots. Educational opportunities in a virtual environment are almost non-existent for students who do not have access to a decent internet connection. We need to bridge these digital divides as much as possible in order to provide students and teachers with the tools they urgently need during these difficult times.
###