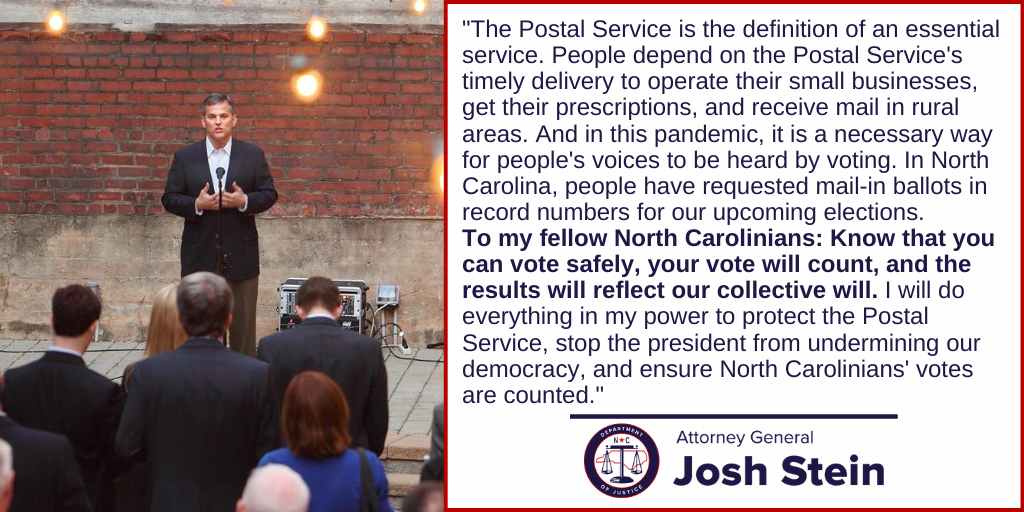 For Immediate Release:
Tuesday, August 18, 2020
Contact:
Laura Brewer (919) 716-6484
(RALEIGH) Attorney General Josh Stein today announced that he will file a lawsuit to challenge nationwide operational changes at the U.S. Postal Service and ensure safe and secure voting by mail. The multistate lawsuit, which will be filed later this week, seeks to immediately reverse the agency's actions and guarantee safeguards and standards for election mail.
"The Postal Service is the definition of an essential service," said Attorney General Josh Stein. "People depend on the Postal Service's timely delivery to operate their small businesses, get their prescriptions, and receive mail in rural areas. And in this pandemic, it is a necessary way for people's voices to be heard by voting. In North Carolina, people have requested mail-in ballots in record numbers for our upcoming elections. To my fellow North Carolinians: Know that you can vote safely, your vote will count, and the results will reflect our collective will. I will do everything in my power to protect the Postal Service, stop the president from undermining our democracy, and ensure North Carolinians' votes are counted."
Service and policy changes at the Postal Service instituted by Trump-appointed Postmaster General Louis DeJoy have delayed the prompt delivery of mail to Americans who rely on the Postal Service for everything from medical prescriptions to ballots. Those changes include including limiting staff overtime and so-called "late or extra shifts", meaning not all mail that goes out for delivery is delivered, and requiring late-arriving mail to be left for delivery. The changes at the Postal Service come as President Donald Trump has continued to baselessly claim that widespread vote by mail will lead to a fraudulent election.
Last week, the Postal Service notified many states, including North Carolina, that it could not guarantee delivery of ballots in accordance with state laws and deadlines. More than 268,000 North Carolinians have requested mail-in ballots for the upcoming 2020 elections – more than 10 times the number of requests the North Carolina State Board of Elections had received for absentee ballots at this point in 2016. Mail-in ballot requests have already surpassed the total number of 2016 requests by more than 36,000.
The multistate lawsuit, which will be filed later this week, will assert that the Postal Service unlawfully implemented widespread changes to mail service nationwide. The coalition of attorneys general will assert that the Postal Service has acted outside of its authority to implement changes to the postal system, and did not follow the proper procedures required by federal law.
Changes at the Postal Service that cause a nationwide impact in mail service must be submitted to the Postal Regulatory Commission. The commission then evaluates the proposal through a procedure that includes public notice and comment. The Postal Service's sudden and unilateral changes to the nature of postal services deprived the states of their procedural right to comment on such changes prior to implementation as established by federal law. Changes also impede states' efforts to conduct free and fair elections, a right and authority granted to them by the Constitution.
Attorney General Stein will be joined by several other states in filing this lawsuit, led by the Attorney General of Pennsylvania. The Attorney General of Washington is also filing a separate, complementary multistate legal action in the coming days.
###