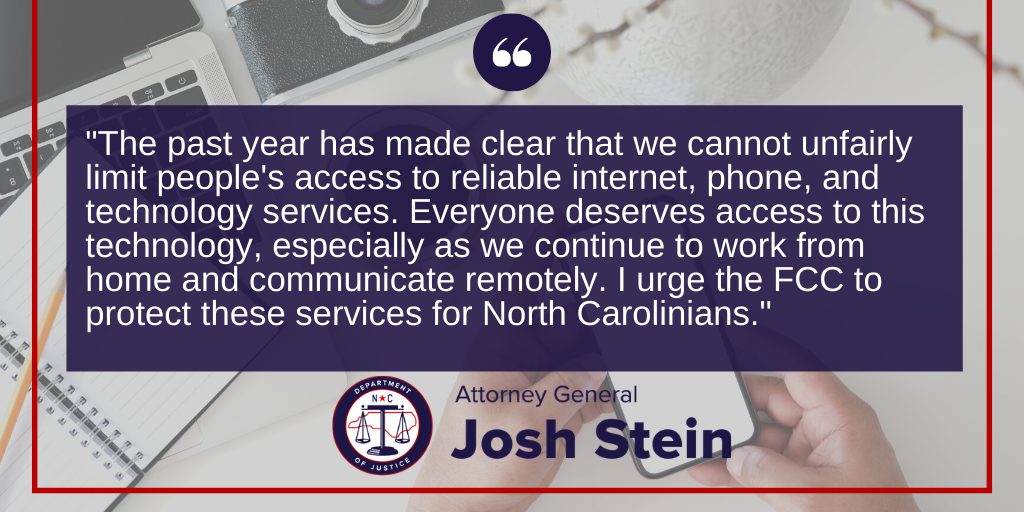 For Immediate Release:
Friday, February 5, 2021
Contact:
Laura Brewer (919) 716-6484
(RALEIGH) Attorney General Josh Stein today urged the Federal Communications Commission (FCC) to protect people's access to Lifeline, an affordable communications service offered by telecom companies.
"The past year has made clear that we cannot unfairly limit people's access to reliable internet, phone, and technology services," said Attorney General Josh Stein. "Everyone deserves access to this technology, especially as we continue to work from home and communicate remotely. I urge the FCC to protect these services for North Carolinians."
Attorney General Stein and 16 other attorneys general are asking the FCC to make sure that any mergers or acquisitions between telecom companies protect and maintain the affordable services that Lifeline provides for millions of Americans. The attorneys general explain that Lifeline's services are essential because they allow people to be able to use cellphones, a modern-day necessity to participate in our society and economy. The coalition asks the FCC to adopt specific conditions to protect people who use Lifeline in the mobile virtual network marketplace and ensure that any mergers and acquisitions do not decrease the number or quality of Lifeline offerings or go against the public interest.
Attorney General Stein is joined in sending this letter by the Attorneys General of Colorado, Connecticut, Delaware, Iowa, Massachusetts, Michigan, Minnesota, Nevada, New Mexico, New York, Oregon, Rhode Island, Vermont, Virginia, Washington, and the District of Columbia.
A copy of the letter is available here.
###