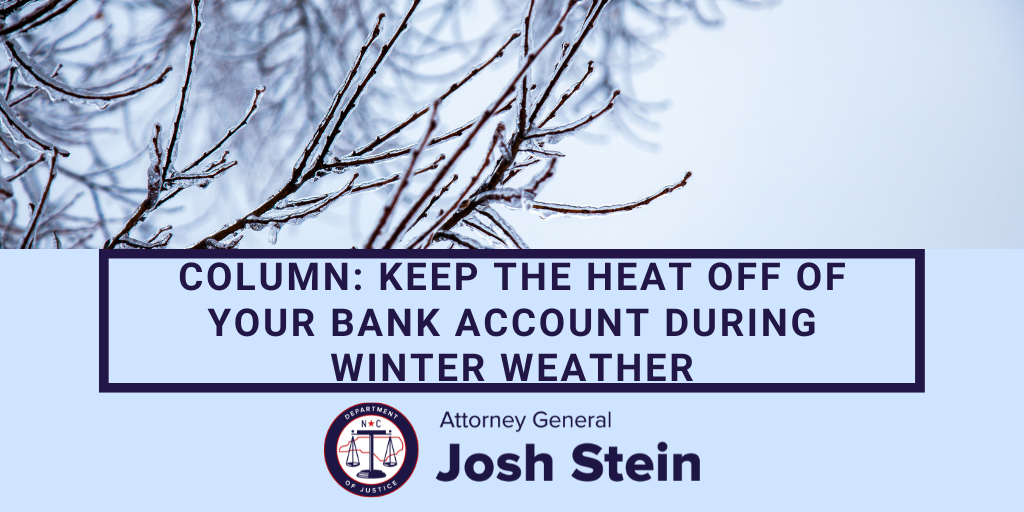 January 2023
Last month, people in North Carolina experienced dangerously cold temperatures. The freeze left thousands of people without power, some struggling to keep warm. Sadly, scammers look to leverage crises like that to take advantage of you. Watch out for common signs of scams and fraud to keep you and your family safe and warm during winter weather.
Scammers often impersonate power companies to steal people's money or personal information. Watch out for threatening calls from people claiming to represent your electric company. Hang up and call the company directly if you suspect the call may be a scam. Never give out personal information like birth dates, Social Security numbers, or financial account numbers to anyone over the phone unless you're sure of their authenticity. Know that if someone demands you make payments using a gift card or cryptocurrency, it's a scam.
When the Governor declares a state of emergency, my office enforces North Carolina's price gouging laws. The law protects people from sellers who illegally raise prices during a natural disaster to take advantage of people's desperation. Last year, our office received 53 reports of price gouging related to winter weather. If you see price gouging in your community during a state of emergency, report it to my office's Consumer Protection Division at ncdoj.gov/pricegouging or 877-5-NOSCAM. My office will investigate each of these complaints and take action against companies if they broke the law.
Winter weather strains our energy grid, so be prepared in the event your home loses power. Make sure essential devices like cell phones are fully charged. Update your contact information with your electric utility and read any communications from the company. Follow their advice closely to stay safe.
Whenever a crisis strikes, scammers look to take advantage of people's fear and desperation to make a quick buck. Staying vigilant of the common signs of scam can help you steer clear of them. During this season's winter storms, make sure you keep you and your family safe.