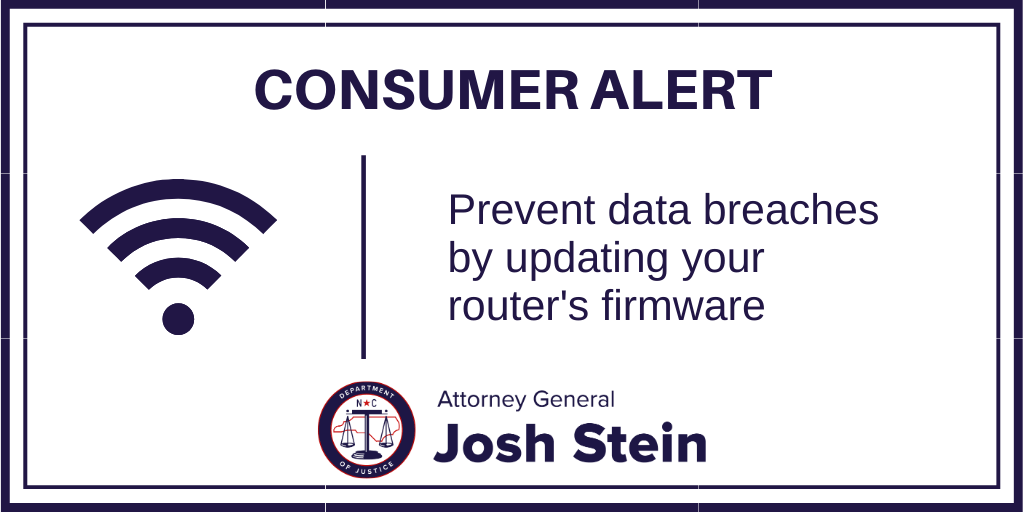 Tuesday, April 14, 2020
Amid the COVID-19 crisis, more North Carolinians are working and learning remotely using their home internet. That makes now a great time to ensure that your systems are as secure as possible. Hackers and scammers are working overtime to steal your money and personal information, but taking simple security steps like updating your internet router's firmware can help keep you safe. Router manufacturers release firmware updates to repair vulnerabilities exploited by hackers. Almost all of your personal information passes through your router, so keeping its security up to date is critical to protecting your personal financial data.
While most consumers don't regularly update their router's firmware, the process is quick and easy. The best way to protect yourself is to follow these steps:
Enter the IP address of your router into a web browser's address bar. The IP address of each router is listed on the device or in the instruction manual. If you can't find it, you can locate your device's IP address through a simple web search.
Enter your username and password. The login information for the router is typically found on the device or in the instruction manual.
Locate the "Firmware" or "Router Upgrade" option. Usually, you can find this option in the Administration, Utilities, or Maintenance section. Keep in mind that the location of this option can vary depending on the router model.
Download the update from your router manufacturer's website. Typically, you can find the update in the Support section. Locate your router model and download the latest available update. Save the update to your computer.
Upload the update to your router. In the Update section of your router, choose the "Browse" or "Choose File" button to upload your update. Once uploaded, start the update process. Once your router updates, it will restart with the new firmware installed.
If you think that you may have been the victim of a data breach or had your information compromised, contact our office's Consumer Protection Division at 1-877-5-NO-SCAM or find more information at https://ncdoj.gov/protecting-consumers/protecting-your-identity/protect-yourself-from-id-theft/.