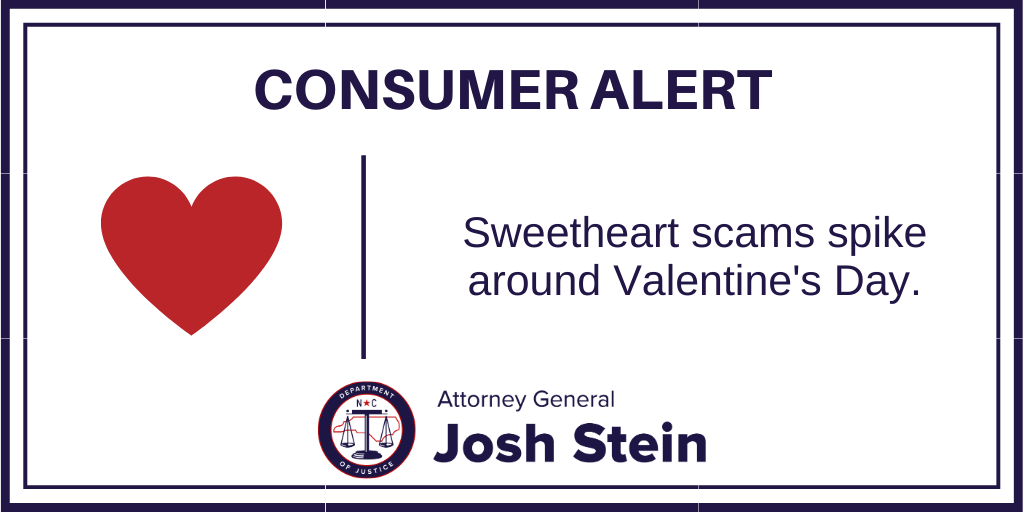 Friday, February 14, 2020
On this Valentine's Day, be on the lookout for potential sweetheart scams. These scammers prey on people looking for love and often target seniors. They're more likely to reach out if a person has just been through a major life event that may make them more vulnerable, such as losing a spouse. In these schemes, scammers befriend potential victims on websites and through social networking apps. The scammer may use mutual interests or supposed mutual friends to create a connection and exploit a victim's trust to steal their money.
Our office hears about sweetheart scams too often. In 2019, we received 60 complaints of sweetheart scams totaling losses of more than $1.4 million. The FTC reported that people lost more than $200 million nationally to these scams last year. We know that these reports are just the tip of the iceberg, as they often go unreported.
This Valentine's Day, take care not to have your heart broken and your bank account emptied.
Here's what to watch for:
Sweetheart scammers often claim to be a U.S. citizen traveling or working overseas.
They may pretend to have a mutual connection. Be careful to verify this information before you start communicating.
The scammer may wait months before they ask for money so they can build a relationship and gain your trust.
They may promise to come to the U.S., but need money to resolve a roadblock – loans, the cost of flights, a family issue, etc.
If an online love interest ever asks you for money, it's usually a scam.
If anyone contacts you and you're unsure of their authenticity or if you believe that you have been the victim of a scam, contact our office's Consumer Protection Division at ncdoj.gov/file-a-complaint or 1-877-5-NO-SCAM.