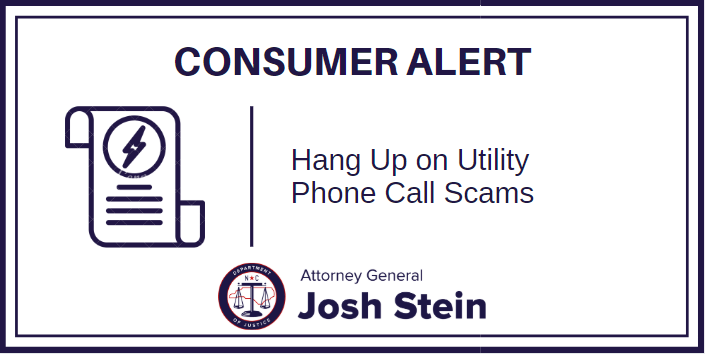 Monday, July 13, 2020
Scams targeting electric and natural gas customers are on the rise during the COVID-19 pandemic. Phone scammers may pose as utilities providers, calling you to claim that you owe the company money. They may threaten to disconnect your service and insist that you immediately pay them with a prepaid debit card. In June 2020, Duke Energy reported that it had the highest amount of reported scam attempts to date.
Scammers are working to take advantage of the financial hardships people are suffering as a result of the COVID-19 pandemic to steal their money and personal information. Our office is working hard to protect consumers, but the best way to protect yourself is to follow these tips:
Hang up the phone. If you receive a call that you think might be a scam, hang up and call your utility company directly using a number listed on your utility bill or the utility company's website.
Do not give out personal information such as birth dates, social security number or financial information.
Never use prepaid debit cards or gift cards to make payments to anyone. Legitimate companies will offer a variety of ways that you can pay your bill such as on the phone, by mail, or in person. If someone asks you to pay with a prepaid card, it's probably a scam.
If a company contacts you and you're unsure of their authenticity or if you believe that you have been the victim of a scam, contact our office's Consumer Protection Division at ncdoj.gov/file-a-complaint or 1-877-5-NO-SCAM.