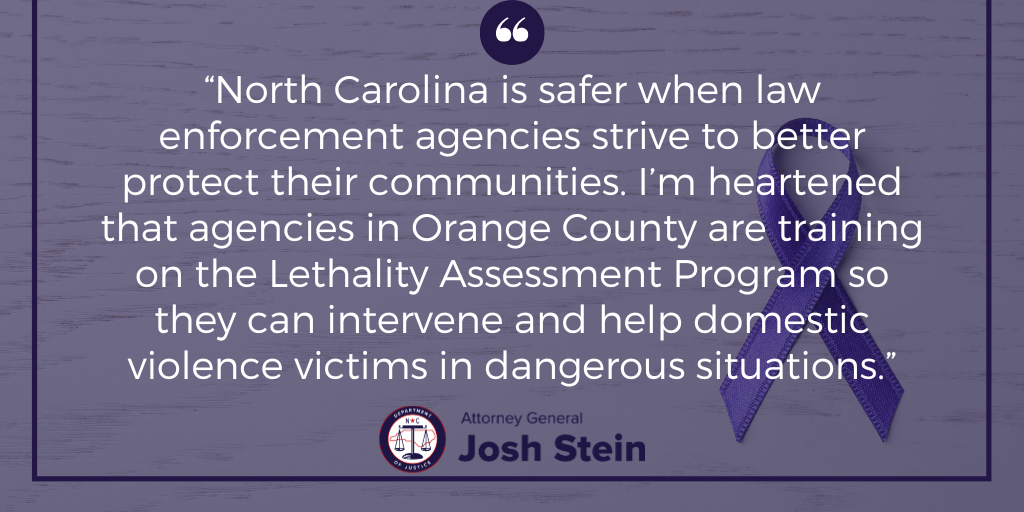 For Immediate Release:
Wednesday, September 6, 2023
Contact: Nazneen Ahmed
919-716-0060
(RALEIGH) The Office of Attorney General Josh Stein and the Orange County Criminal Justice Resource Department today hosted a training for Orange County-area law enforcement leadership and domestic violence service providers on a strategy to help identify domestic violence victims who are at risk of being killed by their partners and act quickly to help them find safety and assistance.
"North Carolina is safer when law enforcement agencies strive to better protect their communities," said Attorney General Josh Stein. "I'm heartened that agencies in Orange County are training on the Lethality Assessment Program so they can intervene and help domestic violence victims in dangerous situations."
"LAP will build on our community's deep commitment to addressing domestic violence by facilitating our ability to identity those situations which are of the highest danger to victims and enable our team to enhance safety to these individuals," said Orange County Sheriff Charles Blackwood.
The Lethality Assessment Program (LAP) is a checklist of factors that law enforcement considers when responding to a domestic violence incident. Based on the checklist, an officer can determine whether a person is at risk of injury or death. The criteria include past incidents of violence, as well as other non-violent and non-illegal behavior that research indicates may be linked to homicides. If the officer determines that a victim is at risk, they will connect the victim to a local domestic violence service provider.
The LAP was initially developed by the Maryland Network Against Domestic Violence. The attorney general's office began coordinating in 2019 to provide statewide training to help law enforcement agencies adopt the program. Today's training participants include the Orange County Sheriff's Office, the Chapel Hill Police Department, the Carrboro Police Department, the Hillsborough Police Department, UNC Campus Police, the Compass Center, and the Orange County Criminal Justice Resource Department. The Orange County Government and the Town of Chapel Hill are funding the training and implementation.
All Orange County law enforcement agencies will be implementing the training over the next few months. Alamance, Buncombe, Durham, Franklin, Henderson, Mecklenburg, Onslow, Pitt, and Wake counties have already implemented LAP.
More information on the program is available here.
###