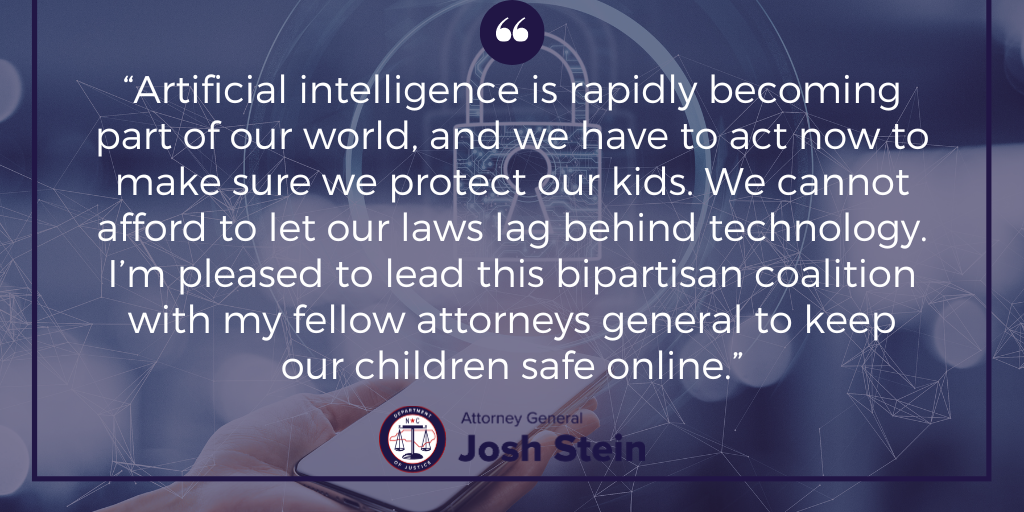 For Immediate Release:
Tuesday, September 5, 2023
Contact: Nazneen Ahmed
919-716-0060
(RALEIGH) Attorney General Josh Stein today led a bipartisan coalition of 54 attorneys general urging Congress to consider the ways artificial intelligence (AI) may harm children. Specifically, AI can and is being used to exploit children through child sexual abuse material. The Attorneys General are asking Congress to propose and pass legislation to protect children from these abuses. Attorney General Stein led the coalition alongside the Attorneys General of South Carolina, Mississippi, and Oregon.
"Artificial intelligence is rapidly becoming part of our world, and we have to act now to make sure we protect our kids," said Attorney General Josh Stein. "We cannot afford to let our laws lag behind technology. I'm pleased to lead this bipartisan coalition with my fellow attorneys general to keep our children safe online."
AI can rapidly and easily create 'deepfakes' by studying real photographs of children and generating new images showing those children in sexual positions. The attorneys general note three main concerns about how AI might be used to create abusive content:
To digitally alter the likeness of a real child who has not been physically abused to make it appear as if the child is being abused.
To digitally recreate a child who has been physically abused being abused in other ways.
To create a child who does not exist and depict them being abused to feed the market for child sexual abuse material.
The attorneys general are asking Congress to form a commission to study how AI can be used to exploit children and to act to protect children from exploitation. They state that we are "engaged in a race against time to protect the children of our country from the dangers of AI. Indeed, the proverbial walls of the city have already been breached. Now is the time to act."
Attorney General Josh Stein is joined in sending this letter by the Attorneys General of South Carolina, Mississippi, Oregon, Alabama, Alaska, Arizona, Arkansas, California, Colorado, Connecticut, Delaware, District of Columbia, Florida, Georgia. Hawaii, Idaho, Illinois, Indiana, Iowa, Kansas, Kentucky, Louisiana, Maine, Maryland, Massachusetts, Michigan, Minnesota, Missouri, Montana, Nebraska, Nevada, New Hampshire, New Jersey, New Mexico, New York, North Dakota, Northern Mariana Islands, Ohio, Oklahoma, Pennsylvania, Puerto Rico, Rhode Island, South Dakota, Tennessee, Texas, Utah, Vermont, Virgin Islands, Virginia, Washington, West Virginia, Wisconsin, and Wyoming.
A copy of the letter is available here.
###