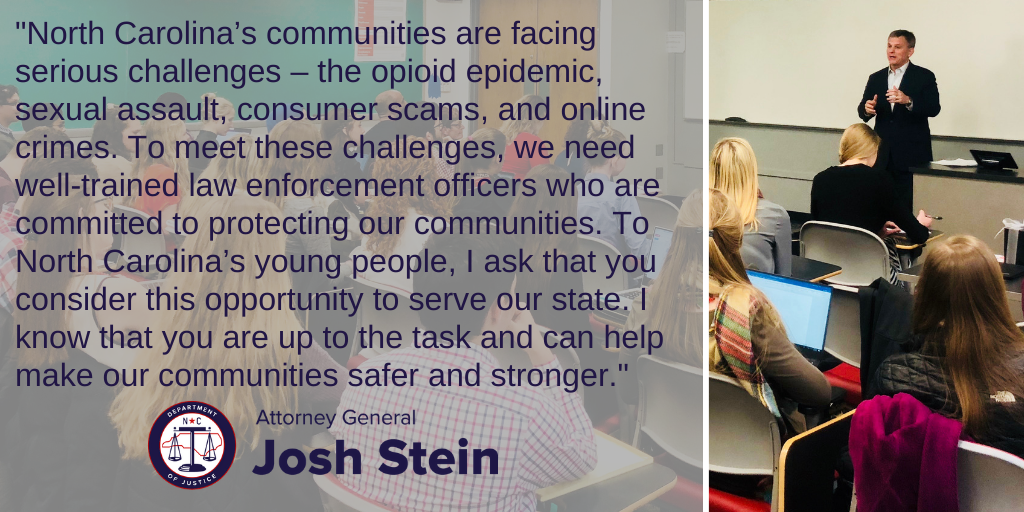 For Immediate Release:
Monday, November 4, 2019
(RALEIGH) Attorney General Josh Stein today announced that the North Carolina Criminal Justice Fellows (CJ Fellows) program is now accepting applications for its second class and encouraged high school seniors and graduates in North Carolina to use the opportunity to pursue careers in law enforcement. The program, run by the North Carolina Department of Justice and the North Carolina Criminal Justice Education and Training Standards Commission, is accepting applications until May 31, 2020.
"North Carolina's communities are facing serious challenges – the opioid epidemic, sexual assault, consumer scams, and online crimes," said Attorney General Stein. "To meet these challenges, we need well-trained law enforcement officers who are committed to protecting our communities. To North Carolina's young people, I ask that you consider this opportunity to serve our state. I know that you are up to the task and can help make our communities safer and stronger."
The CJ Fellows program began last year with an incoming class of 14 students, who are currently pursuing education opportunities in community colleges across the state. For the 2019-2020 academic year, the program has 100 available fellowships in 65 eligible counties in North Carolina. This fellowship will fund an Applied Associate Degree in criminal justice or Committee-approved related field of study from any North Carolina community college.
"The CJ Fellows program is helping me continue my education beyond high school," said Hannah Billings, a Criminal Justice Fellow at Wilkes Community College. "After I graduate at the community college, I plan to do BLET, then hopefully work at one of my local police departments! My motivation is knowing that I am lucky enough to continue my education and be a first-generation college student."
High school seniors and graduates from eligible North Carolina counties who have exhibited high academic achievement, a history of service to the school and community, and a desire to serve the state of North Carolina in a field within the criminal justice profession can apply to the program. Upon graduation, students who receive the educational loan would have it forgiven if they enter and remain in a criminal justice profession within North Carolina for four years in an eligible county. If not, they would have five years to repay the loan.
The criminal justice profession offers a wide variety of career opportunities. Students who graduate can go into any job overseen by either the Criminal Justice Education and Training Standards Commission or the Sheriffs' Standards Commission, including becoming law-enforcement officers, state correctional officers, and state juvenile justice officers, other correctional officers maintained by local governments and juvenile justice agencies, sworn sheriffs and deputy sheriffs, detention officers, and telecommunicators.
More information on the Criminal Justice Fellows program is available here.
Contact:
Laura Brewer (919) 716-6484
###