Operation Silver Shield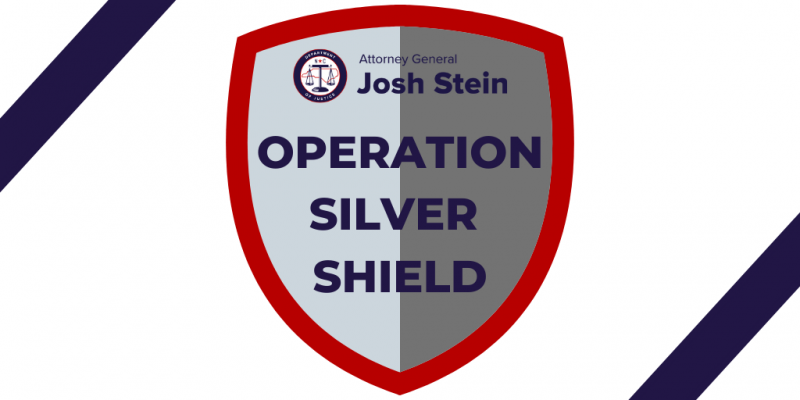 Doubling down on our work to protect seniors from scams and fraud.
Our most vulnerable citizens are the most at risk of being taken advantage of by bad actors. At the North Carolina Department for Justice, we are doubling down on our work to protect these North Carolinians, especially our senior citizens, with a department-wide initiative called Operation Silver Shield. This initiative includes work to investigate potential scams and fraud, take bad actors to court, and prevent crime through outreach and education.
How are we doing this?  
Robocall Report Taskforce
In coordination with Operation Silver Shield, Attorney General Stein created the Robocall Report Taskforce. Because many scams start with a phone call, we're working hard to confront these insidious robocalls.
Attorney General Stein's is fighting these harmful calls in two ways. First, he led a coalition of 51 state attorneys general to develop and negotiate the Anti-Robocall Principles. Under these principles, our office is working with phone service providers to improve the ways they protect their customers. Second, our office is collecting your complaints and information to investigate and bring legal action against robocallers.
While we wish we could solve this problem overnight, robocalls are pervasive and scammers are creative. It will take hard work and partnership to end these harmful and irritating calls. We're doing everything we can to take them on in 2020.
Learn more about this effort here. 
Need to report a robocall? File a complaint here. 
Protecting Seniors
Our Public Protection Section is dedicated to preventing scams and frauds against North Carolinians, especially our seniors. Through public education and outreach, members of this section travel around the state to share information with residents about current scams and frauds and tips to protect themselves.
In the 2019 Annual Report, the Department of Justice released the top 10 consumer complaints for the year. Elder Fraud came in at number four. Elder fraud scams cover a range of scams that target older adults, including imposter and sweetheart scams. NCDOJ received 1,249 elder fraud complaints. The Department helped to secure more than $293,000 in refunds to victims of elder fraud.
Our Consumer Protection division has also been successful in taking bad actors to court. Most recently, our office won a $122,000 judgement against Charlotte-area repairman John Jackson and his companies Appliance Maxx, Appliance Max LLC, Professional Appliance Service, Rapid Response Appliance Repair, All Seasons Refrigeration Heating & Cooling, and Star Appliance & HVAC LLC. Read more about this case here.
"This repairman took great steps to deceive consumers through fake websites and aliases," said Attorney General Josh Stein. "I'm grateful to the consumers who filed complaints with our office and helped alert other North Carolinians who were also victims of his scams. Companies that betray consumers should understand that my office will hold you accountable."
Here are some tips to share with your parents and older family members so they're aware of scams and can avoid getting tricked by them.
Don't answer calls from phone numbers you don't recognize or emails from addresses that aren't familiar to you. If you do answer a phone call or respond to a message from an unknown sender, do not provide any information about yourself or your family.
Be skeptical of anyone who asks for money, no matter the reason. Beware of emotional pleas and appeals to the heart. And if they're asking for money through prepaid gift cards – it's a scam. Hang up immediately and file a complaint with my office. Never, under any circumstances, wire or send money in response to a phone call, email, or online message.
Don't act right away when you are panicked. If someone claims to be a loved one in trouble, hang up and contact a family member directly to help you determine what's going on.
Be cautious when posting or interacting with others on social media. Make sure your privacy settings prevent strangers from accessing information about you or your family.
If you or a loved one has fallen victim to a scam or fraud, our Consumer Protection division can help. File a complaint here or call 1 (877) 5-NO-SCAM.
Learn more about how we are protecting seniors here. 
You can schedule a presentation with our Public Protection Section here. 
Medicaid Investigations Division
Attorney General Josh Stein's Medicaid Investigations Division investigates and prosecutes fraud and abuse by health care companies and providers, as well as patient abuse and neglect in nursing homes and other Medicaid-funded facilities.
When a provider or employee of a Medicaid-funded facility (i.e., nursing home, rest home or state hospital) physically assaults a resident, the MID can investigate. We investigate abuse whether or not it leads to serious injury, and even if the patient is not a Medicaid recipient.
Learn more about the Medicaid Investigations Division here.
You can report Medicaid provider fraud or abuse to the Attorney General's Medicaid Investigations Division at (919) 881-2320 or online here.