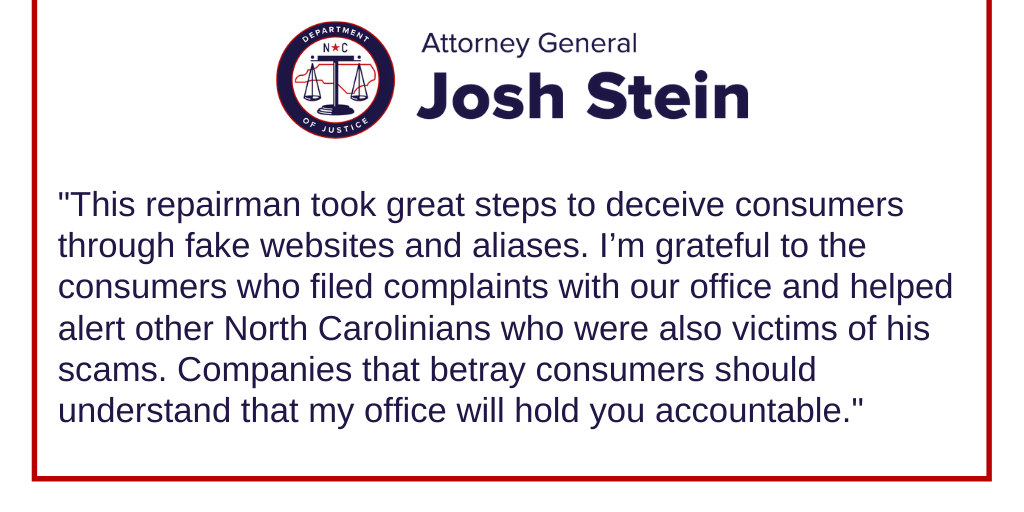 For Immediate Release:
Monday, February 10, 2020
(RALEIGH) Attorney General Josh Stein today won a $122,000 judgement against Charlotte-area repairman John Jackson and his companies Appliance Maxx, Appliance Max LLC, Professional Appliance Service, Rapid Response Appliance Repair, All Seasons Refrigeration Heating & Cooling, and Star Appliance & HVAC LLC. The judgment, entered by Judge George Bryan Collins, permanently bans Jackson from doing appliance repair work in North Carolina and orders him to pay $12,658.36 in restitution to 22 consumers and $110,000 in civil penalties.
"This repairman took great steps to deceive consumers through fake websites and aliases," said Attorney General Josh Stein. "I'm grateful to the consumers who filed complaints with our office and helped alert other North Carolinians who were also victims of his scams. Companies that betray consumers should understand that my office will hold you accountable."
Attorney General Stein initially filed suit against Jackson and his business in August 2019 after receiving 12 consumer complaints.  After filing the lawsuit, he received another 10 complaints from consumers. The lawsuit alleged that Jackson took payment from consumers as part of an appliance repair scheme he conducted under multiple business names and aliases. He took money from consumers for bogus repairs or for new parts that he claimed were needed for repair, and he promised to return to complete repairs or return consumers' deposits and never did.
In January, Attorney General Stein also won a $332,00 judgment and permanent state ban against contractors Randy Briel and Glenn Dunnam as a result of 30 consumers filing complaints. If you believe that you have been the victim of a scam, contact our office's Consumer Protection Division at ncdoj.gov/file-a-complaint or 1-877-5-NO-SCAM.
A copy of the judgment is available here.
Contact:
Laura Brewer (919) 716-6484
###