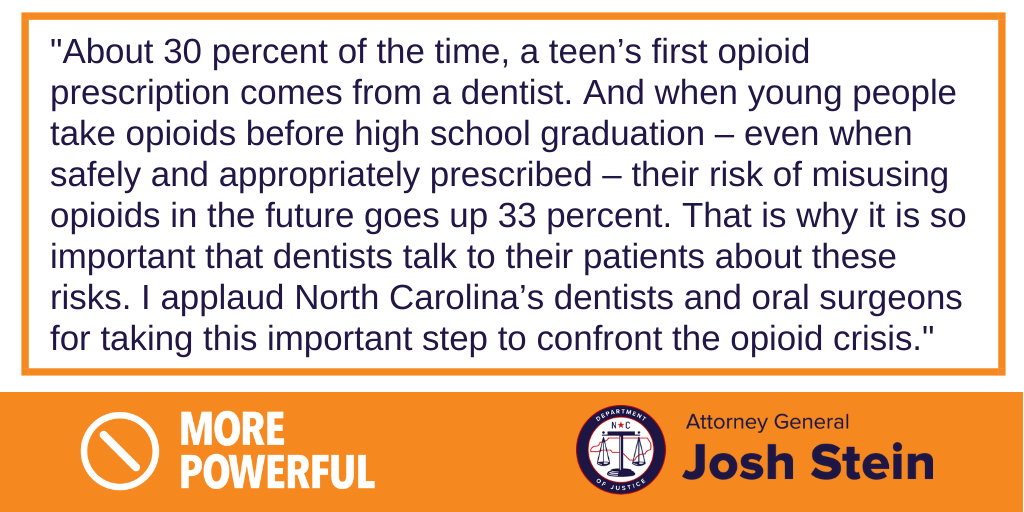 For Immediate Release:
Thursday, December 19, 2019
(RALEIGH) Attorney General Josh Stein, State Dental Director and Oral Health Section Chief for the North Carolina Division of Public Health Dr. Sarah Tomlinson, and the North Carolina Dental Society today released new materials for dental care providers to use to talk to their patients about opioid use and misuse. The guidance, available here, will help patients learn about safe ways to manage pain after dental treatments.
"About 30 percent of the time, a teen's first opioid prescription comes from a dentist," said Attorney General Josh Stein. "And when young people take opioids before high school graduation – even when safely and appropriately prescribed – their risk of misusing opioids in the future goes up 33 percent. That is why it is so important that dentists talk to their patients about these risks. I applaud North Carolina's dentists and oral surgeons for taking this important step to confront the opioid crisis."
"Dentists play a key role in addressing the opioid crisis," said Dr. Sarah Tomlinson, the State Dental Director and the Oral Health Section Chief for the North Carolina Division of Public Health. "We care about patient safety. Our goal is to help patients understand that most dental procedures do not require opioids for pain management and educate them on how to best prevent misuse if they are prescribed opioids."
"Providing our dentists education on safe and effective pain management is part of our mission to help dentists help patients. In this age of increased awareness about the risks of opioids, we are happy to be a resource our members can go to for education on alternative, effective pain control. We are proud to be part of this joint effort to help curb the opioid epidemic," said Dr. Alec Parker, Executive Director of the NC Dental Society.
"Through a combination of pain management methods, patients can have good post-op pain management without opioids," said Charlotte dentist Dr. Dan Cook. "Now, 70 percent of my patients don't take an opioid following surgery. And if they do have to take a pill, it's two or three pills. We are making progress and I'm proud to be doing my part to help reduce the use of opioids and take action to provide alternative pain management."
The materials were developed by a Dental Opioid Workgroup convened by the NC Department of Health and Human Services to give the dental community a forum for addressing the opioid crisis.
The materials are available in individual dentists' offices as well as online, where any dentist can print them for their patients. They explain common names of opioids, the risks associated with them and precautions patients can take to prevent misuse or addiction. The materials also provide information on how patients can safely dispose of unused or unneeded medications.
The efforts by the workgroup are aligned with the prevention goals of the North Carolina Opioid Action Plan.
Contact:
Laura Brewer (919) 716-6484
###