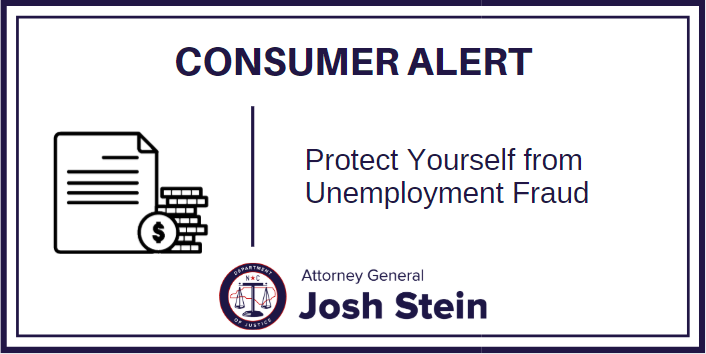 Friday, May 22, 2020
The U.S. Secret Service has alerted our office about an unemployment fraud scheme targeting people in states across the country, including North Carolina. The scammers, based in Nigeria, use personal information stolen in data breaches and hacks to file for unemployment in someone else's name.
If you receive mail about unemployment benefits you did not request, or if you apply for unemployment and are denied because a request was already filed in your name, report it to the N.C. Department of Commerce, Division of Employment Security. The best way to prevent unemployment fraud is to protect your personal and financial information:
Beware of phishing scams. Never click on a link from an unknown email sender. If you do, scammers can infect your computer with viruses and steal your personal information.
Protect your personal information. Never give out your Social Security number, bank account number, or other personal information unless you're sure of where it's going. If scammers get their hands on this information, they can use it to commit fraud in your name.
Guard your PINs and passwords. Avoid using easily available information for your PIN or password such as your mother's maiden name, your birth date, or your phone number. Use different passwords for different accounts, and change your passwords regularly.
If you believe you might be a victim of unemployment fraud, report it to the N.C. Department of Commerce, Division of Employment Security or contact our office's Consumer Protection Division at ncdoj.gov/file-a-complaint or 1-877-5-NO-SCAM.