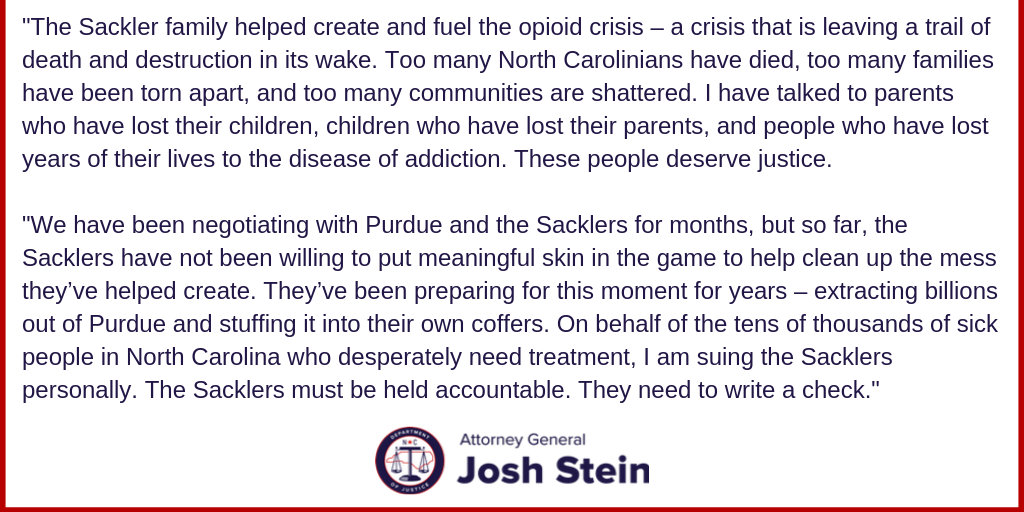 For Immediate Release:
Tuesday, September 17, 2019
(RALEIGH) Attorney General Josh Stein today filed a lawsuit in North Carolina Superior Court against eight members of the Sackler family: Richard Sackler, Mortimer Sackler, Jonathan Sackler, Kathe Sackler, Ilene Sackler Lefcourt, Beverly Sackler, Theresa Sackler, and David Sackler. In his lawsuit, Attorney General Stein alleges that these people are the driving forces behind Purdue Pharma and its work to deceptively market and sell OxyContin. As a result, the Sacklers made billions of dollars in profits – the vast majority of which they extracted from Purdue Pharma.
"The Sackler family helped create and fuel the opioid crisis – a crisis that is leaving a trail of death and destruction in its wake. Too many North Carolinians have died, too many families have been torn apart, and too many communities are shattered. I have talked to parents who have lost their children, children who have lost their parents, and people who have lost years of their lives to the disease of addiction. These people deserve justice.
"We have been negotiating with Purdue and the Sacklers for months, but so far, the Sacklers have not been willing to put meaningful skin in the game to help clean up the mess they've helped create. They've been preparing for this moment for years – extracting billions out of Purdue and stuffing it into their own coffers. On behalf of the tens of thousands of sick people in North Carolina who desperately need treatment, I am suing the Sacklers personally. The Sacklers must be held accountable. They need to write a check."
Attorney General Stein's filing outlines specific ways the family members named in the suit took action to deceive people and unfairly market OxyContin, including:
Pushing salespeople to spread misinformation and downplay OxyContin's addictiveness, including withholding information about dangers associated with opioids.
Targeting seniors, veterans, and other vulnerable populations to increase sales.
Pushing salespeople to promote more dangerous, higher dose — and more profitable – opioids.
Pursuing a smear campaign to vilify people suffering from the disease of addiction.
Denying the addictiveness of OxyContin while at the same time aggressively developing "Project Tango," an effort to profit off the treatment of people addicted to OxyContin.
Contact:
Laura Brewer (919) 716-6484
###