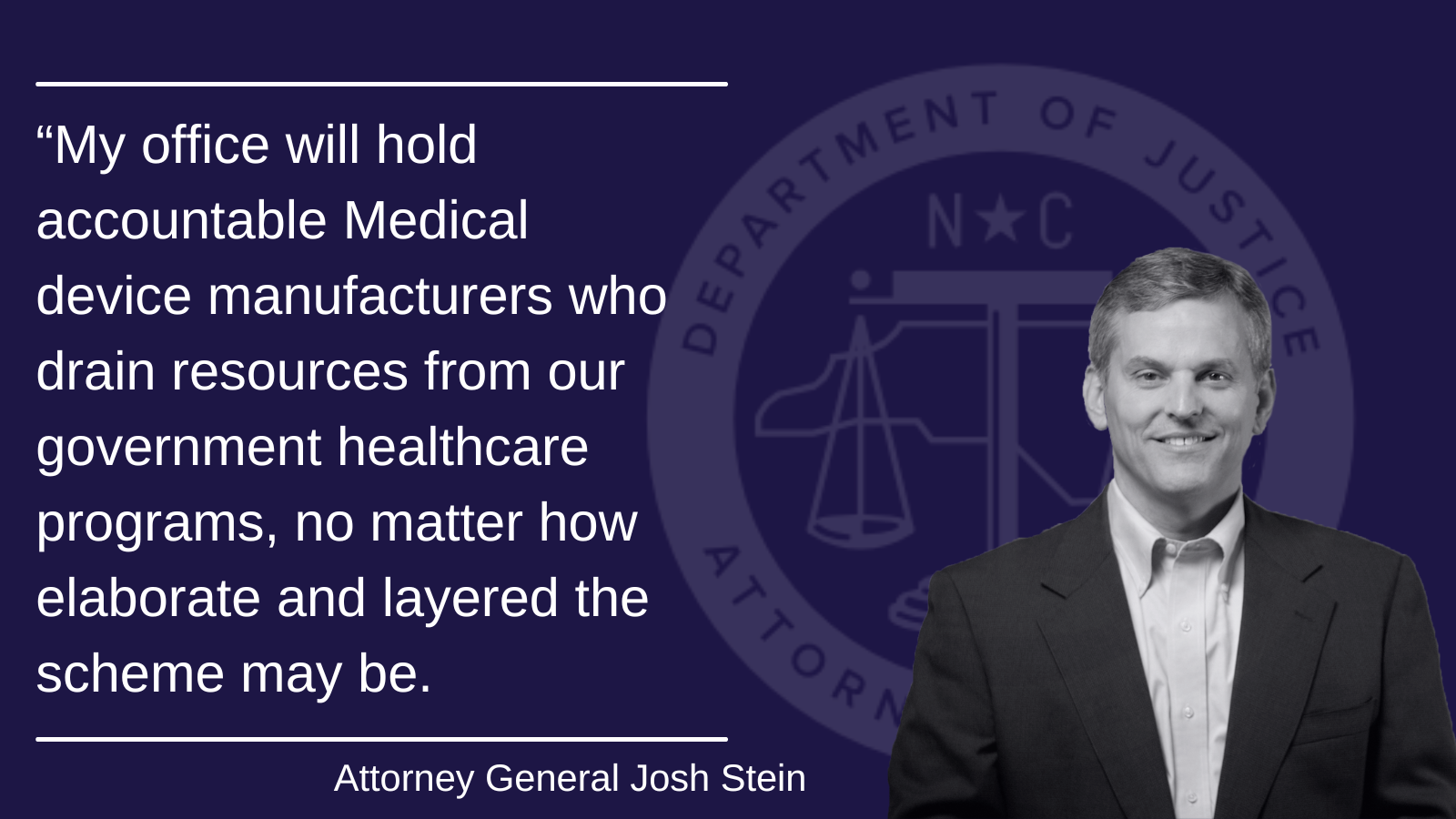 For Immediate Release:
Wednesday, February 1, 2023
Contact: Nazneen Ahmed
919-716-0060
(RALEIGH) Attorney General Josh Stein today announced that a $500,000 settlement has been reached to resolve allegations that Joint Active Systems, Inc. (JAS) caused the submittal of false claims to North Carolina Medicaid. The funds from this settlement will return taxpayer funds to the Medicaid program.
"My office will hold accountable Medical device manufacturers who drain resources from our government healthcare programs, no matter how elaborate and layered the scheme may be," said Attorney General Josh Stein.
Between January 6, 2012 and January 29, 2021, JAS allegedly caused the submittal of false or fraudulent claims of its range-of-motion JAS EZ devices, bypassing North Carolina Medicaid regulations, and causing the devices to be improperly claimed as custom-fabricated orthotics, while also paying local North Carolina orthotic and prosthetic providers to make the improper claims to North Carolina Medicaid on JAS's behalf.
The federal and North Carolina False Claims Acts authorize the governments to recover triple the money falsely obtained, plus substantial civil penalties for each false claim submitted. It should be noted that the civil claims resolved by settlement here are allegations only, that there has been no judicial determination or admission of liability, and that JAS denies the allegations.
The investigation and prosecution of this case was conducted by the United States Attorney's Office for the Eastern District of North Carolina and the Medicaid Investigations Division of the North Carolina Attorney General's Office.
About the Medicaid Investigations Division (MID)
The Attorney General's MID investigates and prosecutes health care providers that defraud the Medicaid program, patient abuse of Medicaid recipients, patient abuse of any patient in facilities that receive Medicaid funding, and misappropriation of any patients' private funds in nursing homes that receive Medicaid funding.
To date, the MID has recovered more than $1 billion in restitution and penalties for North Carolina. To report Medicaid fraud or patient abuse in North Carolina, call the MID at 919-881-2320. The MID receives 75 percent of its funding from the U.S. Department of Health and Human Services under a grant award totaling $6,106,236 for Federal fiscal year (FY) 2022. The remaining 25 percent, totaling $2,035,412 for FY 2022, is funded by the State of North Carolina.
###