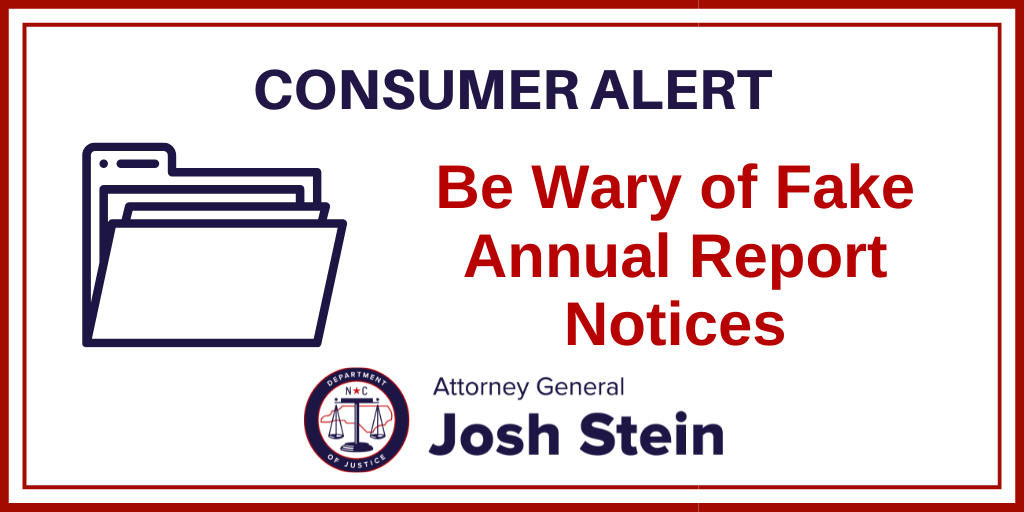 Thursday, February 2, 2023
Our office has recently been alerted of a new scam: business owners are receiving letters and notices that offer to assist them with filing their annual reports and "renewing" their business for high fees up to $500. Remember that LLCs can file annual reports directly with the NC Secretary of State's Office for a $200 fee. The annual report fee for business corporations is $25.
If you or your company receive a letter offering to assist you with filing annual reports, remember to:
Read the Fine Print and Be Skeptical when a company is asking for hefty fees and expressing a sense of urgency.
Avoid conducting corporate filings using third-parties who appear to act on behalf of the Sec. of State. Annual report fees with the Secretary of State's Office and all deadlines and guidelines for your business can be found online here.
Confirm with a trusted source. If you are suspicious of a letter regarding your annual report or other corporate filings, contact the Secretary of State's Office directly.
If you receive a deceptive letter or notice or believe you have been the victim of a scam, contact our office's Consumer Protection Division at 1-877-5-NO-SCAM or file a complaint online.