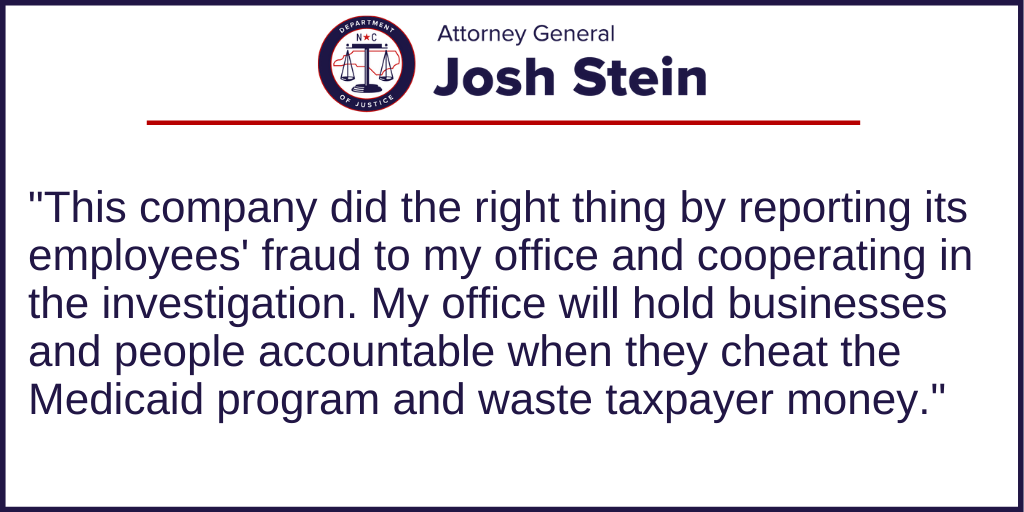 For Immediate Release:
Wednesday, March 3, 2021
Contact:
Laura Brewer (919) 716-6484
State and Federal Government Win More than $10 Million in Criminal Restitution and More Than $55 Million in Civil Claims
(RALEIGH) Attorney General Josh Stein announced that A Perfect Fit For You, Inc., a Morehead City, North Carolina, corporation, was sentenced to pay $10,069,361.35 in restitution to the North Carolina Medicaid program and a $2 million fine on a charge of health care fraud. North Carolina and the federal government also won a combined $58,847,668.12 in civil claims and judgments related to this matter.
"This company did the right thing by reporting its employees' fraud to my office and cooperating in the investigation," said Attorney General Josh Stein. "My office will hold businesses and people accountable when they cheat the Medicaid program and waste taxpayer money."
A Perfect Fit for You, Inc, was a durable medical equipment provider that sold items including powered wheelchairs, orthotic braces, diabetic shoes, powered air flotation beds, osteogenesis stimulators, pneumatic compressors, etc. Between March 2015 and November 2016, one or more employees of A Perfect Fit for You submitted fraudulent billings claims to Medicaid for providing durable medical equipment to Medicaid recipients. These fraudulent claims contained the personal identifying information of Medicaid recipients who had never ordered nor received any durable medical equipment from A Perfect Fit for You. In fact, some of the patients had been deceased years before the false claims were even submitted. This scheme resulted in an estimated loss to Medicaid of approximately $10,069,361.35.
A Perfect Fit for You, Inc. self-reported suspected fraudulent activity to the North Carolina Department of Justice's Medicaid Investigations Division and cooperated throughout the investigation. One employee, Shelly Bandy, pled guilty in December 2020 to making false statements relating to health care matters and admitted to submitting fraudulent claims to Medicaid on behalf of the company, and she is scheduled to be sentenced later in March.
The federal government and the state of North Carolina also filed civil complaints against the company, its co-owner Margaret Gibson, and Bandy. The company agreed to pay $20,138,722.70 and Gibson has agreed to pay $4 million to resolve these claims. The federal government and N.C. obtained a $34,708,945.42 default judgment against Bandy. These civil claims against the company and Gibson are allegations only and were resolved by settlement. There has been no judicial determination or admission of liability as to them in the civil case.
The investigation and prosecution of this case was conducted by the U.S. Attorney's Office for the Eastern District of North Carolina, the Medicaid Investigations Division, and the United States Department of Health and Human Services, Office of the Inspector General.
About the Medicaid Investigations Division (MID)
The Attorney General's MID investigates fraud and abuse by health care companies and providers, as well as patient abuse and neglect in facilities that are funded by Medicaid. Medicaid is a joint federal-state program that helps provide medical care for people with limited income. To date, the MID has recovered more than $850 million in restitution and penalties for North Carolina.
The Medicaid Investigations Division receives 75 percent of its funding from the U.S. Department of Health and Human Services under a grant award totaling $6,160,252 for Federal fiscal year (FY) 2020. The remaining 25 percent, totaling $2,053,414 for FY 2020, is funded by the State of North Carolina.
To report Medicaid fraud in North Carolina, call the North Carolina Medicaid Investigations Division at 919-881-2320.
###