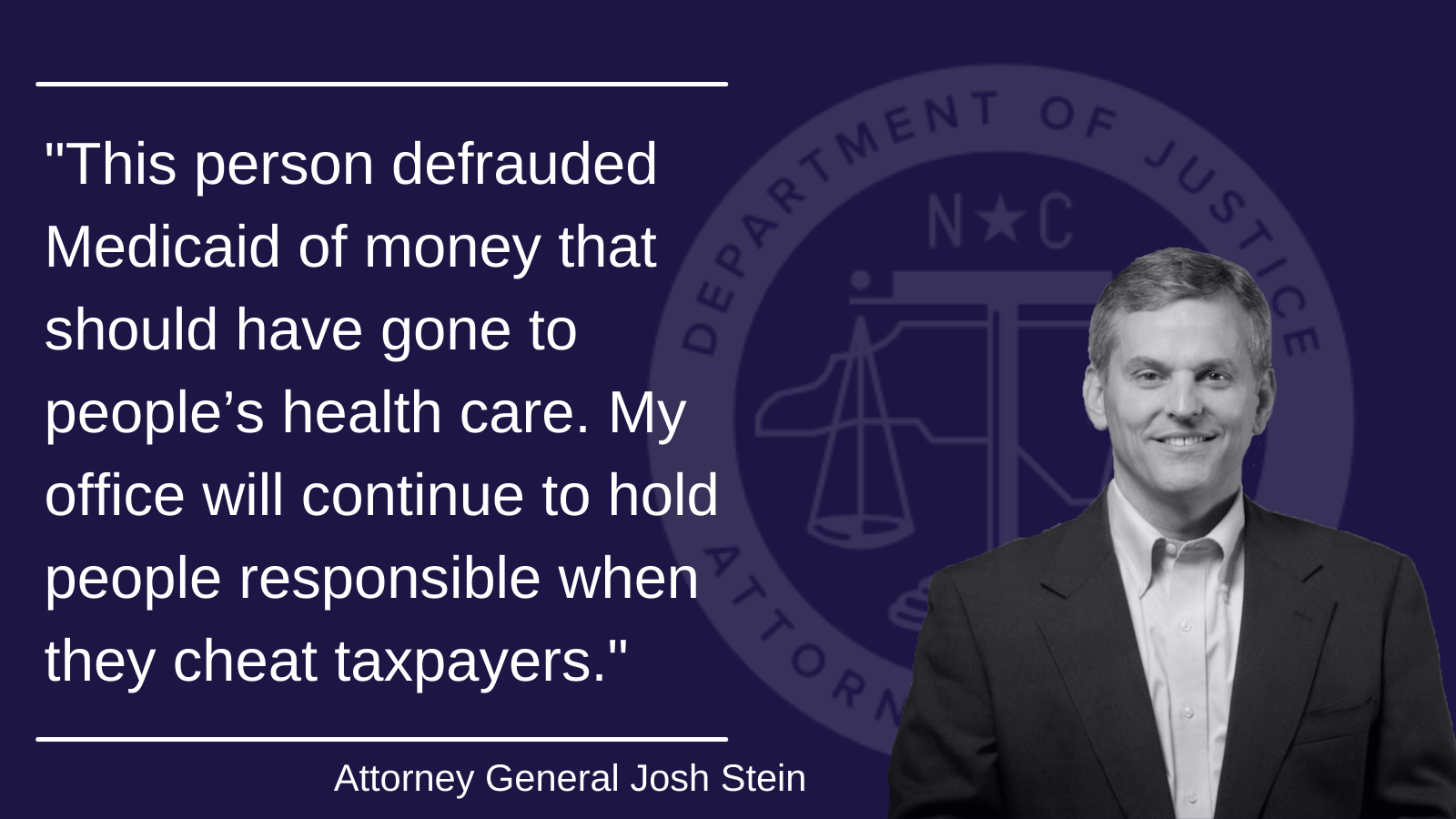 For Immediate Release:
Wednesday, March 22, 2023
Contact: Nazneen Ahmed
919-716-0060
(RALEIGH) Attorney General Josh Stein today announced that Lakia Lateefah Washington of Clayton pleaded guilty to defrauding the North Carolina Medicaid program of more than $800,000. She faces up to 10 years in prison and a potential fine.
"This person defrauded Medicaid of money that should have gone to people's health care," said Attorney General Josh Stein. "My office will continue to hold people responsible when they cheat taxpayers."
Washington was a licensed mental health counselor with the North Carolina Medicaid program since 2015 and owned L.W. Therapeutics & Consulting, LLC. She allegedly paid a fee to get the names, dates of birth, and/or Medicaid beneficiary numbers of Medicaid beneficiaries. Washington would then allegedly use that information to fraudulently submit claims to Medicaid for services she never provided. Some of those fraudulent billings including allegedly billing Medicaid for more than 24 one-hour mental health appointments in a single day, billing Medicaid for in-person services provided in different parts of eastern North Carolina, and submitting claims for services provided to an unborn child.
The investigation and prosecution of this case was conducted by the Medicaid Investigations Division of the North Carolina Attorney General's Office, the U.S. Attorney's Office for the Eastern District of North Carolina, and the U.S. Department of Health and Human Services – Office of the Inspector General.
About the Medicaid Investigations Division (MID)
The Attorney General's MID investigates and prosecutes health care providers that defraud the Medicaid program, patient abuse of Medicaid recipients, patient abuse of any patient in facilities that receive Medicaid funding, and misappropriation of any patients' private funds in nursing homes that receive Medicaid funding.
To date, the MID has recovered more than $1 billion in restitution and penalties for North Carolina. To report Medicaid fraud or patient abuse in North Carolina, call the MID at 919-881-2320. The MID receives 75 percent of its funding from the U.S. Department of Health and Human Services under a grant award totaling $6,106,236 for Federal fiscal year (FY) 2022. The remaining 25 percent, totaling $2,035,412 for FY 2022, is funded by the State of North Carolina.
###