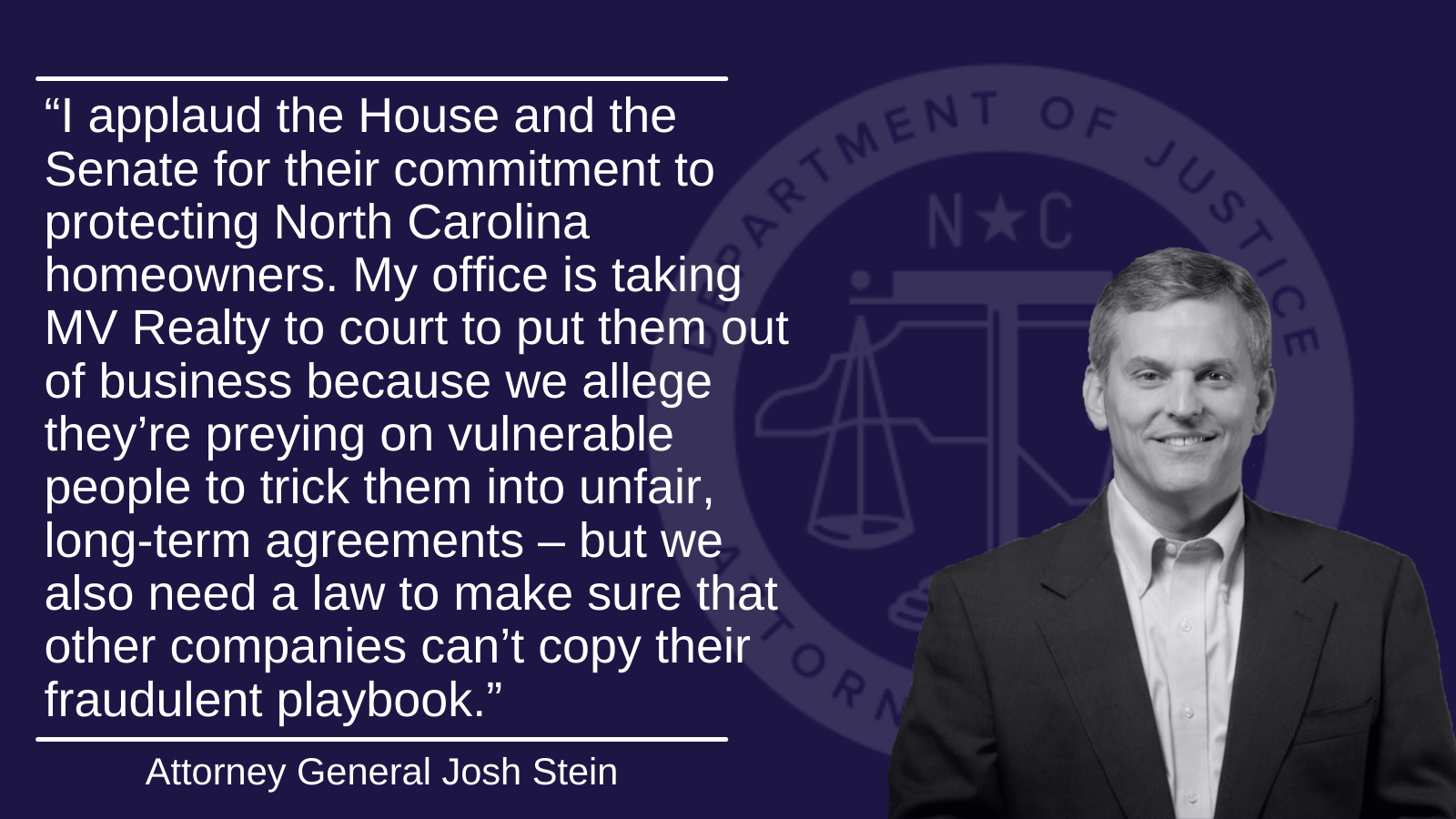 For Immediate Release:
Thursday, March 23, 2023
Contact: Nazneen Ahmed
919-716-0060
(RALEIGH) Attorney General Josh Stein today applauded members of the North Carolina General Assembly for introducing legislation to protect North Carolina homeowners from predatory, long-term real estate agreements. The Unfair Real Estate Agreements Act is sponsored in the House (HB 422) by Reps. Kyle Hall, Charles Miller, Hugh Blackwell, and Vernetta Alston, and in the Senate (SB 344) by Sens. Joyce Krawiec, Brad Overcash, and Paul Lowe.
"As a professional realtor, I understand that real estate transactions can sometimes be complicated, expensive, and expansive," said Rep. Kyle Hall. "North Carolina property owners deserve peace of mind that our laws prevent bad actors from taking advantage of them with unfair, confusing, and misleading sales contracts. That's why I'm proud to introduce this legislation to protect consumers with straightforward and clear contracts."
"Exploiting homeowners with predatory business practices has no place in North Carolina, and I thank my colleagues in the legislature and Attorney General Josh Stein for helping put an end to these deceitful operations," said Sen. Joyce Krawiec.
"I applaud the House and the Senate for their commitment to protecting North Carolina homeowners," said Attorney General Josh Stein. "My office is taking MV Realty to court to put them out of business because we allege they're preying on vulnerable people to trick them into unfair, long-term agreements – but we also need a law to make sure that other companies can't copy their fraudulent playbook."
The Unfair Real Estate Agreements Act prohibits oppressive, long-term "Right to List" service agreements that purport to run with the land, create a lien or security interest on a homeowner's property, or are otherwise assigned without the homeowner's clear consent. The legislation, which the Department of Justice helped draft, is supported by AARP, NC REALTORS, and the NC Real Estate Commission.
In a related action, Attorney General Josh Stein took legal action earlier this week against real estate brokerage firm MV Realty and the company's leaders alleging that they violated North Carolina's laws by tricking homeowners into signing oppressive, 40-year real estate agreements.
Learn more about the legislation here. Read the legislation here and here.
Learn more about Attorney General Stein's lawsuit against MV Realty here.
###