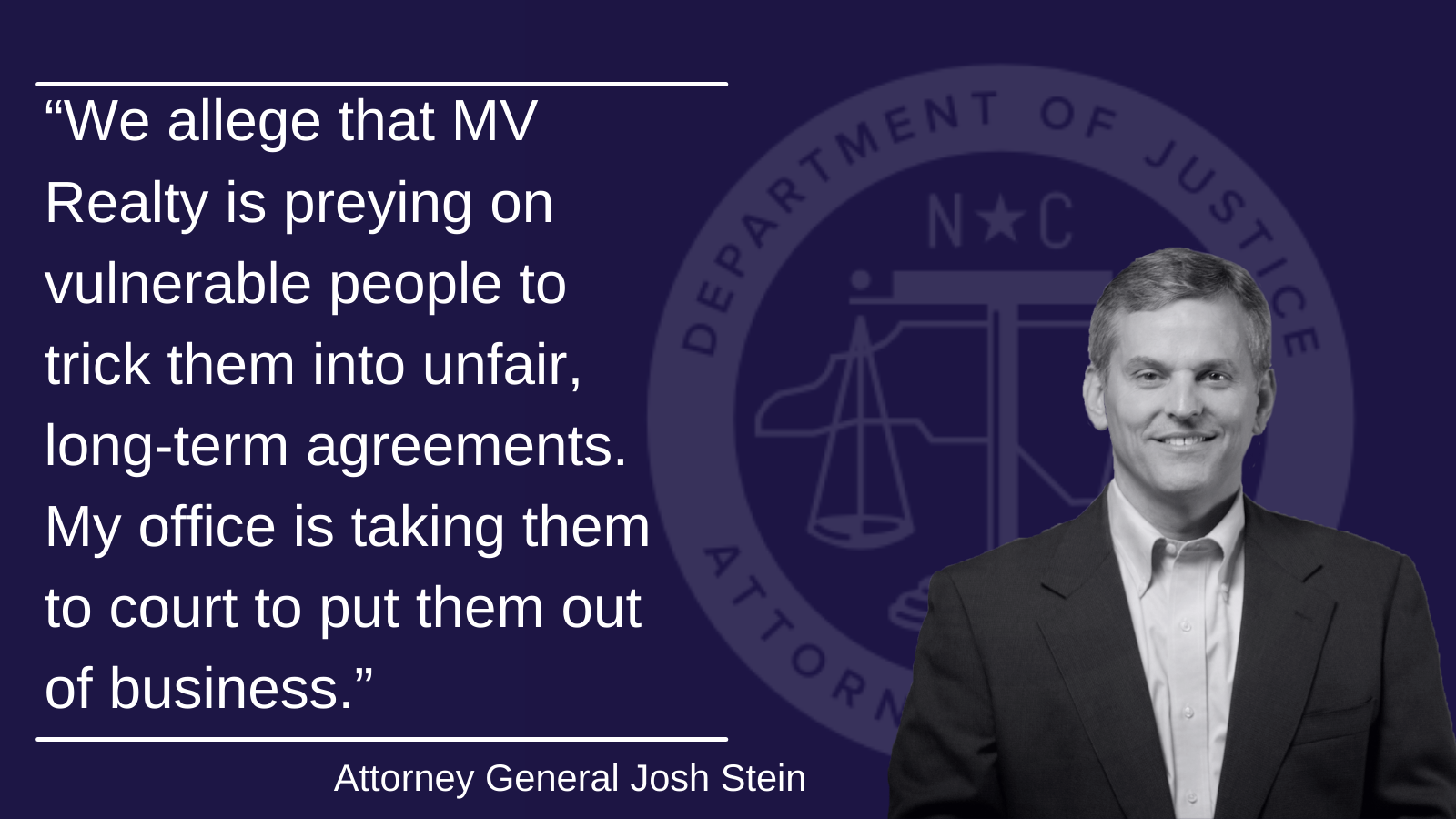 For Immediate Release:
Tuesday, March 21, 2023
Contact: Nazneen Ahmed
919-716-0060
(RALEIGH) Attorney General Josh Stein today filed a lawsuit against real estate brokerage firm MV Realty and the company's leaders alleging that they violated North Carolina's laws prohibiting unfair and deceptive practices, usurious lending, abusive telephone solicitation practices, and unfair debt collection practices by tricking homeowners into signing oppressive, 40-year real estate agreements. The Department of Justice has received more than 20 complaints from people about MV Realty's unfair and allegedly unlawful practices.
"We allege that MV Realty is preying on vulnerable people to trick them into unfair, long-term agreements," said Attorney General Josh Stein. "My office is taking them to court to put them out of business."
MV Realty started operating in North Carolina in August 2020, and has since signed up more than 2,100 North Carolinians to its "Homeowner Benefit Program." Nationally, MV Realty has signed up more than 32,000 homeowners. Through the program, MV Realty targets homeowners who are facing financial hardships and are in need of cash through online ads, robocalls, and texts. MV Realty claims it will pay a homeowner a small upfront cash payment with "no strings attached," as long as the homeowner agrees to use MV Realty as their listing agent if they sell their home. But MV Realty doesn't tell homeowners that if they accept this deal, they are locked into exclusive 40-year agreements that even survive their deaths.
MV Realty also places a lien on the homeowner's property to ensure it can enforce its agreement, even though it claims in its advertising that it doesn't place liens. These liens make is difficult or impossible for homeowners to sell their homes or tap into its equity. And if a homeowner wants to be released from the oppressive agreement, MV Realty charges them a penalty that is at least 10 times the upfront payment they received. MV Realty has even filed lawsuits against homeowners to prevent them from selling their homes and to collect its penalty.
MV Realty also misrepresents the level of service its real estate agents provide. In reality, MV Realty's real estate agents act primarily as salespeople focused on convincing homeowners to sign up for MV Realty's program. Once an MV Realty real estate agent has persuaded a homeowner to accept the small upfront payment, they ensure that the homeowner is rushed into signing an agreement without any real opportunity to read it. If a homeowner does ask an MV Realty real estate agent for help selling their home, these agents sometimes fail to do even basic tasks like putting up a "for sale" sign.
Attorney General Stein is seeking preliminary and permanent injunctions, restitution for consumers, and other monetary penalties. If you believe you or someone you know has been treated unlawfully by MV Realty, please file a consumer complaint with our office at www.ncdoj.gov/complaint or 1-877-5-NO-SCAM.
A copy of the complaint is available here.
###