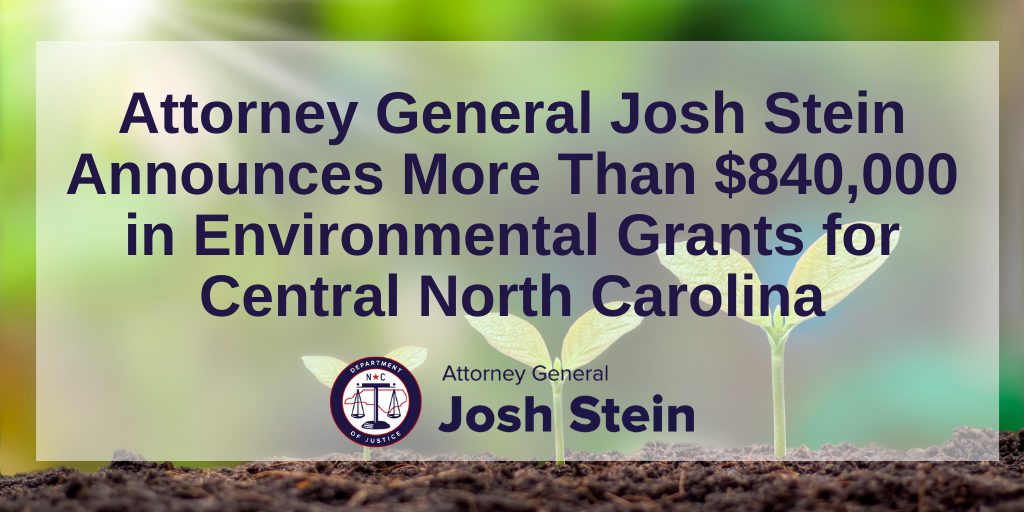 For Immediate Release:
Thursday, November 18, 2021
Contact:
Nazneen Ahmed (919) 716-0060
(RALEIGH) Attorney General Josh Stein today announced $840,162 in grants to preserve and enhance clean water and air in central North Carolina through the Environmental Enhancement Grant (EEG) program. Across the state, Attorney General Stein has awarded nearly $3 million in grants to 27 grantees.
Grants in central North Carolina were awarded to:
Sound Rivers
Sound Rivers will receive $200,000 to construct up to eight systems that manage stormwater runoff on three of Vance-Granville Community College's satellite campuses, train staff, and educate the community about ways to improve water quality.
"This grant will help our communities manage stormwater runoff and protect our water sources," said Attorney General Josh Stein. "I'm also glad that it will help educate students on environmental protection."
"Funds from the EEG program provide great opportunities to create meaningful partnerships with the staff of Vance-Granville Community College, and they are very excited about bringing these projects to their campus," said Clay Barber, Sound Rivers' environmental projects coordinator. "Our goal is to reduce stormwater runoff to local waterways, educate the college's staff, students and visitors with real examples of environmental conservation and modern stormwater management practices."
Environmental Justice Community Action Network
The Environmental Justice Community Action Network will receive $36,000 to partner with universities and community members in Sampson County to monitor water and air quality and to engage and educate the community on local environmental issues.
"Clean air and clean water are necessary for healthy lives," said Attorney General Josh Stein. "This grant will help give people the tools they need to better understand and monitor the quality of the air they breathe and the water they drink."
"Receiving this funding from the NC attorney general allows us to continue doing the work that is so important to us while serving the people and working to ensure that they have access to healthy drinking water, clean air quality, and environmentally friendly agriculture," said Danielle Koonce, Environmental Justice Community Action Network board member.
Piedmont Conservation Council
The Piedmont Conservation Council will receive $145,820 to design and construct green infrastructure in the underserved Odie Street neighborhood of Orange County and to create an outdoor science lab and education programs for the Odie Street and Fairview communities.
"Green infrastructure helps protect our climate and environment while addressing community needs," said Attorney General Josh Stein. "Additionally, this grant will help train the next generation of scientists to continue this important work for our children and grandchildren."
"Piedmont Conservation Council aspires to leverage people and resources for innovation projects that promote conservation and sustainable communities across 10 counties in North Carolina," said Ginell Rogers, executive director of Piedmont Conservation Council. "With the use of the EEG funds, PCC will address the needs of vulnerable populations and inequalities of environmental protection to build healthy and sustainable communities. Our project will design and construct green infrastructure that control and treat stormwater runoff while also achieving environmental, social, and economic benefits for the underserved Odie Street residents and larger Fairview community in Hillsborough, North Carolina. This project's expectations will be accomplished through partnerships including, but not limited to: the Town of Hillsborough, Orange Habitat for Humanity, Outdoor Science Labs and Orange Soil and Water Conservation."
Durham County
Durham County will receive $40,000 to partner with North Carolina Central University and develop a public education program, including internship and outreach programs, to improve and protect water quality. These efforts will target underserved and overburdened communities in the county.
"This grant will help Durham County create a program that brings its residents in to the work of preserving our water sources," said Attorney General Josh Stein. "I'm pleased that they'll be focusing on underserved communities with greater needs."
"Durham County is intent on educating its citizenry on the importance of protecting our water quality," said Ryan D. Eaves division manager of Durham County's Stormwater and Erosion Control Division. "The Environmental Enhancement Grant Program provides an exciting opportunity for the County and its partner, North Carolina Central University, to bring water quality education to County residents, starting with our overburdened and underserved communities."
North Carolina State University
North Carolina State University will receive $268,342 to facilitate the development and adoption of sustainable manure processing technologies by evaluating environmental outcomes, logistical strategies and economic impacts of the technologies in the Cape Fear, Neuse, Lumber, Yadkin Pee Dee, and Catawba basins.
"This research will help ensure that our agricultural technologies and practices help keep our environment safe in the long term," said Attorney General Josh Stein. "This grant will help ensure that we safeguard agriculture while we protect water and air quality."
"This two-year project will identify optimal manure processing and end-product/technology combinations to improve manure use efficiency and reduce its adverse impacts on North Carolina air, water and soil resources," stated Dr. Mahmoud Sharara, principal investigator on the project with North Carolina State University. "This framework will build on technical insights gained from pilot-scale assessments through the Smithfield Agreement and advances made in manure processing technologies, modeling and simulation capabilities since the initial agreement. The framework will also enhance our understanding of market development and economies of scale impacts on technology adoption."
Ellerbee Creek Association
Ellerbee Creek Association will receive $50,000 to conduct up to five studies on the feasibility of green infrastructure projects that can be easily implemented to control stormwater runoff through partnerships with landowners and related stakeholders.
"This grant will help us find the best ways to reduce stormwater pollution and enhance water quality," said Attorney General Josh Stein. "The association's study results will help landowners put these measures in place effectively."
"Retrofitting stormwater control measures with green infrastructure techniques that treat stormwater to a standard higher than regulations require is one tool we have for improving surface water quality, not just mitigating impacts to maintain current surface water quality. Retrofit projects are complicated and often expensive. Environmental Enhancement Grant funding will help us identify and prioritize potential retrofit projects and create feasibility studies to set us up for effective and efficient implementation of these projects," stated Laura Stroud, Water Management Program Coordinator for the Ellerbee Creek Watershed Association.
Eno River Association
The Eno River Association will receive $100,000 to help acquire 16 acres from the flood zone of Falls Lake, including 1,600 linear feet of stream, and improving water quality for 500,000 residents.
"By purchasing this land, the Eno River Association will be able to enhance the integrity of a critical water source for hundreds of thousands of people," said Attorney General Josh Stein.
"The expansion of the Diabase Sill Partnership land will contribute to the Eno River Association's conservation goals by protecting a significant amount of intact forested riparian buffer, protecting North Carolina's rare and endemic plant species, and providing natural area and water quality protection to the Falls Lake watershed," said Jessica Sheffield, Eno River Association Executive Director. "It also contributes to the larger goal of providing environmental protections to overburdened communities."
About the Environmental Enhancement Grant Program
The Environmental Enhancement Grant program began after an agreement between the Attorney General's Office and Smithfield Foods in 2000. Under that agreement, Smithfield provides $2 million to the state every year to be distributed among environmental projects across North Carolina. Including the 2021 grants, the Attorney General Office's has awarded nearly $37 million to more than 190 projects in the state.
In 2021, Attorney General Stein has announced the following EEG grant in addition to the above:
###