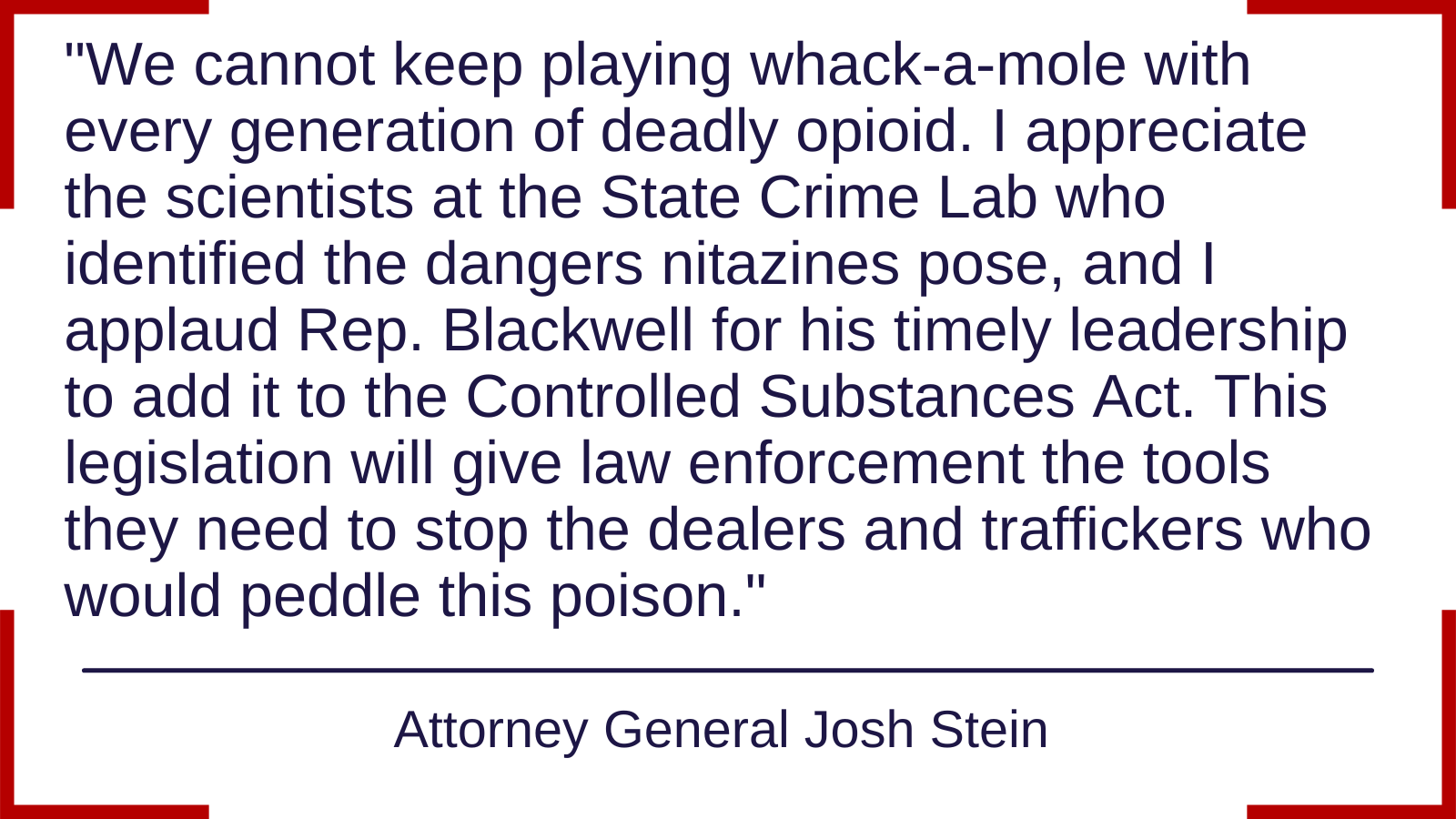 For Immediate Release:
Wednesday, March 15, 2023
Contact: Nazneen Ahmed
919-716-0060
(RALEIGH) Attorney General Josh Stein today applauded the North Carolina House of Representatives for passing legislation to fight back against the next phase of the opioid epidemic before it takes off. The Novel Opioid Control Act (HB258) was sponsored by Reps. Hugh Blackwell, Dean Arp, Donny Lambeth, and Wayne Sasser and will update our state Controlled Substances Act to protect North Carolinians from nitazines – an evolving class of opioids that can be up to 40 times more powerful than fentanyl.
"We cannot keep playing whack-a-mole with every generation of deadly opioid," said Attorney General Josh Stein. "I appreciate the scientists at the State Crime Lab who identified the dangers nitazines pose, and I applaud Rep. Blackwell for his timely leadership to add it to the Controlled Substances Act. This legislation will give law enforcement the tools they need to stop the dealers and traffickers who would peddle this poison."
Nitazines are infiltrating illicit drug markets and endangering our communities as the opioid epidemic continues. Experts are concerned that the overdose reversal drug naloxone may not be effective against nitazines or may have to be delivered in higher doses.
The Novel Opioid Control Act also addresses new opioid compounds from the cinnamylpiperazine class and utopioid class of drugs, enumerating nearly 40 new opioid compounds that are increasingly found in North Carolina drug supplies. It passed the North Carolina House of Representatives unanimously.
Click here for a one-page summary of the bill.
###