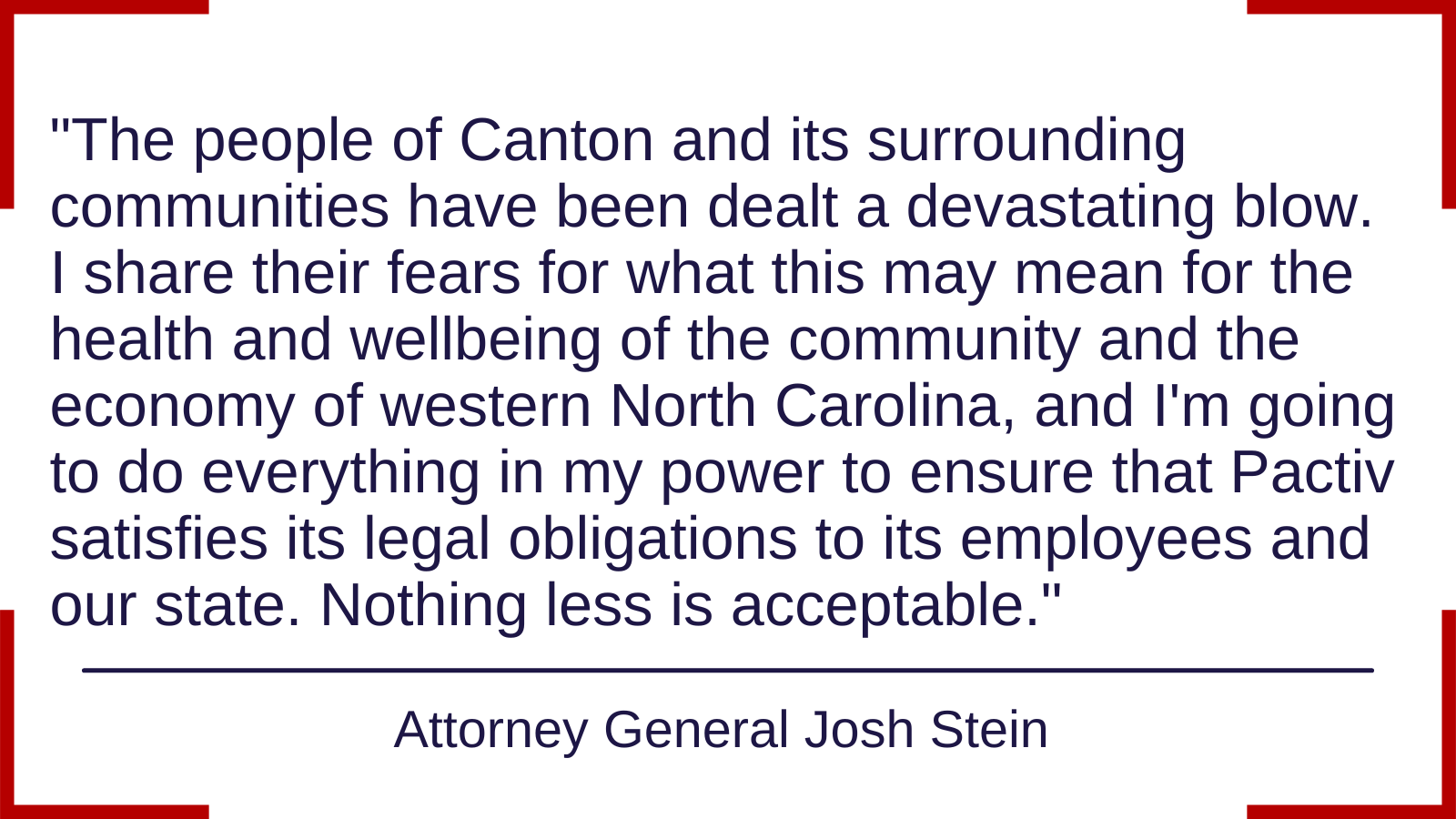 For Immediate Release:
Thursday, March 16, 2023
Contact: Nazneen Ahmed
919-716-0060
Attorney General Josh Stein to Pactiv Evergreen: Uphold Your Obligations to the State and the People of Canton
(RALEIGH) Attorney General Josh Stein is demanding Pactiv Evergreen to uphold its legal obligations to its employees, the town of Canton, and the state after the company announced it's closing the Canton paper mill. Attorney General Stein sent a letter to Pactiv demanding that the company repay the state $12 million if it proceeds with closing the mill.
"The people of Canton and its surrounding communities have been dealt a devastating blow," said Attorney General Josh Stein. "I share their fears for what this may mean for the health and wellbeing of the community and the economy of western North Carolina, and I'm going to do everything in my power to ensure that Pactiv satisfies its legal obligations to its employees and our state. Nothing less is acceptable."
In 2015, North Carolina and Pactiv entered into a Job Maintenance and Capital (JMAC) Development Agreement that gave the company $12 million in grants, the last of which was paid in 2021. As part of the agreement, Pactiv promised to maintain operations at the paper mill and retain at least 800 full-time employees through December 31, 2024. In his letter, Attorney General Stein reminds Pactiv that closing the paper mill this year would be a clear breach of the JMAC agreement and would require Pactiv to repay the $12 million in full.
In addition, Attorney General Stein reminds Pactiv that it is responsible for cleaning up and safely disposing of hazardous and environmental waste that the mill produced to ensure that pollutants and chemicals do not contaminate water sources and the area's natural resources.
A copy of the letter is available here.
###