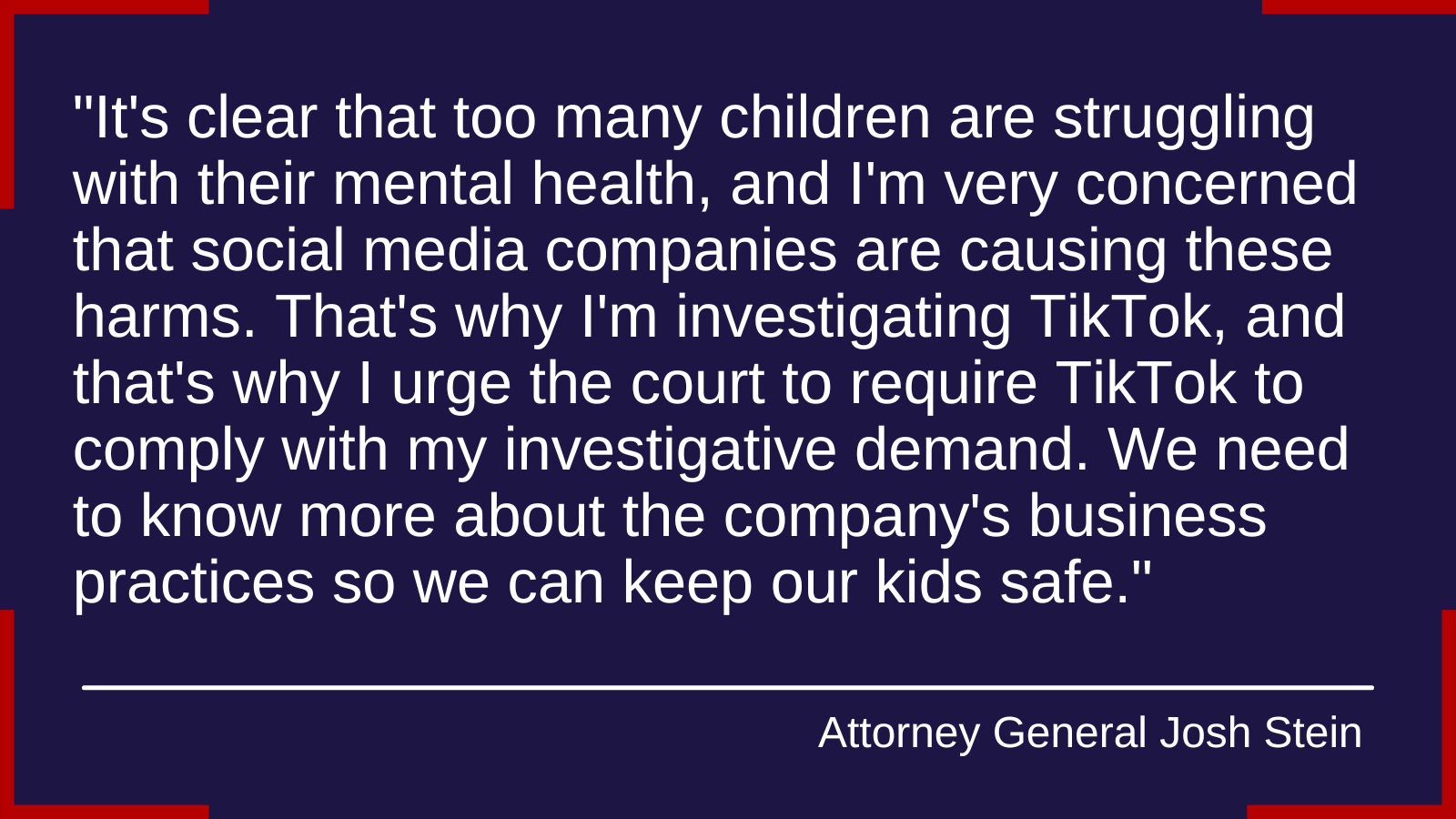 For Immediate Release:
Monday, March 6, 2023
Contact: Nazneen Ahmed
919-716-0060
(RALEIGH) Attorney General Josh Stein today asked a court to order TikTok to fully comply with his ongoing investigation into whether the company violated consumer protection laws. Attorney General Stein and a bipartisan group of attorneys general are investigating TikTok for providing and promoting its social media platform to children and young adults.
"It's clear that too many children are struggling with their mental health, and I'm very concerned that social media companies are causing these harms," said Attorney General Josh Stein. "That's why I'm investigating TikTok, and that's why I urge the court to require TikTok to comply with my investigative demand. We need to know more about the company's business practices so we can keep our kids safe."
As part of their investigation, the attorneys general requested internal TikTok communications to help determine whether the company engaged in deceptive or unfair conduct. But TikTok has repeatedly and knowingly failed to preserve relevant information, and it has failed to provide internal communications in a useable format.
Significant research shows that social media platforms, such as TikTok, are playing a substantial role in harming youth mental health. Data from the Centers for Disease Control and Prevention indicate that feelings of hopelessness among teenage girls have nearly doubled in a decade in North Carolina to more than 55 percent.
The attorneys general have a duty to protect the people of their states from illegal business practices, and TikTok is hampering their investigation by failing to preserve and share relevant internal communications. The attorneys general are asking the court to compel TikTok to provide the information they are seeking.
Attorney General Stein is joined in filing this brief by the Attorneys General of Alabama, Alaska, Arizona, Arkansas, California, Colorado, Connecticut, Delaware, District of Columbia, Florida, Georgia, Hawaii, Idaho, Illinois, Indiana, Iowa, Kentucky, Louisiana, Maine, Maryland, Massachusetts, Michigan, Minnesota, Mississippi, Missouri, Montana, Nebraska, Nevada, New Hampshire, New Jersey, New Mexico, New York, North Dakota, Oklahoma, Oregon, Pennsylvania, Rhode Island, South Carolina, South Dakota, Texas, Utah, Vermont, Virginia, Wisconsin, and Wyoming, as well as the Hawaii Office of Consumer Protection.
A copy of the brief is available here.
More on Attorney General Stein's work to keep young people safe online:
###