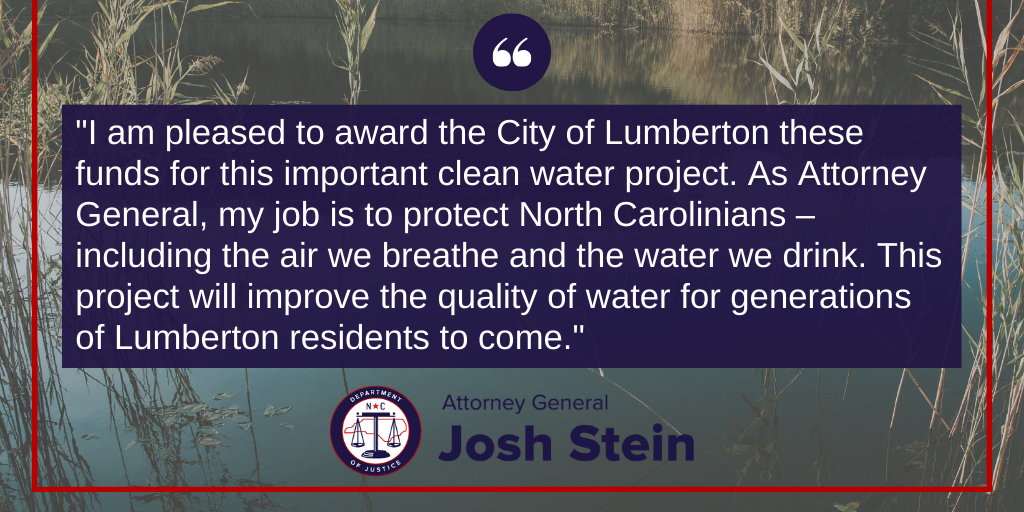 For Immediate Release:
Monday, February 24, 2020
(LUMBERTON) Attorney General Josh Stein today joined Mayor Bruce Davis for a $150,000 Environmental Enhancement Grant Program award announcement in Lumberton. The City of Lumberton will use these funds toward the purchase of 14 acres of land.
"I am pleased to award the City of Lumberton these funds for this important clean water project," said Attorney General Josh Stein. "As Attorney General, my job is to protect North Carolinians – including the air we breathe and the water we drink. This project will improve the quality of water for generations of Lumberton residents to come."
In addition to the land purchase, the City of Lumberton will expand an existing stormwater treatment pond and riparian buffer. This will improve water quality and ecological habitats, as well as restore floodplains.
These funds are distributed through the Environmental Enhancement Grant (EEG) program, which began after an agreement between the Attorney General's Office and Smithfield Foods in 2000. Under that agreement, Smithfield provides $2 million each year to the state for the Attorney General to dedicate to environmental projects across North Carolina.
Due to litigation, this year's is the first grant cycle since 2016. In this round, Attorney General Stein will distribute more than $3.5 million to 27 grantees.
Contact:
Laura Brewer (919) 716-6484
###