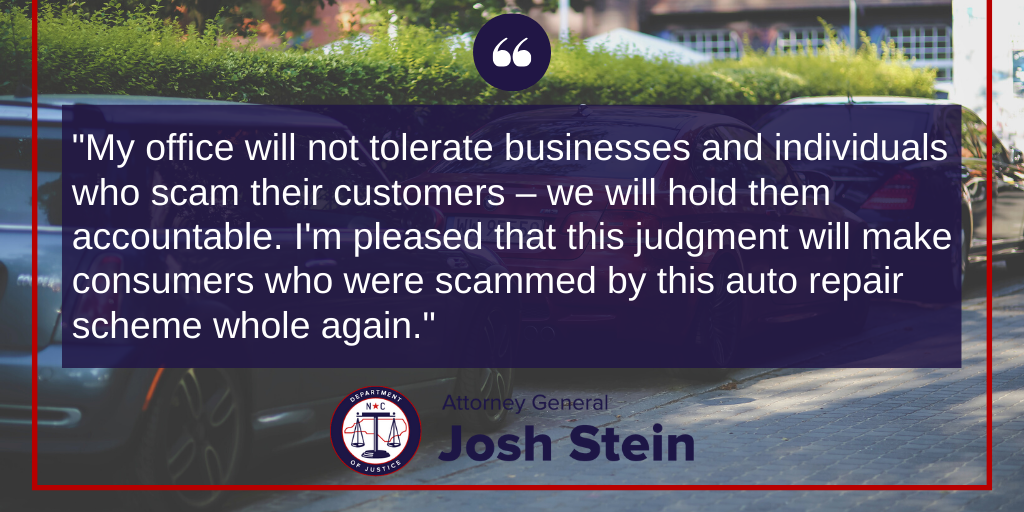 For Immediate Release:
Wednesday, February 19, 2020
(RALEIGH) Attorney General Josh Stein secured a $68,564.35 consent judgment against Sterling Leonard Gabriel, Nicole Sharie Gabriel, and their auto repair businesses Sterling Paint & Body LLC and Collision Warehouse LLC, over violations of North Carolina's Unfair and Deceptive Trade Practices Act and Motor Vehicle Repair Act. The judgment bans the defendants from owning or operating an auto repair, rebuilding, or restoration business for three years and orders them to pay full restitution in the amount of $18,564.35 to 13 consumers and $50,000 in fees, investigative costs, and for other consumer protection purposes.
"My office will not tolerate businesses and individuals who scam their customers – we will hold them accountable," said Attorney General Josh Stein. "I'm pleased that this judgment will make consumers who were scammed by this auto repair scheme whole again."
Attorney General Stein took legal action against the Gabriels and their Charlotte-area businesses in September 2018 after receiving seven initial complaints from consumers. After filing the lawsuit, he received another seven complaints from consumers. The lawsuit alleged that the defendants reached out to consumers based on information gleaned from police accident reports, represented they were affiliated with the consumers' insurance company, and then took possession of the consumers' cars. The lawsuit further alleged that the defendants would either not make repairs or make unauthorized or unnecessary repairs, and then refuse to return the consumers' cars until they paid their invoice, which often included undisclosed storage and processing charges.
Attorney General Stein has won a series of judgments against businesses that began with consumers filing complaints with his office's Consumer Protection Division. In February, 22 consumer complaints led to Attorney General Stein winning a $122,000 judgment and permanent ban against repairman John Jackson and his businesses, and in January, 30 consumer complaints led to a $332,000 judgment and permanent ban against contractors Randy Briel and Glenn Dunnam. If you believe that you have been the victim of a scam, contact our office's Consumer Protection Division at ncdoj.gov/file-a-complaint or 1-877-5-NO-SCAM.
A copy of the judgment is available here.
Contact:
Laura Brewer (919) 716-6484
###