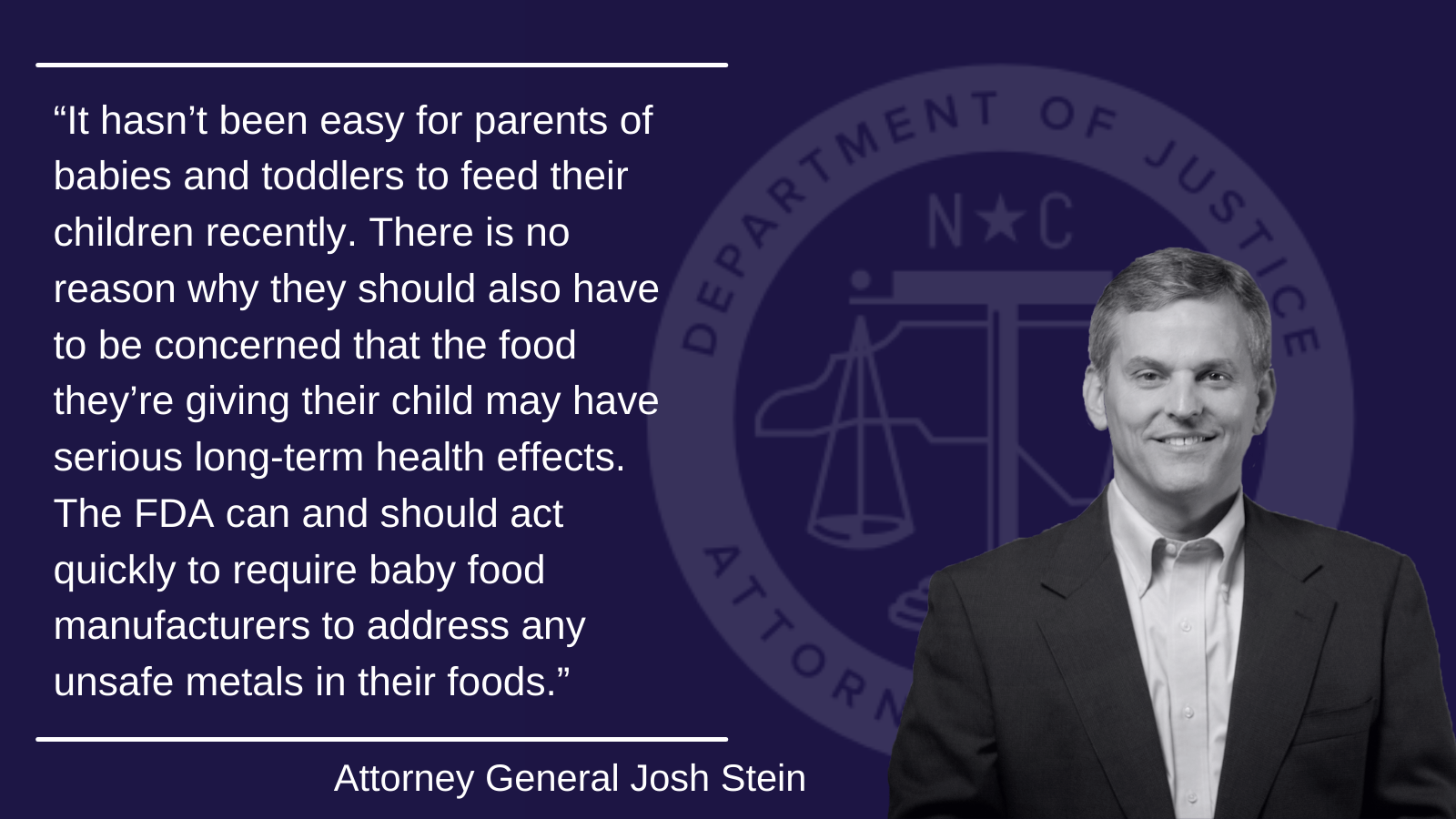 For Immediate Release:
Tuesday, June 28, 2022
Contact:
Nazneen Ahmed (919) 716-0060
(RALEIGH) Attorney General Josh Stein today called on the U.S. Food and Drug Administration (FDA) and Department of Agriculture (USDA) to take swift action to eliminate toxic metals from baby food. In a letter to FDA Commissioner Robert M. Califf, Deputy Commissioner Frank Yiannis, and USDA Secretary Tom Vilsack, the coalition of 22 attorneys general outlines steps that the agencies should take immediately to drive down the levels of dangerous toxic metals in food for babies and young children.
"It hasn't been easy for parents of babies and toddlers to feed their children recently," said Attorney General Josh Stein. "There is no reason why they should also have to be concerned that the food they're giving their child may have serious long-term health effects. The FDA can and should act quickly to require baby food manufacturers to address any unsafe metals in their foods."
There are serious concerns about the health hazards posed by lead, arsenic, cadmium, and mercury in baby foods, including cereals, purees, and other products for babies and young children, aside from formula. The FDA has set or proposed limits on toxic metals in a wide variety of other consumable products — such as bottled water, juice, and candy — but the agency has failed to adequately regulate baby food. So far, the agency has established only one action level for one type of toxic metal (inorganic arsenic) in one type of baby food product (infant rice cereal), despite the FDA concluding years ago that babies' and young children's smaller bodies and metabolisms make them more vulnerable to the harmful neurological effects of these toxic metals. As a result, United States baby food manufacturers are left to self-regulate the amounts of lead and other toxic metals in their products. In fact, it remains up to the manufacturers to decide whether to even test their products for these contaminants.
The FDA's current plan to propose "action levels" for lead in various baby foods by April 2022, inorganic arsenic in various baby foods by April 2024, and cadmium and mercury sometime after April 2024 is already behind schedule. This delay is both a public health and environmental justice concern because children in lower-income households and children of color are disproportionately impacted by lead exposure. Lead in their food only worsens the hazards these children face.
In October, Attorney General Josh Stein and other attorneys general petitioned the FDA to act faster to remove toxic heavy metals found in infant and toddler foods, including by:
Proposing interim limits for inorganic arsenic, lead, cadmium, and mercury in relevant categories of infant and toddler foods;
Proposing a lower limit for inorganic arsenic in infant rice cereal than that currently set forth in FDA guidance; and
Providing guidance to all baby food manufacturers to test their finished products for toxic metals.
The FDA denied the petition and earlier this month, the coalition asked FDA to reconsider its denial.
Attorney General Stein is joined in sending this letter to FDA and USDA leadership by the Attorneys General of New York, California, Colorado, Connecticut, Delaware, Hawaii, Illinois, Iowa, Maine, Massachusetts, Maryland, Michigan, Minnesota, New Jersey, New Mexico, Nevada, Oregon, Pennsylvania, Vermont, Washington, and Wisconsin.
A copy of the letter is available here.
###