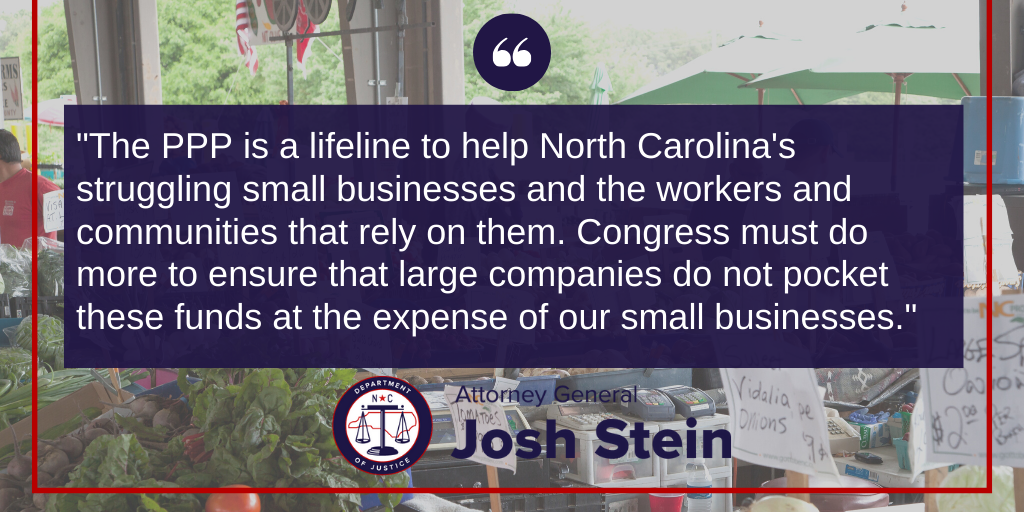 For Immediate Release:
Thursday, May 7, 2020
(RALEIGH) Attorney General Josh Stein called for key changes to the Paycheck Protection Program (PPP) to ensure that funds are distributed in a fair and equitable manner.
"The PPP is a lifeline to help North Carolina's struggling small businesses and the workers and communities that rely on them," said Attorney General Josh Stein. "Congress must do more to ensure that large companies do not pocket these funds at the expense of our small businesses."
In a letter to congressional leadership, Attorney General Stein and 23 other attorneys general expressed concerns that the program, while helping some small businesses and their employees, suffered from a lack of transparency, technical savvy, and functionality that led to funds being distributed in a way that disproportionately benefited large, well-connected companies. As a result, the attorneys general argued that both the first and second rounds of PPP funding have underserved many small businesses across the country.
The coalition is calling for Congress to adopt the following measures before it allocates additional PPP funding:
Adopt rules to ensure fair access funding for small businesses to prevent larger, publicly traded companies from getting preference.
Ensure equitable distribution for minority-owned small business and across metropolitan areas.
Ensure that small banks and credit unions are fairly represented as lending sources
Direct the SBA to create a straightforward process for "unbanked" or "lesser-banked" small businesses or those that do not wish to apply through their current financial institution to receive funding.
Provide more direct guidance to businesses during the applicant process and disclose more data on loans processed and businesses that receive funding
Increase flexibility for businesses looking to rehire employees, around repayment and forgiveness requirements to businesses that allocate a smaller amount of revenue to salaries, and expand qualifications for loan forgiveness.
Improve technical support and make the process more user-friendly.
Attorney General Stein is joined in sending this letter by the Attorneys General of California, Connecticut, Colorado, the District of Columbia, Delaware, Hawaii, Iowa, Illinois, Maine, Maryland, Massachusetts, Michigan, Minnesota, New Mexico, New York, Nevada, Oregon, Pennsylvania, Rhode Island, Vermont, Virginia, Washington State, and Wisconsin.
A copy of the letter is available here.
More on Attorney General Stein's work to protect North Carolinians during the COVID-19 pandemic:
Contact:
Laura Brewer (919) 716-6484
###