Coronavirus Updates

If you are feeling sick or want to learn more about the medical response to this crisis, please visit our colleagues at www.ncdhhs.gov/coronavirus or www.cdc.gov/coronavirus. If you are having trouble breathing please call your doctor or dial 911.
COVID-19 presents new and concerning challenges. Many of our friends and neighbors are facing sickness, job loss, health risk, or are struggling to make ends meet. The North Carolina Department of Justice is working every day to do everything in our power to keep North Carolinians safe during this time of crisis.
That includes:
protecting consumers from price gouging, scams, and fraud;
helping people struggling with economic hardship; and
protecting children and families.
Protecting Consumers
During times of crisis, most North Carolinians want to do the right thing – follow shelter in place rules, help friends and neighbors, and be there for family members. But, unfortunately, there are always some people who will take advantage of a bad situation to make money. Below are a few ways our office is working to stop them.
Price Gouging: North Carolina has a strong statute against price gouging – charging too much during a time of crisis. That rule is in effect now.

Visit www.ncdoj.gov/pricegouging to file a complaint.
Taking Action Against Gougers: Click here to learn about how our office is already taking action against would-be gougers.

Scammers and Fraudsters: Click here for tips about how to avoid scams.

Be wary of door-to-door scammers: We've heard reports about door-to-door salespeople selling coronavirus testing kits and cleaning supplies. Don't fall for it. Learn more here.
Lookout for Debt Relief Scams: As North Carolinians continue to adjust to the financial impacts of this pandemic, we want you to be on the lookout for debt relief scams. In these scams, scammers offer to help reduce consumers' debt, but end up driving you further into debt. Learn more here.
Watch out for scammers posing as family members: Our office has received reports from our federal partners of scammers putting a new spin on the common grandparent scam during the pandemic. In this scam, criminals pose as panicked grandchildren in need of money to help with an emergency (urgent medical bills, bail, or plane tickets). Learn more here.

Hang Up on Robocallers: Watch out for unsolicited calls, voicemail messages, and texts. Be skeptical of miracle cures. Click here for tips about avoiding these insidious calls and click here to report them.
Protect your Federal Stimulus Money: In March, the federal government enacted a $2 trillion recovery law that will give many Americans up to $1,200 per person and additional funds for children due to economic hardships COVID-19 has caused. As this money is sent out, scammers will try to steal it. Learn how to protect your stimulus money here.
Protect your Small Business Loan: The $2 trillion recovery law includes $350 billion for the Paycheck Protection Program offering loans to small businesses to keep their employees employed. As the Small Business Administration (SBA) begins to send out this relief, scammers will try to steal it. Learn more about how to protect this money here.
Look out for Seniors: Our most vulnerable citizens are the most at risk of being taken advantage of by bad actors. This past February, Attorney General Josh Stein launched Operation Silver Shield to double down on our work to protect seniors from scams and fraud. With the coronavirus pandemic, our seniors are at even more risk. While we socially distance, do not forget to check in on your seniors.
Be Careful of Misinformation: A lot of false information is floating around about the coronavirus. Stick to reputable sources – visit the Centers for Disease Control and Prevention, World Health Organization, or North Carolina Department of Health and Human Services websites for more information, or contact your doctor if you have questions.
Prevent Data Breaches: By taking simple security steps like updating your internet router's firmware, you can help keep yourself and your information safe. Router manufacturers release firmware updates to repair vulnerabilities exploited by hackers. Almost all of your personal information passes through your router, so keeping its security up to date is critical to protecting your personal financial data. Learn more about this and the steps you need to take here.
Watch out for Puppy Scams: As people across North Carolina adopt pets during the COVID-19 pandemic, our office has received multiple reports of puppy scams. In these schemes, scammers charge extra fees to people looking to bring home a new pet, ask consumers to pay with gift cards, or even sell non-existent puppies to people. Learn more about tips to follow here.
We send out alerts about new scams when we hear about them from consumers or our federal and state partners. Sign up to get the latest scam alerts here.
If you have fallen victim to a fraud or scam please contact the North Carolina Department of Justice's Consumer Protection Division at 1-(877)-5-NO-SCAM or complete our complaint form online here.
Dealing with Economic Hardship
Sadly, sickness is just one of the consequences of COVID-19 we face. Many North Carolinians are also losing jobs, income, and health insurance as a result of this global pandemic. Below are a few of the ways our office is working to help ease that burden.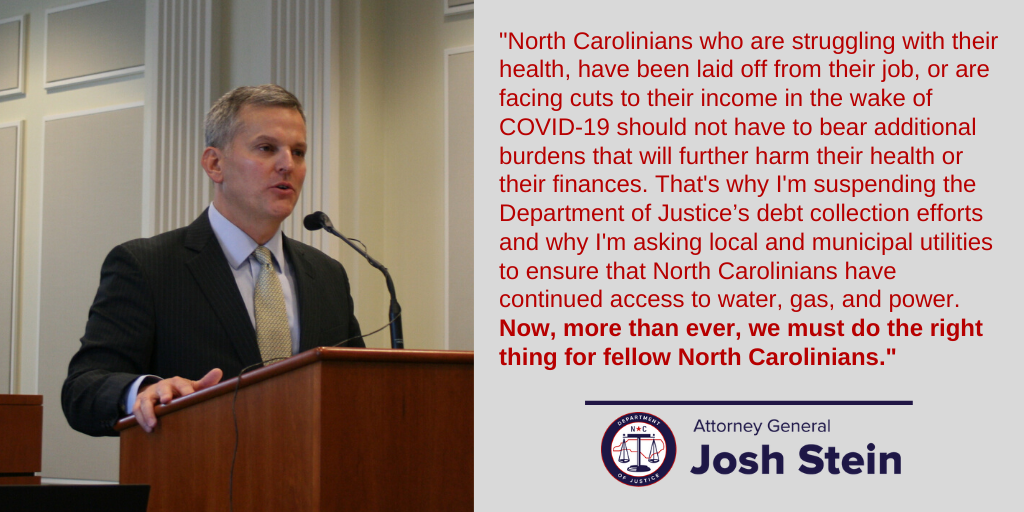 Suspending Collections: The Department of Justice has suspended collections on behalf of the Department of Environmental Quality, the University of North Carolina system, the North Carolina Department of Health and Human Services, and the North Carolina Department of Transportation. This applies to all debt collection, except where necessary to meet statutes of limitations or other court-imposed deadlines.
Evictions: Attorney General Stein worked with Gov Roy Cooper on an executive order supporting Chief Justice Beasley's order halting foreclosures and eviction hearings for 30 days, barring new eviction proceedings, and encouraging sheriffs to delay performing evictions on previously-issued eviction orders. The Department of Justice has contacted nearly 100 hotels and motels in North Carolina after being notified by community partners that these businesses may be threatening to evict North Carolinians who are living there as their primary residence. If you are being evicted during the state of emergency, please contact Legal Aid NC or a private attorney.
Protections for Student Borrowers: Attorney General Stein urged the U.S. Department of Education to take specific steps to help student loan borrowers who are suffering financially as a result of job losses, lost wages, and the exponential rise in national unemployment over the last few weeks. A copy of the Attorney General's letter is available here.
Making Health Care Accessible: Attorney General Stein led a coalition of 22 states urging the federal government to make it possible for Americans across the country, especially those who have lost their jobs or need medical care as a result of COVID-19, to enroll in health care coverage on HealthCare.Gov.
Protections for Veterans: Almost half of all U.S. veterans are over 65 years old, and the aging population is at an increased risk of contracting COVID-19 and suffering serious health consequences or dying. The U.S. Department of Veterans Affairs (VA) is continuing to enforce benefits claims deadlines and debt collections, putting veterans in financial danger and increasing their risk of losing essential VA benefits they rely on for basic necessities, such as food and housing. Attorney General Stein is urging the VA to suspend these deadlines and collections activities. Read more here.
Protections Against Bank Discrimination: Attorney General Josh Stein has urged the Office of the Comptroller of the Currency (OCC) and the Federal Deposit Insurance Corporation (FDIC) to withdraw a proposed rule that threatens to undermine the Community Reinvestment Act (CRA) and congressional efforts to combat banking discrimination. Learn more about the CRA and the Attorney General's effort here.
Protections Against Debt Collectors: The CARES Act does not explicitly designate these emergency stimulus payments as exempt from garnishment, allowing debt collectors to potentially benefit before consumers. Attorney General Josh Stein called on the U.S. Department of the Treasury to take immediate action to ensure billions of dollars in emergency stimulus payments authorized by the Coronavirus Aid, Relief, and Economic Security Act (CARES Act) go to American families, not debt collectors. Read more about this effort here.
Protecting Your Credit: Attorney General Josh Stein has called on the Consumer Financial Protection Bureau (CFPB) to enforce the CARES Act and require credit reporting agencies to follow the Fair Credit Reporting Act (FCRA) during the COVID-19 crisis. The CFPB's recent announcement that they would not enforce the law would leave consumers at the mercy of unresponsive credit agencies in a pandemic. The FCRA amendment requires lenders to report as current any loans that are affected by a COVID-19-related accommodation. Learn more about how this will impact Consumers here.

In his continued effort to protect your credit, Attorney General Josh Stein wrote to the nation's three consumer reporting agencies (CRAs), warning that he will enforce safeguards to ensure consumers' credit is properly protected and their credit reports are accurately reported as Americans struggle with the economic fallout of the COVID-19 pandemic. Learn more here.

Financial Assistance: Attorney General Josh Stein has developed the Carolina Relief Plan, an agreement that provides financial relief options for customers of partnering financial institutions who have been impacted by COVID-19. Bank of America is the first financial institution to participate in the Carolina Relief Plan, and as others sign on, our office will make that information available. Read more about the plan here.
Protecting Homeowners: Attorney General Stein joined a bipartisan coalition of 35 attorneys general in sending letters recommending actions to the Federal Housing Finance Administration (FHFA) and the U.S. Department of Housing and Urban Development (HUD). Learn more about this effort here.
Increase Internet Access: Attorney General Stein led a 39-state coalition urging Congress to ensure that all Americans have the internet connectivity they need to participate in telemedicine, teleschooling, and telework as part of any additional COVID-19 relief and recovery legislation. Unless Congress acts quickly, disparities in home internet access will worsen existing gaps in educational and health outcomes based on geography, economic resources, and race. Read more here.
For further information and resources for Economic Relief, visit our Economic Relief resources page here.
Domestic Violence, Mental Health, and Substance Use Disorder Resources
Social distancing, avoiding public spaces, and staying home may prevent the spread of the coronavirus, but for many survivors staying home may not be the safest option. Here at NCDOJ, we know external factors like stress and financial strain can negatively impact survivors and at times compromise their safety.
Attorney General Josh Stein and Chief Justice Cheri Beasley are working to ensure that victims of domestic violence continue to have access to courts and legal protections. Read their joint statement here.
Additionally, parents should be watchful of changes in behavior of their children that indicate mental health-related issues. While stay-at-home orders are critical to fighting the pandemic, health professionals have warned that social distancing and isolation can also exacerbate mental health issues, including depression and suicidal thoughts.
We know that COVID-19 poses special challenges for people facing addiction and their families and loved ones.  We hope these resources will help.
Contact the National Suicide Prevention Lifeline at www.suicidepreventionlifeline.org or 1-800-273-8255.
For further information and resources visit The National Domestic Violence Hotline (1-800-799-7233), North Carolina Coalition Against Domestic Violence, or Enough NC.
Protections for Law Enforcement
"People with substance use disorder are experiencing a great deal of stress right now," said Attorney General Josh Stein. "We want to ensure that law enforcement officers are safe as they provide assistance and promote community well-being."
Attorney General Josh Stein announced that he, along with Addiction Professionals of North Carolina and the North Carolina Harm Reduction Coalition, has released new resources for law enforcement officers encountering people with addictions during the COVID-19 pandemic.
Protecting Children
"We should all stay home right now to help reduce the spread of this virus," said Attorney General Josh Stein. "But staying home and transitioning to online education means that young people are spending more hours online. I know parents are concerned about the dangers online, and I hope this information will give them steps and resources they can use to keep their kids safe."
Resources for Parents
Set up Safety Measures: Review and strengthen privacy settings to help manage which sites your family is visiting. Review settings on social media platforms with your family. Learn more here.
Talk to Your Family: Talk with your family about online privacy and the risks of sharing personal or family information. Remind them to think twice before they add "friends" or build relationships online. Learn more here.
Observe Behavioral Changes: Place computers in a common area so you can monitor online activity, and notice if your child or teen tries to hide their online activity.
Report Concerns: It is a violation of federal law to knowingly send or attempt to send obscene material to a minor under the age of 16.

Report incidents to the National Center for Missing & Exploited Children at 1-800-THE-LOST or www.cbyertipline.org.
Learn more here.

Additional Resources: 
We developed this online safety guide in partnership with Shield North Carolina, North Carolina Coalition Against Human Trafficking, and other human trafficking service providers.
Educational Content for Kids
Attorney General Stein is creating content to help educate children who are home from school. He will be reading children's stories during Story Time with Stein and sharing lessons about civics and government during Civics with Stein.
Join us live @JoshSteinNC on Facebook and Instagram to get the latest. Past videos can be found below.
Civics with Stein
Civics with Stein – Separation of Powers

Happy Friday. Here's episode two of #CivicsWithStein. This week's topic is separation of powers and our three branches of government. Hope everyone stays safe at home and thinks about our neighbors with health or financial worries.

Posted by Josh Stein on Friday, April 3, 2020
Story time with Stein