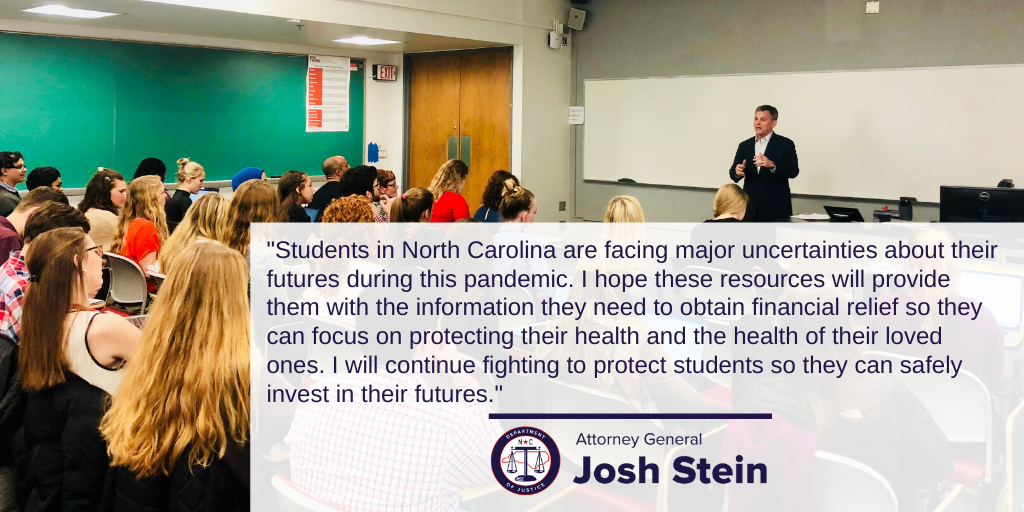 For Immediate Release:
Wednesday, May 6, 2020
(RALEIGH) Attorney General Josh Stein today shared information to help student borrowers determine their options for financial relief and assistance during the COVID-19 pandemic. The information is available here.
"Students in North Carolina are facing major uncertainties about their futures during this pandemic," said Attorney General Josh Stein. "I hope these resources will provide them with the information they need to obtain financial relief so they can focus on protecting their health and the health of their loved ones. I will continue fighting to protect students so they can safely invest in their futures."
In North Carolina, Attorney General Stein suspended all of the North Carolina Department of Justice's collections efforts of state debts. This includes collections activities for agencies and universities that the department represents, including the University of North Carolina system. This applies to all debt collection, except where necessary to meet statutes of limitations or other court-imposed deadlines.
Attorney General Stein also wrote to the U.S. Department of Education and Secretary Betsy DeVos, urging them to implement emergency measures to protect students who have federal student loans. Several of these measures were included in the federal Coronavirus Aid, Relief, and Economic Security Act (CARES Act), including a six-month pause on payments and interest for most federal student loan borrowers and a halt on all involuntary collections activities for federal student debt.
More on Attorney General Stein's work to protect North Carolinians during the COVID-19 pandemic:
Contact:
Laura Brewer (919) 716-6484
###