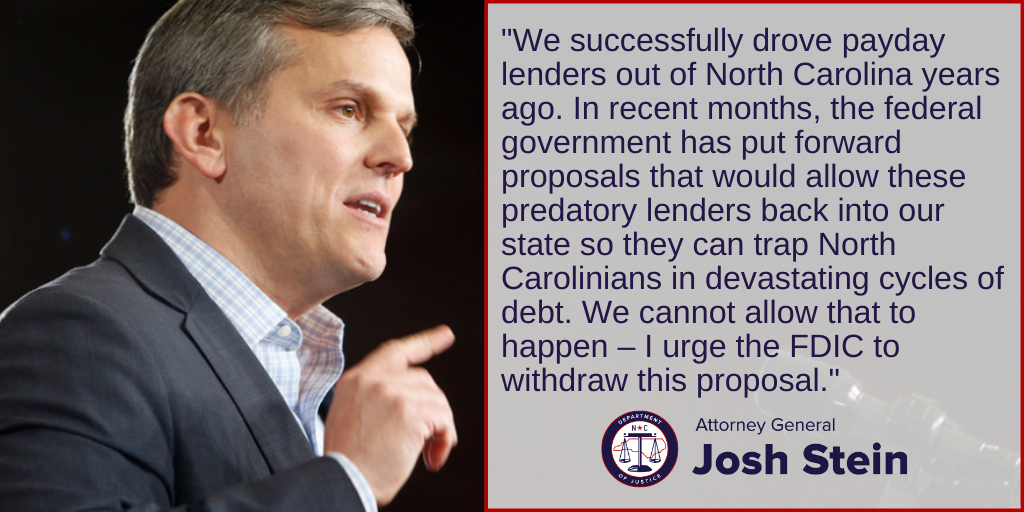 For Immediate Release:
Thursday, February 6, 2020
(RALEIGH) Attorney General Josh Stein opposed a proposal by the Federal Deposit Insurance Corporation (FDIC) to preempt state laws that regulate payday and other high-cost lending. The FDIC's proposed regulations would let predatory lenders circumvent state laws through "rent-a-bank" schemes, in which banks act as lenders in name only, passing along their state law exemptions to non-bank payday lenders.
"We successfully drove payday lenders out of North Carolina years ago," said Attorney General Josh Stein. "In recent months, the federal government has put forward proposals that would allow these predatory lenders back into our state so they can trap North Carolinians in devastating cycles of debt. We cannot allow that to happen – I urge the FDIC to withdraw this proposal."
States have historically played a critical role in protecting consumers from predatory lending, using rate caps to prevent lenders from issuing unaffordable, high-cost loans. North Carolina's Consumer Finance Act limits licensed lenders to 30 percent interest rates on consumer loans. In January, Attorney General Stein won an $825,000 settlement against an out-of-state payday lender for violating North Carolina law, resulting in full refunds and outstanding loan cancellations for North Carolina consumers who got loans from the lender.
While federal law provides a carve-out from state law for federally regulated banks, state law continues to protect residents from predatory lending by non-banks such as payday, auto title, and installment lenders. The new regulations proposed by the FDIC would extend the Federal Deposit Insurance Act exemption for federally regulated banks to these non-bank debt buyers, a sharp reversal in policy that deliberately evades state laws targeting predatory lending.
In the comment letter, the bipartisan multistate coalition argues that the FDIC's attempt to extend preemption to non-banks conflicts with the Federal Deposit Insurance Act, exceeds the FDIC's statutory authority, and violates the Administrative Procedure Act.
Attorney General Stein is joined in filing this comment letter by the Attorneys General of California, Colorado, Connecticut, the District of Columbia, Hawaii (AG and Office of Consumer Protection), Illinois, Iowa, Maine, Maryland, Massachusetts, Michigan, Minnesota, Nevada, New Jersey, New Mexico, New York, Oregon, Pennsylvania, Tennessee, Vermont, Virginia, Washington, and Wisconsin.
A copy of the comment letter is available here.
More on Attorney General Stein's work to protect North Carolina borrowers from predatory lenders:
Contact:
Laura Brewer (919) 716-6484
###