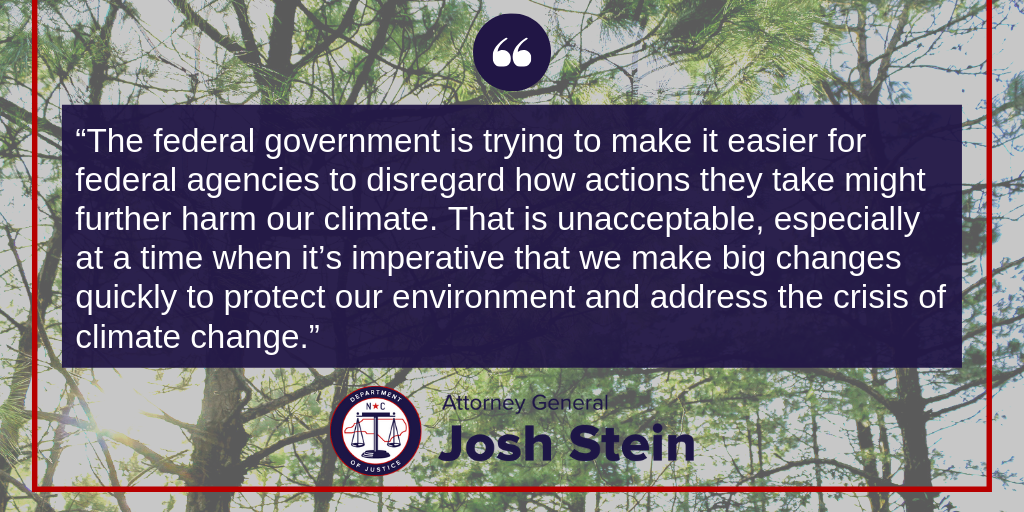 (RALEIGH) Attorney General Josh Stein today filed comments opposing the Council of Environmental Quality's (CEQ) draft guidance to federal agencies on consideration of greenhouse gas emissions under the National Environmental Policy Act (NEPA). Attorney General Stein joins a coalition of 19 attorneys general asserting that the new guidance encourages agencies to violate NEPA and is arbitrary and capricious.
"The federal government is trying to make it easier for federal agencies to disregard how actions they take might further harm our climate," said Attorney General Josh Stein. "That is unacceptable, especially at a time when it's imperative that we make big changes quickly to protect our environment and address the crisis of climate change."
NEPA requires that before a federal agency undertakes a major federal action that would have a significant impact on the quality of the human environment, the agency must consider the environmental impacts of the proposed action, alternatives, and any available mitigation measures. Nearly every federal action must be NEPA-compliant. In its new guidance, the Trump administration is attempting to revoke the requirement that agencies consider greenhouse gas emissions and climate change as part of this decision-making process.
The coalition of attorneys argue in their letter that the CEQ guidance:
Unlawfully ignores scientific evidence pointing to the threats of climate change and the contribution of greenhouse gas emissions to climate change;
Subverts the purpose and requirement of NEPA to promote informed decision-making by disregarding climate change, the most pressing environmental issue of our time;
Fails to clarify how agencies should consider indirect greenhouse gas emissions, including upstream or downstream emissions caused by projects such as pipelines and mining;
Includes vague and undefined terms that would allow agencies to unlawfully cast aside their obligations under NEPA and that conflict with the straightforward language of the previous 2016 guidance;
Unlawfully suggests that agencies may meet NEPA requirements by comparing projects' greenhouse gas emissions to other estimates and providing a qualitative summary discussion, which is insufficient;
Supports an unbalanced approach to cost-benefit analysis by allowing agencies to exclude the costs or quantities of climate impacts;
Discourages a consideration of required mitigation methods as well as the exploration of reasonable alternatives to reduce climate change; and
Fails to consider coordination and consistency between NEPA and state environmental analysis.
Attorney General Stein is joined in sending today's letter by the Attorneys General of California, Colorado, Connecticut, Delaware, Illinois, Maine, Maryland, Massachusetts, Minnesota, New Mexico, New Jersey, New York, Oregon, Pennsylvania, Rhode Island, Vermont, Washington, and the District of Columbia.
A copy of the comments letter is available here.
###