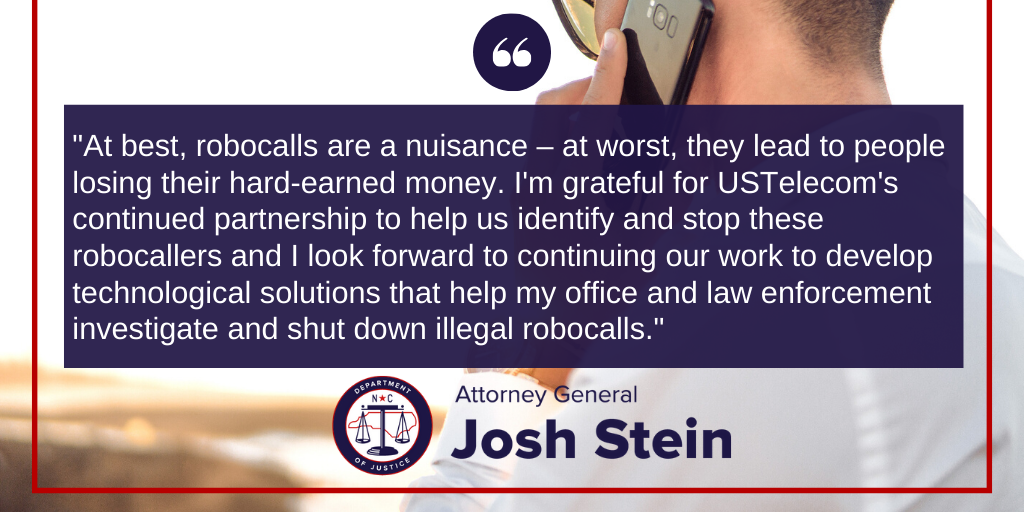 For Immediate Release:
Monday, May 4, 2020
(RALEIGH) Attorney General Josh Stein today called on USTelecom, the leading organization representing telecommunications providers, and its Industry Traceback Group (ITG) to continue to collaborate with state attorneys general to strengthen enforcement against illegal robocallers. The letter asks USTelecom to advance the ITG's abilities to identify robocall campaigns, trends, and business ecosystems, conduct automated traceback investigations, and coordinate with relevant law enforcement agencies.
"At best, robocalls are a nuisance – at worst, they lead to people losing their hard-earned money," said Attorney General Josh Stein. "I'm grateful for USTelecom's continued partnership to help us identify and stop these robocallers and I look forward to continuing our work to develop technological solutions that help my office and law enforcement investigate and shut down illegal robocalls."
A key part of that action would call for USTelecom to develop and roll out an online platform to collect live data from carriers and robocall-blocking apps. When USTelecom or a law enforcement agency detects an illegal robocall campaign, the law enforcement agency would be able to submit a subpoena to USTelecom in a streamlined online portal. The platform would allow USTelecom to rapidly review incoming information, help law enforcement officers quickly retrieve data and expedite subpoena procedures, and help law enforcement and attorneys general act quickly to investigate and stop robocallers.
In August 2019, Attorney General Josh Stein led a coalition of 51 attorneys general and 12 companies to outline the Anti-Robocall Principles, a series of principles the companies agreed to take on to combat robocalls. See the companies' progress on those principles here.
Attorney General Stein is also taking action on robocalls through the Robocall Report Task Force, which encourages North Carolinians to report robocalls through a detailed web form (www.ncdoj.gov/norobo) and dedicated robo-report hotline (1-844-8-NO-ROBO). Their information will help NCDOJ investigate potential scammers and share information with federal partners.
Attorney General Stein is joined in sending this letter by the Attorneys General of Michigan, Ohio, Alabama, Alaska, American Samoa, Arizona, Arkansas, California, Colorado, Connecticut, Delaware, the District of Columbia, Florida, Georgia, Hawaii, Idaho, Illinois, Indiana, Iowa, Kansas, Kentucky, Louisiana, Maine, Maryland, Massachusetts, Minnesota, Mississippi, Missouri, Montana, Nebraska, Nevada, New Hampshire, New Jersey, New Mexico, New York, North Dakota, Oklahoma, Oregon, Puerto Rico, Rhode Island, South Carolina, South Dakota, Tennessee, Texas, Utah, Vermont, Virginia, Washington, West Virginia, Wisconsin, and Wyoming.
A copy of the letter is available here.
Contact:
Laura Brewer (919) 716-6484
###