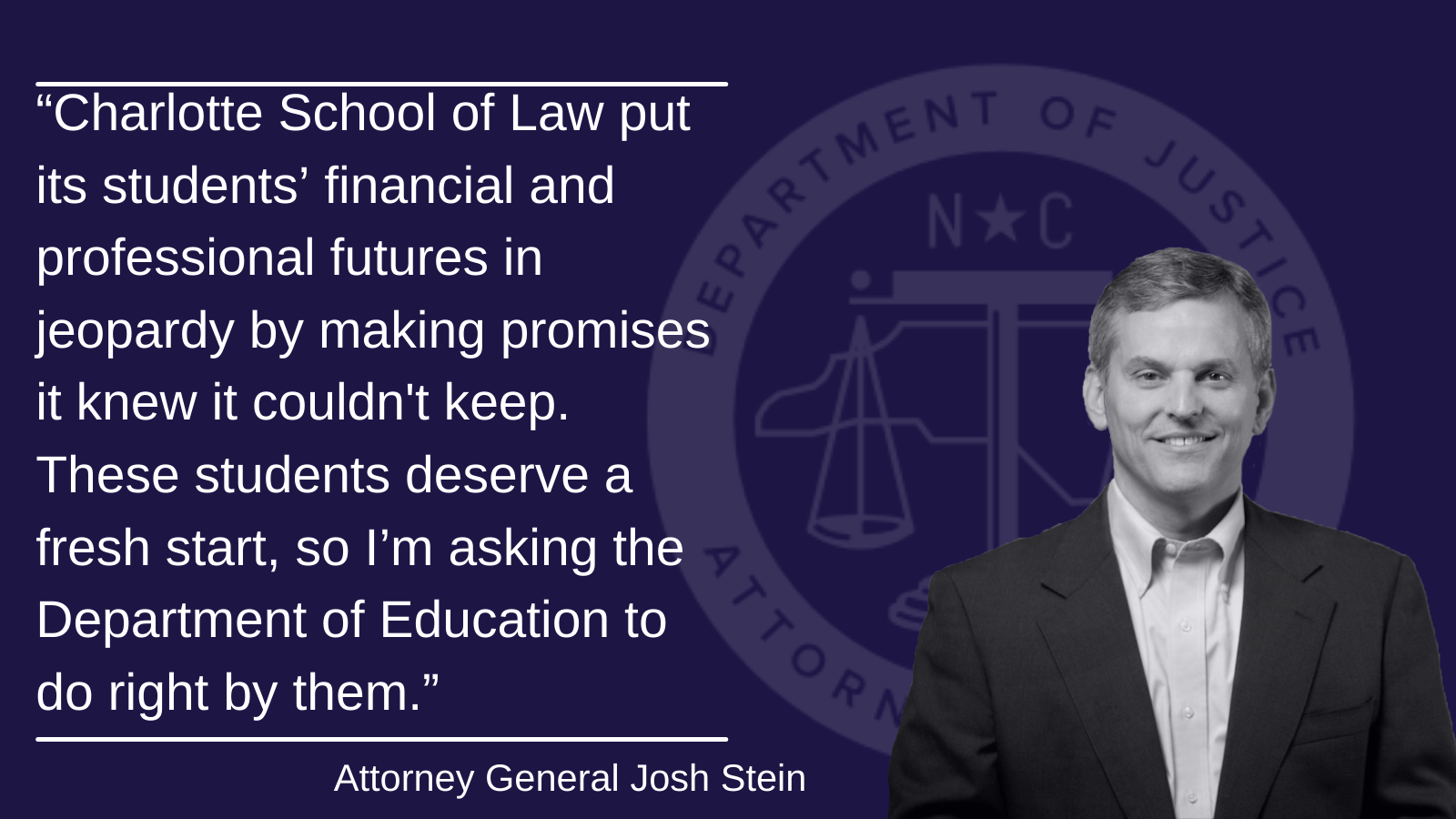 For Immediate Release:
Tuesday, August 23, 2022
Contact: Nazneen Ahmed
919-716-0060
(RALEIGH) Attorney General Josh Stein today petitioned the U.S. Department of Education to get student loan relief for more than a thousand students who enrolled at now-closed Charlotte School of Law during or after the fall of 2013.
"Charlotte School of Law put its students' financial and professional futures in jeopardy by making promises it knew it couldn't keep," said Attorney General Josh Stein. "These students deserve a fresh start, so I'm asking the Department of Education to do right by them."
In his petition, Attorney General Stein argues that students who attended the school have a valid borrower's defense and should be able to access additional financial relief or have their loans cancelled. Federal borrower defense protections give borrowers access to a consistent, fair, and transparent process to seek debt relief when they have been misled or defrauded by predatory schools.
After Charlotte School of Law's accreditation was put on probation, the school misrepresented its accreditation status to prospective students in ads. It also expanded rapidly while worsening the quality of education it provided, and the number of its students who passed the bar exam decreased. Still, Charlotte School of Law continued to advertise on its website and in ads that it prepared students for the bar and they could get law degrees within three years. By fall 2013, the school had done such a poor job preparing its graduates that it paid them to stay in school and defer taking the bar, in an attempt to ward off its accreditor.
The school lost federal funding in December 2016 and Attorney General Stein notified the Department of Education that the college was no longer licensed to operate in North Carolina in August 2017, and it subsequently closed. While some students sued the school for its misrepresentation, the Charlotte School of Law settled for mere pennies on the dollar. Attorney General Stein is arguing that the school violated state law and students have a right to use the borrower defense to have their loans cancelled.
More on Attorney General Stein's work to protect student loan borrowers:
###