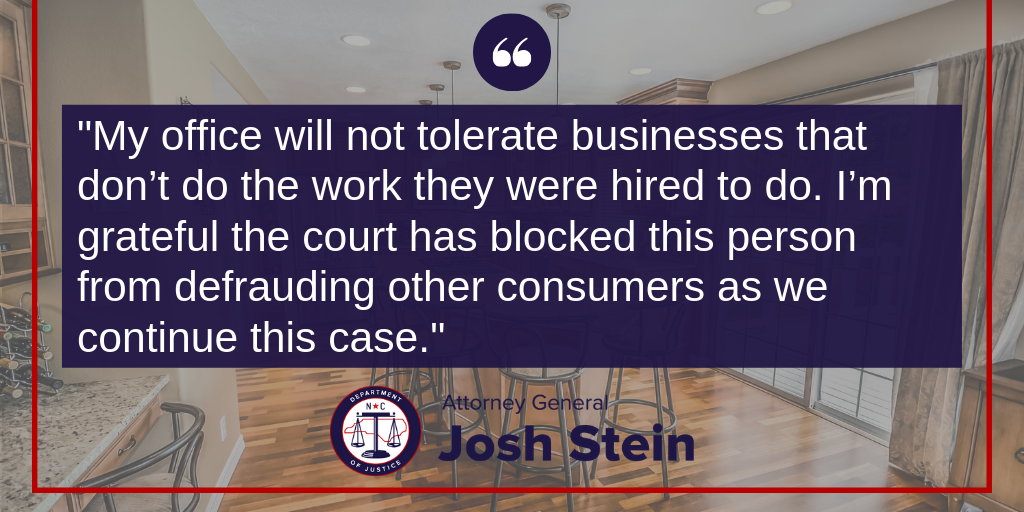 For Immediate Release:
Monday, September 9, 2019
(RALEIGH) Attorney General Josh Stein today obtained a preliminary injunction against Charlotte-area repairman John Jackson and his companies Appliance Maxx, Appliance Max LLC, Professional Appliance Service, Rapid Response Appliance Repair, All Seasons Refrigeration Heating & Cooling, and Star Appliance & HVAC LLC. The injunction, granted by Superior Court Judge Andrew Heath, prevents Jackson from doing any appliance repair work or accepting money from consumers for appliance repair work until the case is resolved.
"My office will not tolerate businesses that don't do the work they were hired to do," said Attorney General Josh Stein. "I'm grateful the court has blocked this person from defrauding other consumers as we continue this case."
Attorney General Stein filed a lawsuit against Jackson and his businesses in August after receiving 12 consumer complaints. The lawsuit alleges that Jackson engaged in an ongoing appliance repair scheme – when hired, he would perform a sham inspection of the appliance and pretend to fix the problem or tell the consumer that a new part was needed for repair. Jackson demanded payment for the repair, which never occurred, or for the new part and then left without actually fixing the appliance.
Attorney General Stein is also seeking injunctive relief, civil penalties, restitution for victims, and attorneys' fees.
A copy of the injunction is here.
Contact:
Laura Brewer (919) 716-6484
###