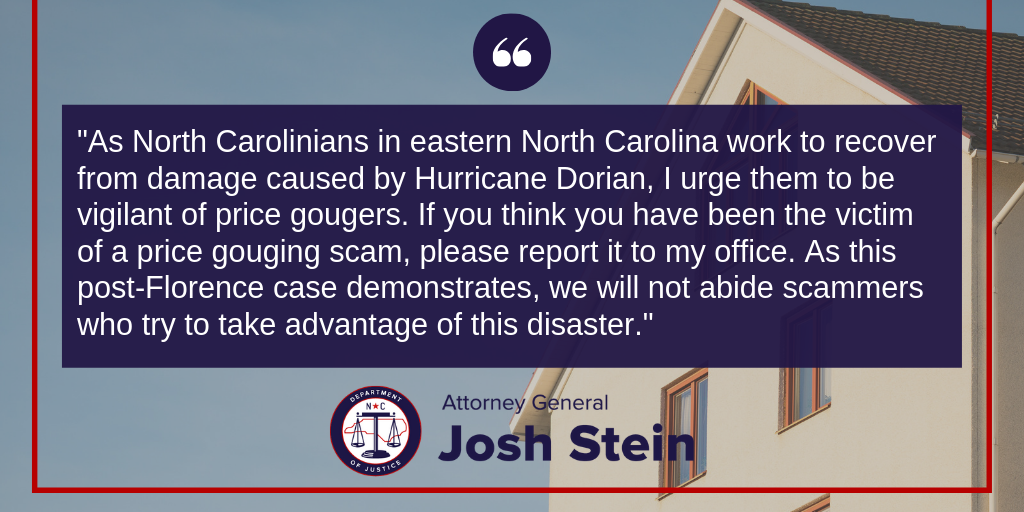 For Immediate Release:
Tuesday, September 10, 2019
(RALEIGH) Attorney General Josh Stein obtained a consent judgment against Ohio-based Scotts Tree Service and defendants Scott Lacey and Randy Shannon to resolve a Hurricane Florence price gouging lawsuit. The consent judgment bans the defendants from performing tree removal work in North Carolina, prohibits them from collecting $153,100 in outstanding invoices from North Carolina consumers, and orders them to pay $20,000 in restitution, civil penalties, and fees.
"As North Carolinians in eastern North Carolina work to recover from damage caused by Hurricane Dorian, I urge them to be vigilant of price gougers," said Attorney General Josh Stein. "If you think you have been the victim of a price gouging scam, please report it to my office. As this post-Florence case demonstrates, we will not abide scammers who try to take advantage of this disaster."
Attorney General Stein filed an enforcement action against Scotts Tree Service, Lacey, and Shannon in October 2018 after Hurricane Florence hit North Carolina. Homeowners in Castle Hayne alleged that Lacey, who owns Scotts Tree Service, and Shannon, its employee, billed them $14,500 to remove two fallen trees without first discussing or getting agreement on the price. Attorney General Stein's lawsuit alleged that Scotts Tree Service had one of the homeowners sign a statement of work to be done and later filled in the document with the $14,500 price, which the homeowner had never agreed to pay. After the homeowners refused to pay this invoice, Scotts Tree Service sent the invoice to a bill collector, the co-defendant Goldberg & Donovan, Inc., a Massachusetts company. Attorney General Stein reached a $15,000 settlement with Goldberg & Donovan and its proprietors, Stephen and Amy Lombardi, in May. During its investigation of Scotts Tree Service, Attorney General Stein discovered evidence that numerous other North Carolinians may have also been price gouged by the company. The company's invoices to those consumers were cancelled as part of the consent judgment.
North Carolina's price gouging law is currently in effect after Gov. Roy Cooper declared a state of emergency for Hurricane Dorian. People can report potential price gouging by calling 1-877-5-NO-SCAM or by filing a complaint at https://ncdoj.gov/file-a-complaint/price-gouging/.
After Hurricanes Michael and Florence devastated North Carolina in 2018, Attorney General Stein brought seven lawsuits against 22 defendants under North Carolina's price gouging statute. He has obtained eight judgments against 17 defendants, including a $274,000 settlement that was one of the largest price gouging settlements in the department's history. The Attorney General's Office has won more than $725,000 in these judgments, including:
$242,500 in consumer restitution
$392,500 in money companies are barred from collecting from homeowners
$94,500 in penalties and fees
A copy of the judgment is here.
Contact:
Laura Brewer (919) 716-6484
###