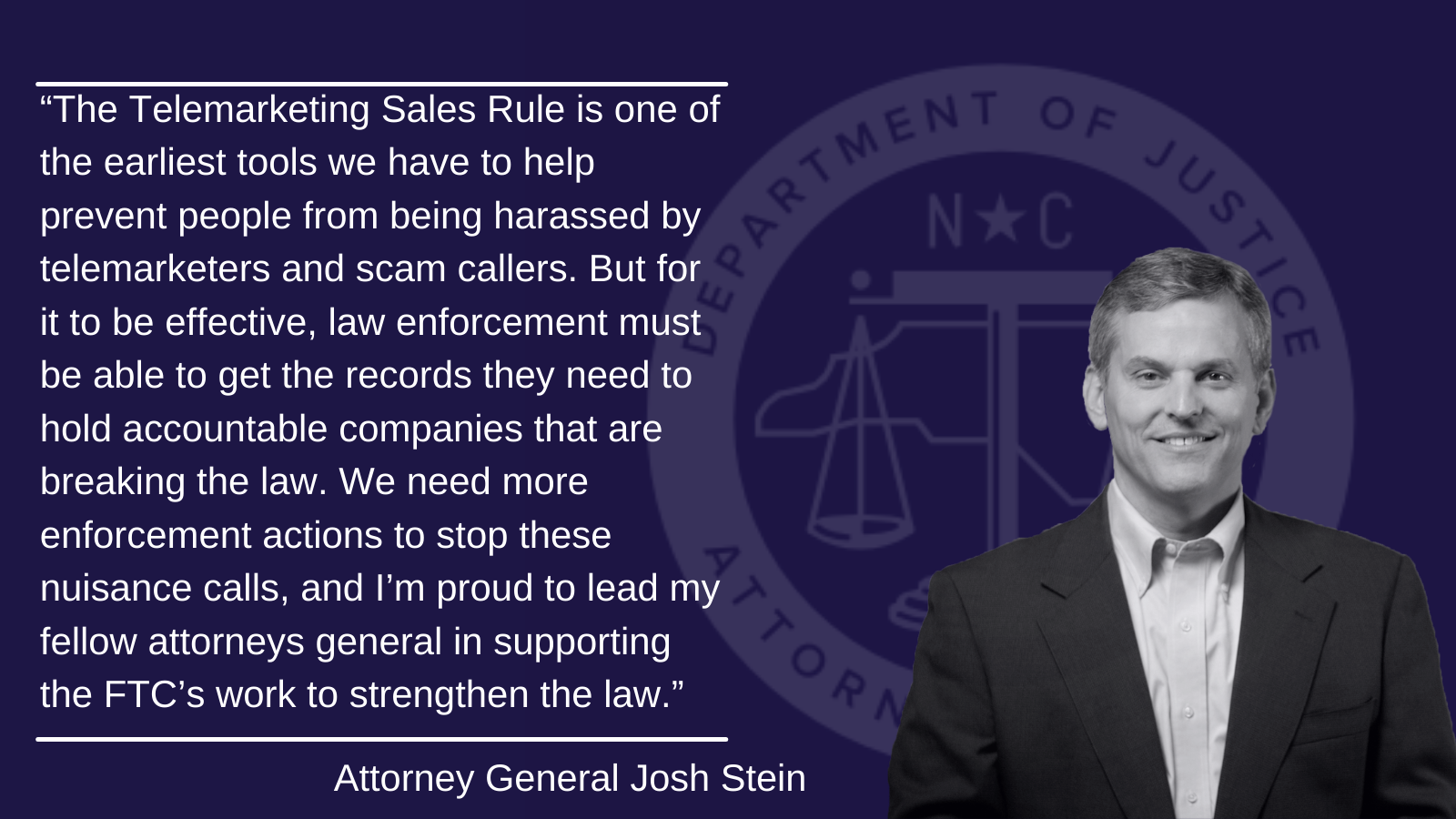 For Immediate Release:
Wednesday, August 3, 2022
Contact:
Nazneen Ahmed (919) 716-0060
(RALEIGH) Attorney General Josh Stein, along with Attorney General Josh Shapiro of Pennsylvania and Attorney General Dave Yost of Ohio, today led a coalition of 43 attorneys general calling on the Federal Trade Commission (FTC) to increase obligations on telemarketers by requiring them to keep additional records about their activities so that law enforcement can hold them accountable if they fail to comply with the law.
"The Telemarketing Sales Rule is one of the earliest tools we have to help prevent people from being harassed by telemarketers and scam callers," said Attorney General Josh Stein. "But for it to be effective, law enforcement must be able to get the records they need to hold accountable companies that are breaking the law. We need more enforcement actions to stop these nuisance calls, and I'm proud to lead my fellow attorneys general in supporting the FTC's work to strengthen the law."
The Telemarketing Sales Rule went into effect in 1995 to help prevent telemarketers from scamming, harassing, or threatening people. Over the past 25 years, the FTC has updated the Rule to address the rise in unwanted calls and scam calls, but the Rule has not been updated to account for the additional records that are now often necessary to help ensure telemarketers are playing by the rules. The old recordkeeping requirements are not enough to enable law enforcement to go after many bad actors.
The attorneys general are encouraging the FTC to adopt proposed changes to the Rule, including requiring telemarketers and sellers to keep the following types of information:
a copy of each unique prerecorded message;
call detail records of telemarketing campaigns;
records that prove a seller has an established business relationship with a consumer;
records that prove a consumer is a previous donor to a particular charitable organization;
records of the service providers that a telemarketer uses to deliver outbound calls;
records of a seller or charitable organization's entity-specific do-not-call registries; and
records of the FTC's Do-Not-Call registry that were used to ensure compliance with the Telemarketing Sales Rule.
Attorney General Stein also submitted comments to the FTC in support of additional changes to the Telemarketing Sales Rule that would protect consumers from "negative option" products or services. "Negative option" sales are a tactic used by telemarketers that allows them to bill consumers for products or services that the consumer may not actually want unless the consumer explicitly rejects that offer. The FTC's proposed change would require such sellers and telemarketers to notify consumers and give them the option to cancel before they are billed for the negative option products.
Attorney General Stein is joined in submitting the comments about recordkeeping to the FTC by the Attorneys General of Ohio, Pennsylvania, Alaska, Arizona, Arkansas, California, Colorado, Connecticut, Delaware, the District of Columbia, Georgia, Hawaii, Idaho, Illinois, Iowa, Kansas, Kentucky, Louisiana, Maine, Maryland, Massachusetts, Michigan, Minnesota, Mississippi, Nebraska, Nevada, New Hampshire, New Jersey, New Mexico, New York, North Dakota, Oklahoma, Oregon, Rhode Island, South Carolina, South Dakota, Tennessee, Vermont, Virginia, Washington, Wisconsin, and Wyoming.
A copy of the comments letter about the recordkeeping is available here.
A copy of the comments letter about negative option products is available here.
More on Attorney General Stein's work to fight unlawful scam calls:
###