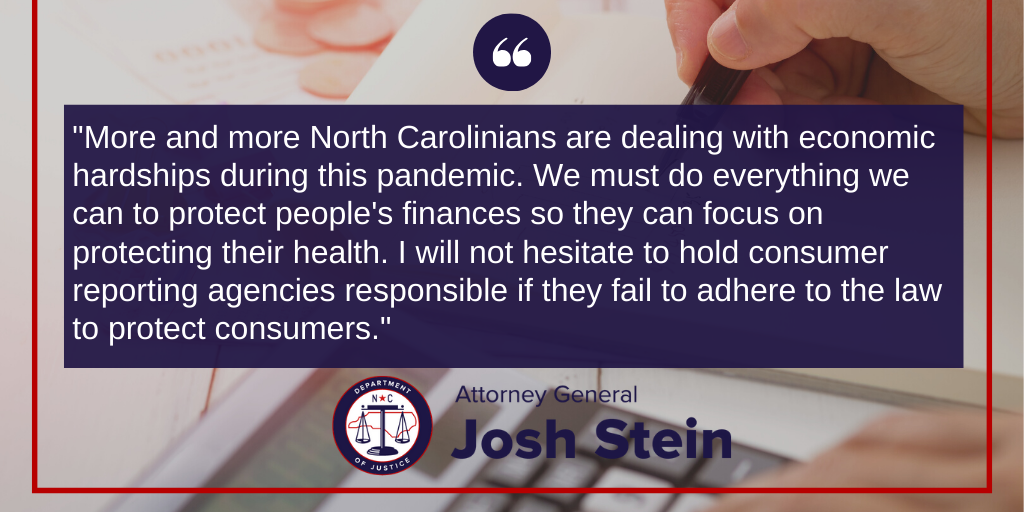 For Immediate Release:
Tuesday, April 28, 2020
(RALEIGH) Attorney General Josh Stein today wrote to the nation's three consumer reporting agencies (CRAs), warning that he will enforce safeguards to ensure consumers' credit is properly protected and their credit reports are accurately reported as Americans struggle with the economic fallout of the COVID-19 pandemic.
"More and more North Carolinians are dealing with economic hardships during this pandemic," said Attorney General Josh Stein. "We must do everything we can to protect people's finances so they can focus on protecting their health. I will not hesitate to hold consumer reporting agencies responsible if they fail to adhere to the law to protect consumers."
In a letter to Experian, Equifax, and TransUnion, Attorney General Stein joins a coalition of 22 attorneys general outlining their commitment to enforcing the consumer credit protections outlined in the CARES Act and the Fair Credit Reporting Act (FCRA), despite the federal government's failure to commit to enforcing the FCRA's 30- to 45-day deadline to investigate consumer disputes. The attorneys general emphasize that they will actively monitor and enforce compliance during the COVID-19 crisis and will hold the agencies accountable for failure to meet their obligations. Each state will enforce the requirements of the FCRA and agreements between agencies and states to conduct meaningful and timely investigations of consumer disputes of credit information.
The CARES Act extended relief to struggling consumers and amended the FCRA to enable consumers to obtain CARES Act relief without incurring lasting harm to their credit scores. To prevent such harm, the CARES Act requires furnishers to report a credit obligation as "current" if the obligation was current prior to the grant of a CARES Act accommodation. The FCRA also protects consumers by requiring CRAs to take no more than 30 days (or in some cases 45 days) to investigate when consumers dispute the accuracy of information on their credit report.
This followed the CFPB recently issuing guidance suggesting that it will not enforce these deadlines during the COVID-19 crisis, instead imposing a weaker requirement that agencies make "good faith efforts to investigate disputes as quickly as possible." Attorney General Stein previously called on the Consumer Financial Protection Bureau to protect consumer credit and take action against consumer reporting agencies that violate the law during the COVID-19 pandemic.
Attorney General Stein is joined in sending today's letter by the Attorneys General of Pennsylvania, New York, California, Colorado, Delaware, Hawaii, Illinois, Iowa, Maine, Maryland, Massachusetts, Michigan, Minnesota, Nevada, New Jersey, New Mexico, Rhode Island, Virginia, Washington, Wisconsin, and the District of Columbia.
A copy of the letter is available here.
More on Attorney General Stein's work to protect North Carolinians during the COVID-19 pandemic:
Contact:
Laura Brewer (919) 716-6484
###