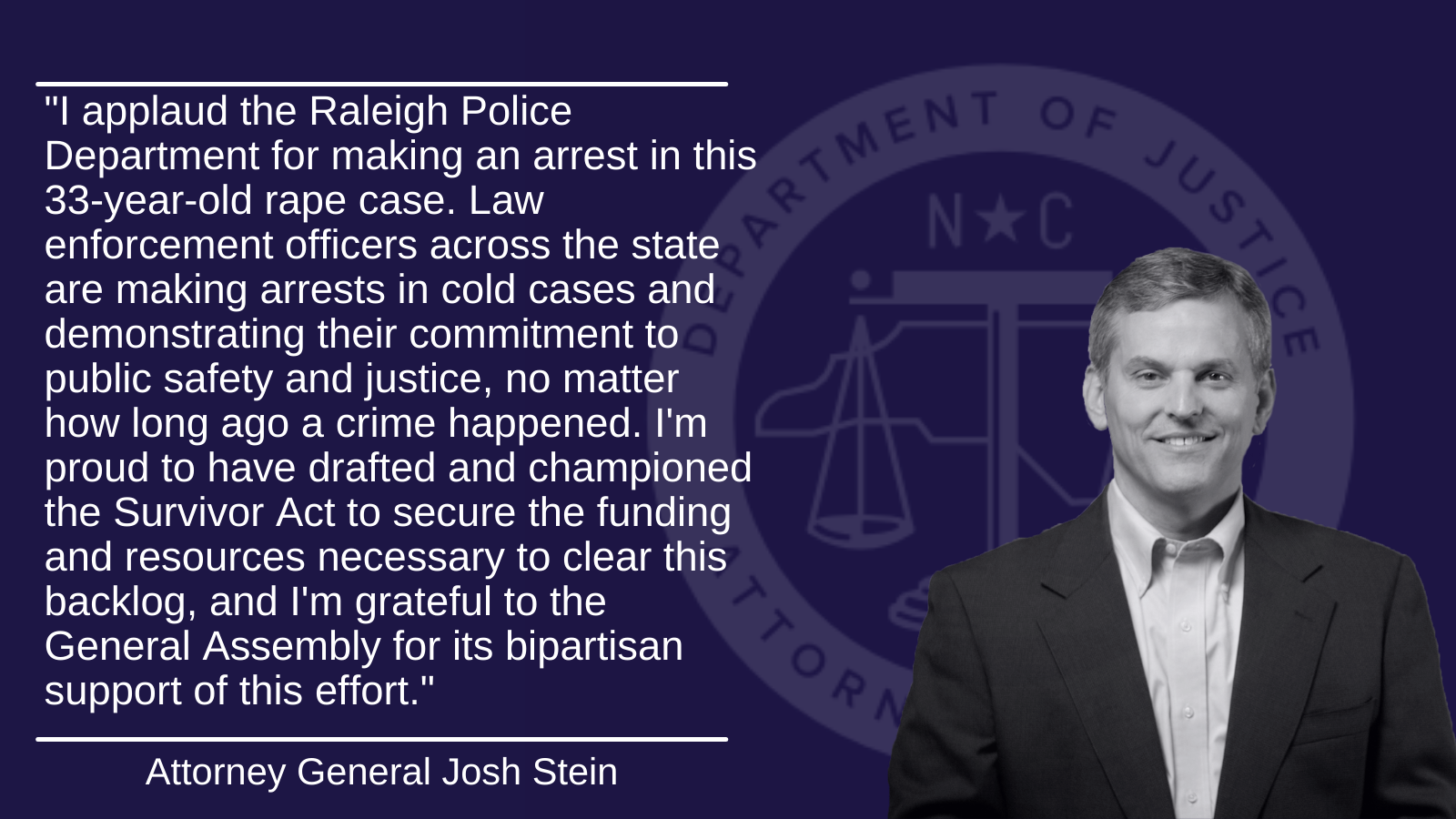 For Immediate Release:
Monday, March 20, 2023
Contact: Nazneen Ahmed
919-716-0060
(RALEIGH) Attorney General Josh Stein today applauded the Raleigh Police Department for its work in an investigation that led to an arrest in a 1990 sexual assault case. On Friday, Raleigh Police arrested Deandre Marcel Smith for the alleged rape of a 73-year-old woman that occurred 33 years ago. The victim in this case passed away in 1992.
"I applaud the Raleigh Police Department for making an arrest in this 33-year-old rape case," said Attorney General Josh Stein. "Law enforcement officers across the state are making arrests in cold cases and demonstrating their commitment to public safety and justice, no matter how long ago a crime happened. I'm proud to have drafted and championed the Survivor Act to secure the funding and resources necessary to clear this backlog, and I'm grateful to the General Assembly for its bipartisan support of this effort."
Since 2017, the Department of Justice has been spearheading an effort to inventory and test the backlog of untested kits in local law enforcement custody. Of the 16,222 older kits in local law enforcement custody, 11,803 kits require or may require testing based on the criteria of the Survivor Act. Of those kits, nearly 95 percent have been tested (8,924) or are in the process of being tested (2,879). DNA samples from 3,058 kits tested have been entered into the CODIS DNA database and about 40 percent (1,243 kits) of those samples have resulted in a hit that may help law enforcement further investigations and solve cold cases.
Thanks in part to this concerted effort, in February, North Carolina's law enforcement agencies surpassed 102 arrests related to at least 175 crimes – including attempted murder, rape, kidnapping, and crimes against children – by testing evidence in cases with a sexual offense and receiving hits from DNA samples. Nearly 85 percent of the arrests have been made since 2017. The Survivor Act mandates that law enforcement agencies notify the State Crime Lab within 15 days of an arrest or a conviction related to a CODIS hit identified through lab testing.
The legislature has been an important partner in this work and has provided $15 million in funding to continue to test older kits and provided for additional State Crime Lab scientists to test new kits in a timely manner and prevent another backlog.
More information on the case is available here.
###