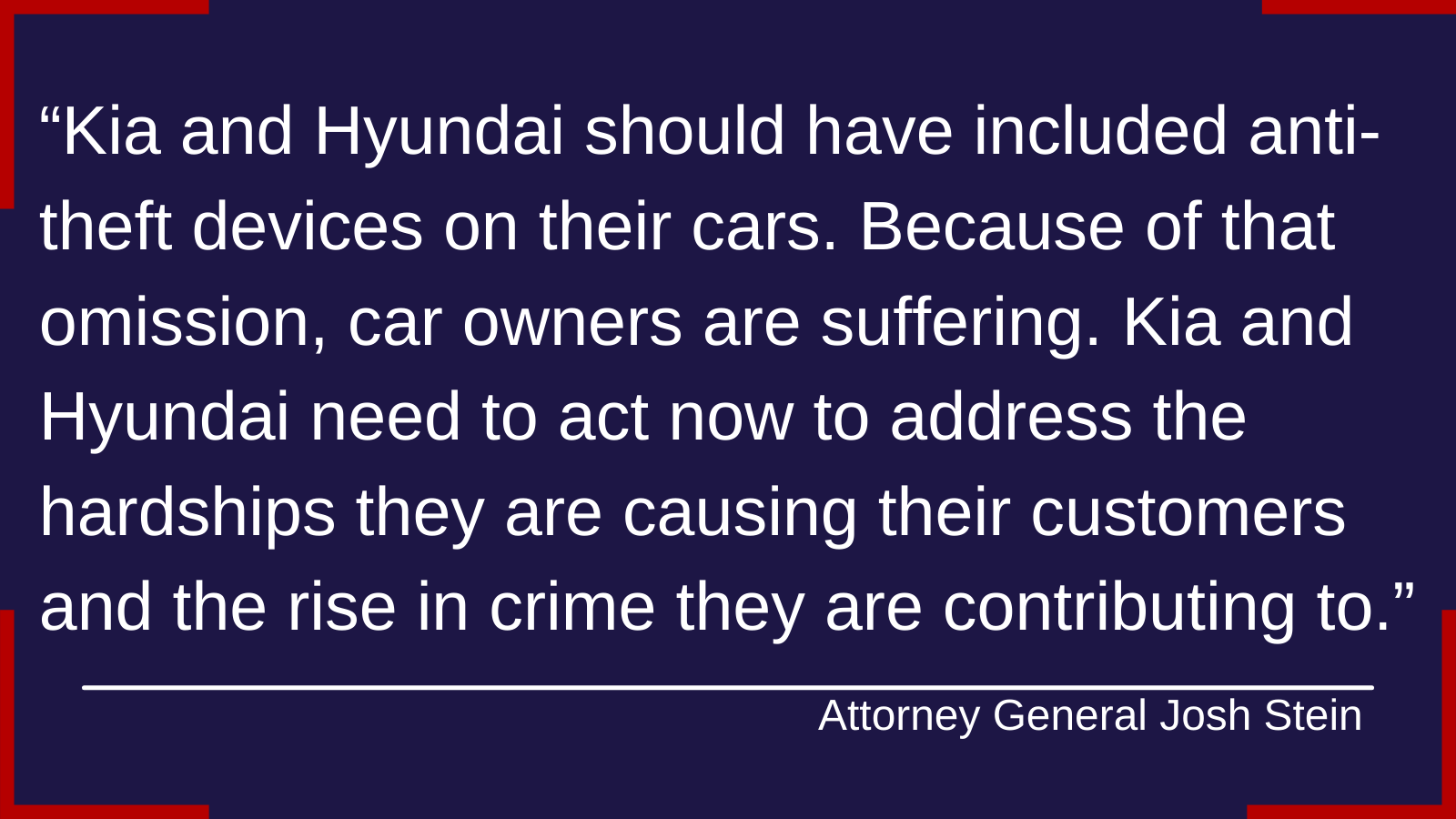 For Immediate Release:
Monday, March 20, 2023
Contact: Nazneen Ahmed
919-716-0060
(RALEIGH) Attorney General Josh Stein today called on Kia America and Hyundai Motor Company to act swiftly to address the crisis of car thefts that are occurring as a result of the companies' failure to equip vehicles with anti-theft immobilizers. Alarmingly high theft rates for Kia and Hyundai models continue across the country, and many of these thefts are connected to other crimes, injuries, and even deaths, further endangering the public. The rise in thefts has also been connected to a viral TikTok challenge that shows people how to use a USB cable to start Kias and Hyundais without a key.
"Kia and Hyundai should have included anti-theft devices on their cars. Because of that omission, car owners are suffering," said Attorney General Josh Stein. "Kia and Hyundai need to act now to address the hardships they are causing their customers and the rise in crime they are contributing to."
The Charlotte-Mecklenburg Police Department reported that 80 percent of all stolen vehicles last year were Kia or Hyundai models. In an approximately two-month period in 2022, CMPD reported 146 Kia and Hyundai car thefts, up 346 percent since the same period in 2021. In Raleigh, reports of car thefts in 2022 were up nearly 54 percent compared to 2018.
Kia and Hyundai chose not to include anti-theft immobilizers as standard equipment on several models sold in the United States when every other car manufacturer was doing so, even though Kia and Hyundai were including immobilizers on models sold in Canada and Europe. Additionally, insurance companies are now refusing to insure or restricting coverage for these models, which may create more hardships for car owners in North Carolina, where insurance is required to operate a vehicle.
Kia and Hyundai recently announced a campaign to provide software upgrades for some of the affected vehicle models. But Attorney General Stein and 22 other attorneys general point out in their letter that the announcement "is long overdue and still not enough." The attorneys general urge the companies "to do everything in your power to accelerate the implementation of the software upgrade and to provide free alternative protective measures for all those owners whose cars cannot support the software upgrade."
Attorney General Stein is joined in sending today's letter by the Attorneys General of Arizona, California, Colorado, Connecticut, District of Columbia, Delaware, Illinois, Massachusetts, Maryland, Nevada, New Jersey, New Mexico, New York, Oklahoma, Oregon, Pennsylvania, Rhode Island, South Dakota, Vermont, Washington, and Wisconsin, along with the Utah Division of Consumer Protection.
A copy of the letter is available here.
###