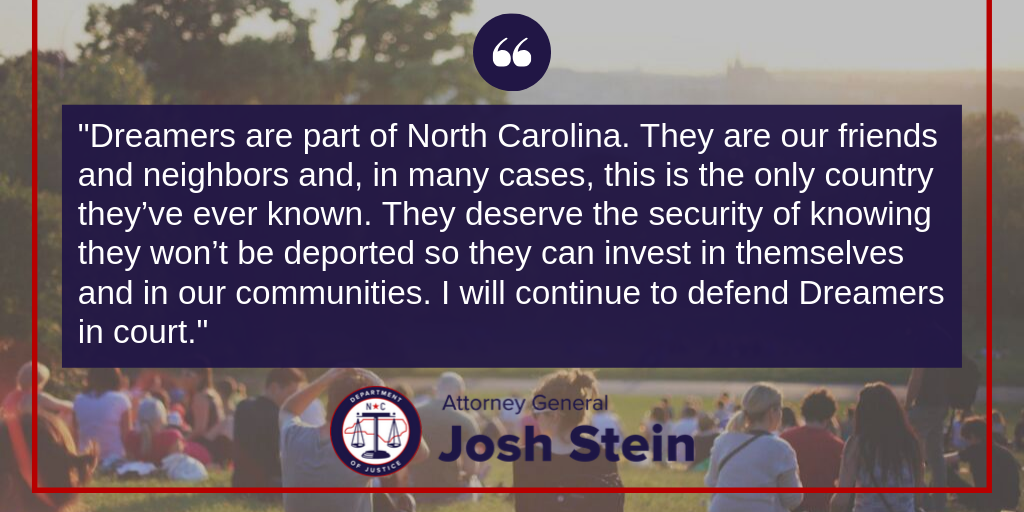 For Immediate Release:
Monday, September 30, 2019
(RALEIGH) Attorney General Josh Stein filed a brief in the United States Supreme Court in an ongoing lawsuit to protect the Deferred Action for Childhood Arrivals (DACA) program. The lawsuit argues that the Trump administration's attempt to revoke DACA was based on a faulty legal analysis and harmed state residents, institutions, and economies.
"Dreamers are part of North Carolina," said Attorney General Josh Stein. "They are our friends and neighbors and, in many cases, this is the only country they've ever known. They deserve the security of knowing they won't be deported so they can invest in themselves and in our communities. I will continue to defend Dreamers in court."
In September 2017, Attorney General Stein and 15 other attorneys general filed a lawsuit in the U.S. District Court in the Eastern District of New York challenging the Trump administration's decision to terminate DACA. The court issued a nationwide preliminary injunction to block the Trump administration from ending DACA. The United States Supreme Court will hear this case along with parallel challenges to DACA's termination filed in federal courts in California and the District of Columbia.
Since 2012, nearly 800,000 young people have been granted DACA status after paying application fees, submitting to and passing background checks, and applying for work permits. They came to this country as children and terminating DACA would take away their legal status to live, study, and work in the United Sates without fear of arrest or deportation. North Carolina is home to nearly 27,000 DACA recipients who are contributing to our state's economy and communities.
Attorney General Stein is joined in filing today's brief by the Attorneys General of Colorado, Connecticut, Delaware, Hawaii, Illinois, Iowa, Massachusetts, New Mexico, New York, Oregon, Pennsylvania, Rhode Island, Vermont, Virginia, Washington, and the District of Columbia.
A copy of the brief is available here.
Contact:
Laura Brewer (919) 716-6484
###