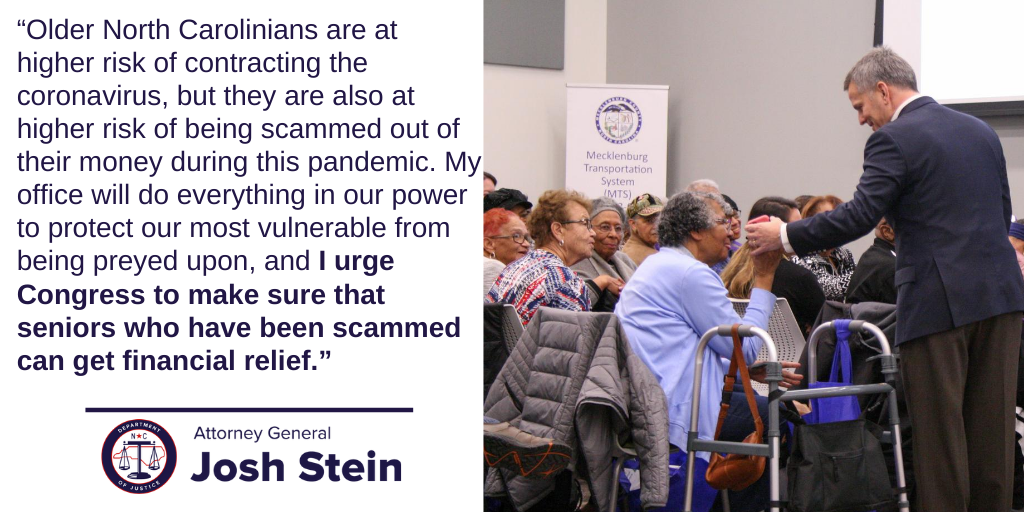 For Immediate Release:
Monday, August 10, 2020
Contact:
Laura Brewer (919) 716-6484
(RALEIGH) Attorney General Josh Stein today urged the U.S. Senate and House of Representatives to allow relief for older North Carolinians who have been victims of coronavirus-related scams and fraud in COVID-19 relief legislation. Scammers have been targeting seniors during this pandemic because they are at higher risk for contracting the virus, often isolated at home, and separated from families and support networks.
"Older North Carolinians are at higher risk of contracting the coronavirus, but they are also at higher risk of being scammed out of their money during this pandemic," said Attorney General Josh Stein. "My office will do everything in our power to protect our most vulnerable from being preyed upon, and I urge Congress to make sure that seniors who have been scammed can get financial relief."
Edith's Bill, or the Edith Shorougian Senior Victims of Fraud Compensation Act (S. 3487/H.R. 7620) would amend the Victims of Crime Act of 1984 (VOCA) and make victims of senior fraud eligible for reimburse by the Crime Victims Fund for states that provide compensation to victims. The bill would also amend VOCA so that penalties and fines from deferred prosecution and non-prosecution agreements, which can include white collar criminal conduct against seniors, are deposited into the Crime Victims Fund. By using this legislation to add senior fraud as an eligible reimbursement expense under VOCA, states will be able to help victims receive the financial relief they deserve.
The bill is being led in the Senate by Senators Tammy Baldwin (WI) and Bill Cassidy (LA) and in the House by  Representatives Suzanne Bonamici (OR) and Pete King (NY), who co-chair the Elder Justice Caucus.
In 2020 alone, senior citizens in North Carolina have reported to the NCDOJ losses of more than $650,000 in sweepstakes scams, more than $56,000 in grandparent scams, more than $145,000 in government grant scams, and more than $2 million in sweetheart scams. NCDOJ regularly shares updates on scams on the rise through scam alerts – read our latest alerts here. To sign up for these alerts, click here.
Attorney General Stein is joined in sending today's letter by the Attorneys General of Alabama, Alaska, Arkansas, Colorado, Delaware, District of Columbia, Florida, Georgia, Guam, Hawaii, Idaho, Illinois, Indiana, Iowa, Kansas, Kentucky, Louisiana, Maine, Maryland, Massachusetts, Minnesota, Mississippi, Missouri, Nebraska, Nevada, New Hampshire, New Jersey, New Mexico, North Dakota, Northern Mariana Islands, Ohio, Oklahoma, Oregon, Pennsylvania, Puerto Rico, Rhode Island, South Carolina, Utah, Vermont, Virginia, Washington, West Virginia, and Wisconsin.
A copy of the letter can be found here.
Operation Silver Shield
In 2020, Attorney General Josh Stein launched Operation Silver Shield, a North Carolina Department of Justice effort to confront scammers and fraudsters who target older North Carolinians. Operation Silver Shield efforts include Attorney General Stein's Robocall Report Taskforce, work to prevent scams and frauds against seniors, legal actions against businesses and individuals taking advantage of older consumers, and investigations of Medicaid-related fraud. For more information, please visit www.ncdoj.gov/silver.
###