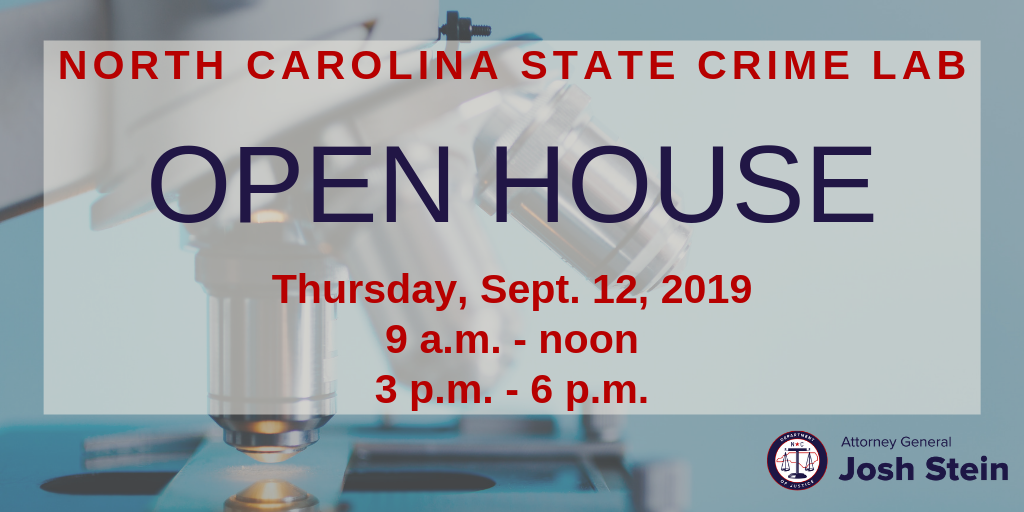 For Immediate Release:
Wednesday, September 11, 2019
(RALEIGH) The North Carolina State Crime Laboratory will host its second open house this National Forensic Science Week on Thursday, Sept. 12, to showcase the vital role of forensic science in the criminal justice system. North Carolinians of all ages are welcome to attend the open house, which will feature tours of the lab and science activities.
"My team at the State Crime Lab uses their talent and advances in forensic science to help bring justice to victims and protect the people of North Carolina," said Attorney General Josh Stein. "I'm grateful for their dedication to our state, and I hope North Carolinians will visit the Crime Lab to learn more about their work."
National Forensic Science Week highlights how forensic science and the talents of forensic scientists advance criminal investigations and help hold offenders accountable. In 2019, State Crime Lab testing of untested sexual assault kits in local law enforcement custody has led to the re-opening of cold cases across the state.
The State Crime Lab will hold open houses from 9 a.m. to noon and 3 p.m. to 6 p.m. on Thursday. People planning to come in groups of 10 or more should email jcouncilman@ncdoj.gov in advance for planning purposes.
The State Crime Lab is located at:
121 E. Tryon Road
Raleigh, NC 27603
The State Crime Lab operates a full-service laboratory in Raleigh, a Western Regional Crime Lab in Edneyville, and a Triad Regional Crime Lab in Greensboro. The State Crime Lab examines evidence related to criminal investigations free of charge to any North Carolina public law enforcement agency, including local, state, federal, military, and railroad police organizations.
Contact:
Laura Brewer (919) 716-6484
###