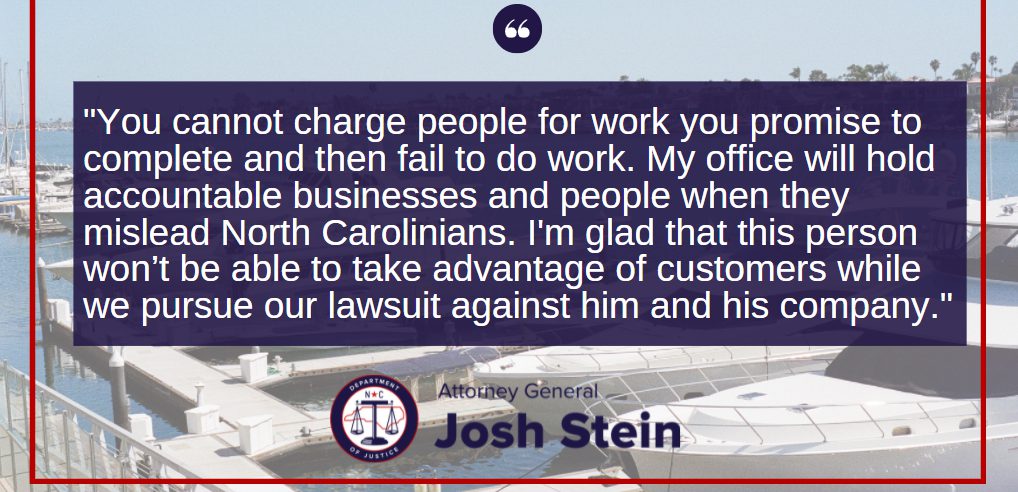 For Immediate Release:
Wednesday, September 15, 2021
Contact:
Nazneen Ahmed (919) 716-0060
(RALEIGH) Attorney General Josh Stein obtained a preliminary injunction against Jason Dudley and his Fuquay-Varina boat repair company, Jason's Mobile Outboard Repair. The injunction bars the defendants from performing or advertising boat repair services or collecting payments from customers for the duration of the lawsuit and requires them to produce additional information about customer and financial transactions to the Attorney General's Office.
"You cannot charge people for work you promise to complete and then fail to do work. My office will hold accountable businesses and people when they mislead North Carolinians," said Attorney General Josh Stein. "I'm glad that this person won't be able to take advantage of customers while we pursue our lawsuit against him and his company."
Attorney General Stein sued Dudley and his company in June, alleging that Dudley collected advance payments for boat motor repair service before he agreed to perform the work. After people paid these advance payments, which ranged from $400 to $3,800, Dudley failed to perform the repairs, performed faulty repairs, or in some cases, damaged the boats. He also refused to refund customers for incomplete work or for work that he never did, and he overcharged customers for parts that were not as expensive as he claimed or that were never ordered.
Attorney General Stein is continuing to seek restitution for customers, civil penalties, attorney fees, and other relief.
A copy of the injunction is available here.
###